Photos of Wigan
Photos of Wigan
Album Contents
Album Contents
Wigan Album
St Mary's Church, Lower Ince
5 Comments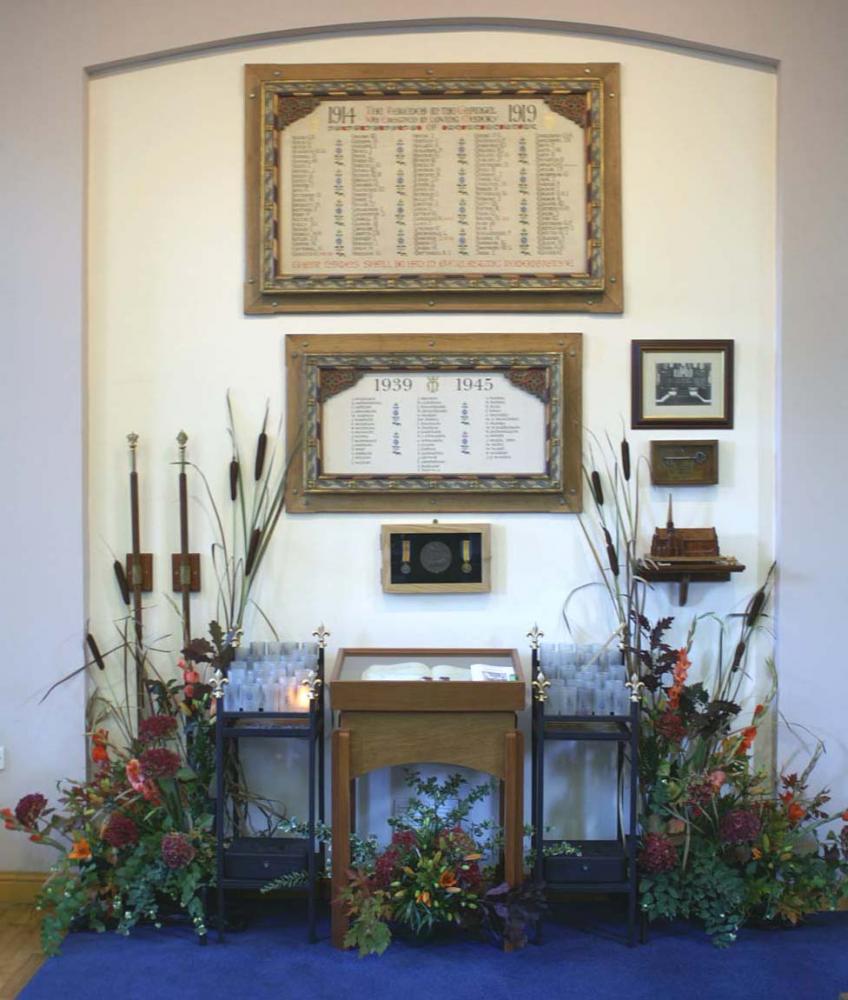 St Mary's War Memorials
Photo: Rev David Long
Views: 1,809
Item #: 7831
When a major interior refurbishment of St Mary's was undertaken in 2002 the WW1 Memorial Plaques, which had been stored in the Vicarage garage and the Church cellar since 1978, were installed in a new Memorial area at the back of the church. The main plaque was simply cleaned up before being fixed to the wall. The smaller plaque was re-used to commemorate the men who died in WW2, whose memorial, a stone plaque fixed to the outside West wall of the old church, had been lost when the church was demolished. The new Memorial carries more names than the original, thanks to the excellent work of Dr Eric McPherson, who comes from the Parish, who published his book 'Roll of Honour' in 2001. It gives the names and details of every WW2 casualty whose names appear on a War Memorial in Wigan Borough. This inspired me to emulate him, and to try to trace the details of those named on the WW1 plaque, a work which has yet to be completed, as the last dozen or so names are proving very difficult to trace.
Comment by: R Gallagher on 8th November 2008 at 11:09
A lovely picture and very appropriate for this remembrance weekend.
Comment by: Alan Foster on 29th November 2008 at 19:47
Thanks to David Long who does a wonderful job in tracing the
lost heroes of Ince & elsewhere from both world wars
can you tell me if michael joseph forkin is on the plaque, he was from wigan and lost his life in 1944, he was my mothers husband regards beryl
Comment by: S Eardley on 24th February 2011 at 03:06
Lovely to find pictures of WW1 memorial listing my Great Uncle George Eardley (I have his war medal). He was born 1891 son of John Eardley and Margaret (nee Holcroft)of Warrington Road. Unfortunately they both died in 1919 so would not have seen it.
Message for S Eardley: George is also my great uncle (my mother was an Eardley) and I have been trying to find out about George for some years. I know where he is buried but I thought his medal had been lost over the years. I have a copy of the war diary from the day he died. It would be really helpful if we could arrange to meet. Craig