Photos of Wigan
Photos of Wigan
Album Contents
Album Contents
Wigan Album
Beech Hill
10 Comments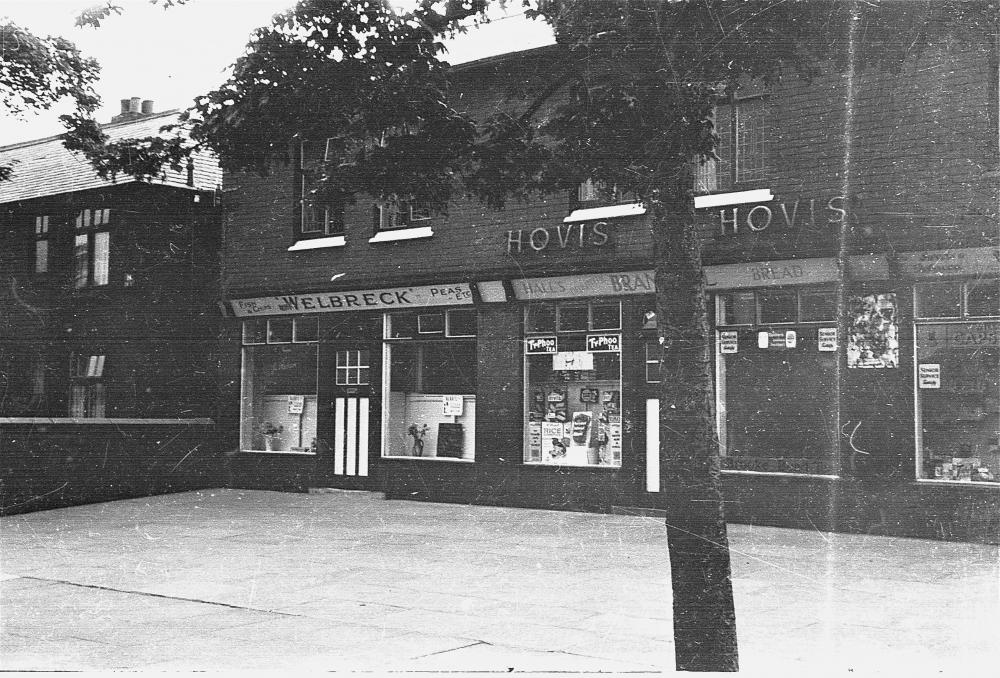 Shops next to Wellfield Hotel,Beech Hill 1965
Photo: Keith Bowen
Views: 3,926
Item #: 7475
A photo of the shops adjoining the Wellfield Hotel, Beech Hill, as they appeared in the 1960's.
The shop to the right is "missing" from the photo, this was a newsagents, but as can be seen, the other two were a Fish and Chip shop, The Welbreck and a Food Store which I think I'm right in saying was owned at this time by Mr Bramall (Bramhall?). He was a regular customer at the Wellfield but, I believe, he had previously had a job which took him around the world (seemed somewhat exciting at the time) before he settled down to "shop management".
Comment by: Mick on 5th October 2008 at 10:45
Just from looking at the photo of the chip shop you know there chips would have been good
Comment by: dave johnson on 5th October 2008 at 11:18
Was the shop not Bramwell`s. My mums Aunty Lucy lived across from the Wellfield, so often when visiting we were treated to Fish&chips and yes they were very good.
Comment by: Mick on 5th October 2008 at 11:38
The grocer's was Bramwell's, owned by Norman Bramwell. I knew Norman well. He had gone to sea before taking the shop.
Quite right Mick, now that you have reminded me it was Norman Bramwell, thank you.
Comment by: Jimmy on 6th October 2008 at 23:05
Looking at that picture makes you want to go in and buy some chips, fish and mushy peys! And a bottle of pop none of them cans.
I remember going to the shops in the late 40's early 50's.
to get sweets when I went to get a loaf for mum. Also on washing day that was the day for fish and chips - washing and drying took up the whole day so fish and chips made life a bit easier
Keith, thanks for putting some great pics on the site.
I was born at number 34 opposite the chippy and lived there until I joined the army in 1967. My parents were Jack & May Taylor and I have 3 brothers, Barry, Phillip and Alan and a sister, Julie. I remember your parents Jack and Phyllis well, your dad was a gentleman. I remember when we were kids we used to sit on the pub wall in the carpark with our feet on the car bumpers and your dad used to chase us off. But he used to let us build our bonfire round the back of the pub and we would sleep out to guard it. Great memories.
I saw you at the JJB last year with your dad when he got his hall of fame presentation. It was good to see him going strong.
The 3 shops opposite our house were Bleakleys chippy, Norman Bramwells grocers and the newsagents and sweet shop run by two old ladys Ginny and Buffy Worthington.
Comment by: Dave johnson on 31st January 2009 at 00:48
Graham do you remember Fred and Lucy Gaskell they also lived opposite the Welf.
I remember these shops well. In the late forties and early fifties the newsagents was Buffy's. The grocers prior to Norman Bramwell taking over was (I think) Hill's and the chippy was owned by Mr and Mrs Wilson, who went on to take over the Post Office when it was in Knowsley Road. Also remember the red police and emergency services telephone box next to the shops, where you had to pull out a small panel to get to the telephone and the light on top used to flash when the Central Police Station wanted to attract the attention of the local beat bobby (very often it would be my dad!)No personal radios or mobiles then!
Comment by: Fred Sentance on 6th November 2019 at 18:02
Lived at 109Wellfield Road.Delivered pApers for the paper shop around the beech hill area.Attended Beech Hill primary school, then Gidlow.