Photos of Wigan
Photos of Wigan
Album Contents
Album Contents
Wigan Album
North Ashton
15 Comments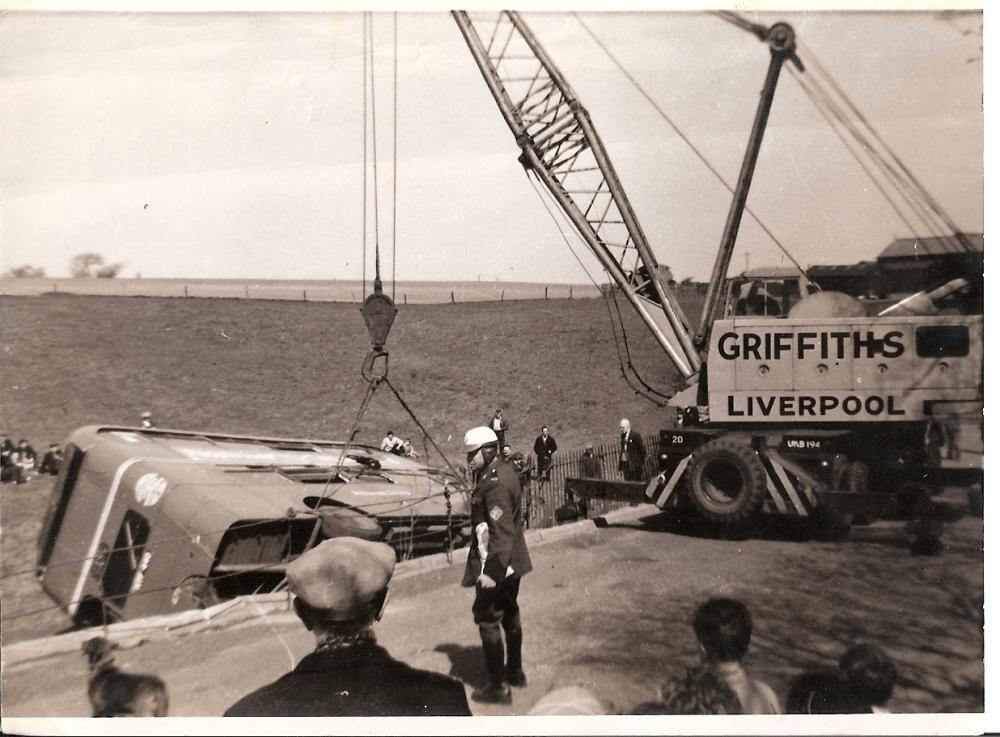 Bus Crash 1960
Photo: Lyndon Crompton
Views: 4,430
Item #: 7458
Photo of a Lancashire United bus which crashed in Booths Brow Road, April 19th.1960. The bus was on the Billinge to Leigh, No.55 route.It was the last one of the day and left North Ashton at 9:55pm. The bus skidded after hitting a pothole or ice, mounted the kerb and plunged into the stream. Fortunately nobody was killed but some were hurt badly.
Comment by: Susan Atkins (nee Atherton) on 30th September 2008 at 14:03
I remember this happening Lyndon although I was only young. I recall some of the older children & teenagers climbing into the field and finding coins that had obviously been in the conductors money bag. It was a right treasure hunt LOL!
I remember this well Lyndon even though I was only seven at the time. The site of the bus upside down was a pretty frightening thing for a youngster and I can remember feeling terrified each time I went down 'the brew' on a bus for a long time afterwards
Comment by: marjorie hayes(ne brogan) on 7th October 2008 at 21:51
i remember elsie sherrat from coronation street was on that bus,she was hurt but recovered okay
Comment by: Lyndon Crompton on 8th October 2008 at 20:15
Marjorie, Elsie Sherrat was hurt. She was sat on one of the front seats and broke her pelvis. Incidentally did you live in Poplar Avenue, near the entry to the playing field. My mother used to go to a Mrs.Brogan for her hair styled and I'm sure she had a daughter Marjorie.
Comment by: Susan Atkins (nee Atherton) on 23rd October 2008 at 19:19
Sorry to butt in here but the Brogan you are thinking of Lyndon is Eileen, Margery live across from us in Hawthorn Ave.
Comment by: Susan Atkins (nee Atherton) on 23rd October 2008 at 19:20
Sorry I misspelt your name Marjorie.
Comment by: Lyndon Crompton on 24th October 2008 at 16:10
Sue, thanks for the help. I remember now it was Eileen Brogan in Poplar Avenue. She went to Our Ladies School in Downall Green Road.
Comment by: Lynn Frodsham (nee Davies) on 2nd November 2008 at 14:14
I remember the crash very well. My older sister Pat and my grandma were on the bus (Pat would have been about 20/21 at the time - she was born in 1939). Luckily neither of them were seriously hurt.
Comment by: marjorie on 2nd November 2008 at 21:31
yes i'm no relation to eileen.i lived in hawthorne ave.opposite susan.you lyndon was a year below us i think.i was in rita cunliffes year.
Comment by: Lyndon on 3rd November 2008 at 11:54
Marjorie, I may have these names wrong but I think I remember you now with Pat Roberts from Poplar, Pam Wilde and Christine Adamson. Christine was the cousin of Helen and Sandra Adamson from Cedar Grove.
Comment by: marjorie on 3rd November 2008 at 15:25
we had one thing in common lyndon.red hair
Comment by: jan on 11th November 2008 at 17:38
my mother in law was on the bus her name was patricia frodsham of downall green road
I was on the bus with my grandmother, Martha Adamson. We were bruised but not badly hurt. I remember turning over and over and being showered by the coins from the conductress's bag.
what a great photograph..! love reading the comments too,
so many memories,..thanks
Elsie sherratt is my auntie and she was going to see her boyfriend ray bradburn who she eventually married .