Photos of Wigan
Photos of Wigan
Album Contents
Album Contents
Wigan Album
Beech Hill
8 Comments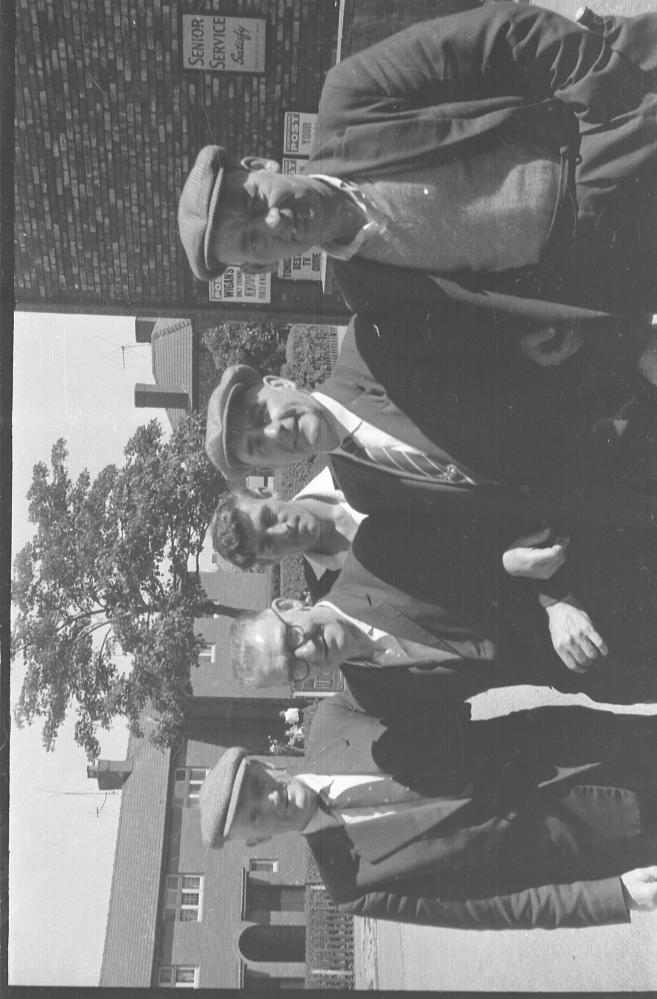 Wellfield Hotel
Photo: Keith Bowen
Views: 3,161
Item #: 7444
Sunday regulars at the Wellfield Hotel, Beech Hill in the mid 1960's. Photographed on the pub car park after closing time.
Left to right:- __ Sheridan?, Tommy Burns, Frank Treen, ___ ? and John Mulholland.
Comment by: Ackky on 28th September 2008 at 19:10
Pity the Wellfield photo's are not the right way up, they are very interesting and your comments about the pub are interesting also.The one that you have named as John Mulholland,I think is John Mulqueen, although I am not 100% sure.I have enjoyed a game of snooker with your father in the Legion from time to time,good to see he is still around and active.
Comment by: jean riley on 3rd October 2008 at 15:00
just seen photo and [john mullholland] is my late uncle,his name is john mulqueeny
i don't know any of these chaps, i'm only 42,but me dad,les williams lived at number 40.he has 3 brothers,phil,john and geof.his mam was may and his dad,syd
Comment by: keith charnock on 16th October 2008 at 13:57
Dave I went to school with your dad Les we lived opposite each other in blackthorne ave.We last saw each other at the Gidlow reuion earlier this year
Comment by: Graham Taylor on 10th January 2009 at 18:50
I was born at number 34, the end house immediately behind the tree and I remember these old faces but not their names.
remember frank treen bob bithell bob hickey my old man Arthur Sherman always playing 5s and 3s in the corner
Graham Taylor, I lived in Rose ave, but you know that.It was always a good 5th November at the Wellfield.
Comment by: Maureen Grimshaw on 3rd April 2018 at 13:44
My Dad Jimmy O'Hara (2nd from right)