Photos of Wigan
Photos of Wigan
Album Contents
Album Contents
Wigan Album
Bamfurlong
8 Comments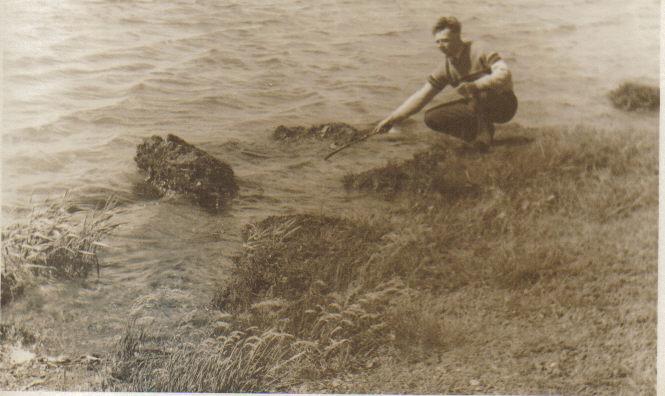 blue waters
Photo: derek evans
Views: 2,176
Item #: 5290
taken about 1960
my dad Ted at the blue waters near the red rocks.
Fantastic, this were the lads from Bamfurlong and Bryn Gates learned to swim, the water was so clear, i think the sulpher from the red rocks kept it that way
Comment by: Phil on 3rd March 2008 at 09:43
Do the blue waters still exist now? Used to go there when we lived on Lily Lane, but can't remember the exact route, probably started off down Bryn Gates Lane I think.
No there not there now, but if you go down the canal from Bamfurlong to Wigan they used to face Horrock's flash
Comment by: DEREK EVANS on 3rd March 2008 at 19:25
WE USED TO GO DOWN CRIPPINS LANE TO WHAT WE CALLED THE DOUBLE HEDGES TURN RIGHT AND WALK DOWN THE OLD RAILWAY LINE TO THE RED ROCKS LEFT TO THE BLUE WATERS.
YOU COULD ALSO GO DOWN THE LANE OPPOSIT THE PRIMARY SCHOOL PAST THE OLD TAR PITS PAST THE RED ROCKS TO THE BLUE WATERS
ITS ALL FIELDS NOW.
DOSE ANYONE KNOW IF THE THREE PITS ARE STILL THERE VERY CLOSE TO THE BLUE WATERS.
Comment by: Mark Calter on 6th March 2008 at 19:50
Derek
The rasso is still there but the others are gone
I live at Stubshie and as a lad our play area was the Valley nr.Syd Littlers Bryn Hall..I couldn`t swim but one day when I was about ten(1947)My big brother and some other big lads took me across the fields to the Blue Waters and they coaxed me in...They didn`t tell me that about six feet in there was a sheer drop and I went down like a stone and they had to drag me out...It left me terrified of water and I didn`t learn to swim until I turned forty...I only went once but I`ll never forget the Blue Waters.....
Comment by: Gerard murphy on 15th January 2013 at 16:28
Can anybody remember the wagon tippler that used to load barges on the leeds and liverppol canal at bamferlong? The spillage what went into the canal used to be dragged out and it was called kebbing, we used to bag it and sell it, does anyone remember this?
Jerry murphy
Comment by: derek on 4th February 2016 at 19:09
The coal tipper was only about 100 yds away from where this photo was taken.
My father tells a story about the coal tipper. He had to go there to help recover a coal tipping box that had gone over the end of the rails and fell onto a coal barge and sunk it.