Photos of Wigan
Photos of Wigan
Album Contents
Album Contents
Wigan Album
Aspull
5 Comments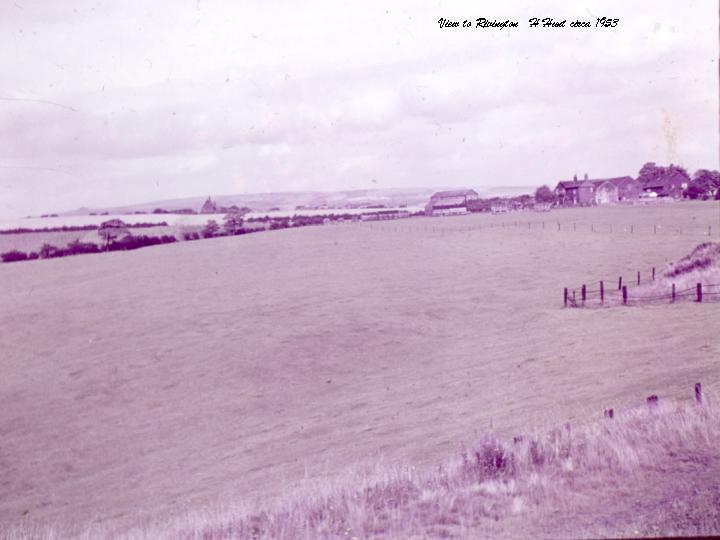 Location 1
Photo: dk
Views: 2,710
Item #: 5153
View to Rivington. Dated circa 1953 and I think taken from a point in the dip on the road turning right at top of Ladies Lane that leads to the A6.
Four of us once set off to walk to Rivington from Belle Green Lane with no knowledge of what we were attempting until we reached this point and took our first sighting of the target. We bought some toffees from the shop in the middle of the row and went home.
I would much appreciate any information on this if anyone knows.
Comment by: Cyril Ashurst on 9th March 2008 at 21:39
I think this photo was taken in the fields from a path which led from Top Lock to Ladies Lane. It was the old extension to Withington Lane.
The church in the top left is St Elizabeth's on Bolton Road Aspull so the houses on the right are in the Pennington Green area.
That is a farm on the extreme right, I cant remember the name of the owner. As you come down Hall ( Ladies) Lane from St Elizabeths Church, there is a farm on the right(now nicely done up) before you get to Penninton Lane, they had a pond where we went fishing, ( you had to get the OK from the farmhouse).Great times, I was once bike riding with my matesdown Hall Lane and some cows from this farm were coming towards us, well one of the cows decided to swerve in front of me and I ran right into it, over the top I went.
The farm is Bradshaw Hall Farm which was known locally as Darleys farms as the Farmer was Mr Darlington in the 70`s but dont know if he was there in the 50`s?. Access is from Hall Lane.
Could this photo have been taken from near Penningtom Green?
The steepled church on the left section of the photo is St Elizabeth's, showing Hall lane coming from it.