Photos of Wigan
Photos of Wigan
Album Contents
Album Contents
Wigan Album
Aspull
17 Comments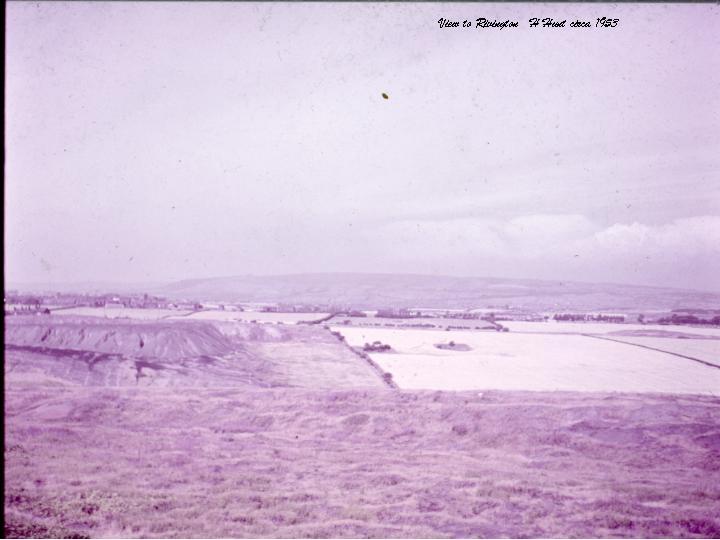 Location 2
Photo: dk
Views: 3,537
Item #: 5152
This is a view to Rivington but beyond that I am struggling. I think from somewhere in Aspull over fields towards Horwich. There's a couple of slag heaps middle left but I have no memory of these.
Anyone's help would be much appreciated.
Comment by: Cyril Ashurst on 9th March 2008 at 21:31
I remember these two slag heaps.
The picture appears to be taken from tne Woodshaw Rook (Wutchy) looking over Aspull.
In between the slag heaps was a pond called the Horshoe Lodge. There was also a footpath which went under the slag heaps via two small bridges. It led down the fields to Top Lock.
Haven't been these for ages so I don't know if it has changes much
Im afraid it has changed Wochy rook is now covered with trees, and the horse shoe lodge where i used to sail rafts on as a kid has been filled in.
Comment by: old toplocker on 14th August 2008 at 20:39
Aspull rugby union play fields now occupy the space were
the rooks on the left are.
At the extreme left of the rooks can be seen a small row of houses I believe these are Bent House Aspull, we lived at #6 Bent Houses, the slag heap in the centre used to leach minerals from the waste and there were ochre and other coloured fluids, it was very swampy, the two tunnels were further to the left of the photo, and these were so that paople could get through the slag heaps that were old mineral railway tracks.
Comment by: LINDA RUTTER NE HULME on 25th October 2012 at 02:41
ARE YOU RELATED TO EDNA ROOCROFT
Hi Linda,
Yes I am Ednas brother Ken, I keep poking around on WigWorld, surprising the things you learn. Do you live in Aspull?
Ken
Comment by: linda rutter ne hulme on 11th November 2012 at 14:41
Hi ken i live in Pemberton lived here for two years then went to Australia stayed for two and half years then came back to Pemberton ive been in Aspull this morning for rememberance sunday been talking to margaret barton she lives near your Edna she said you live in New ZEALAND
Comment by: linda on 19th November 2012 at 18:26
was these not called the Red Hills
Comment by: Ken R on 22nd November 2012 at 23:57
Linda, these were not the Red Hills. The Red Hills were the low heaps between the allotments and Marsh House where the Aspull Civic Centre is.
Comment by: Linda on 23rd November 2012 at 21:35
sorry Ken remember now think my age is catching up on me i remember Marion Williamsons grandad he used to take us for rides in a pony and trap Ken i was told you live in NEW ZEALAND im trying to get one of my sons to send you my EMAIL ADDRESS not very clever on here yet
Linda, Marion was my cousin, her grand dad was my grand dad, he used to take us all over the plae in that horse and trap,around Rivington and Belmont, I most enjoyed going with him to the blacksmiths shop at the top of Haigh to get the pony's shoes done, I think there was another blackmith shop close to Haigh hall, anyone know if it? O I am in Canada.
Comment by: Linda on 25th November 2012 at 20:32
hi Ken how long have you lived in Canada do you know weather Marion and doreen are still alive when Aspull Labour club was open i used to see your Alan in there been through Aspull today and the Queens Head pub is all boarded up Walter Southern as sent me some old photos but not had chance to reply yet
Comment by: Linda on 26th November 2012 at 08:02
Hi Ken you asked who my family are i had sisters Elsie Katheen Jenny sadly they have passed away also my brother Edward theres only Sally myself Barbara Alan left we where a large famly but all been very close you may remmeber my older sisters
Comment by: Ken R on 26th November 2012 at 22:34
Hi Linda, Marion has passed away quite a few years ago, Doreen lives near Bury. Its sad to see the places closing up in Aspull, when we go back for a holiday there are always fresh places closed. I think I knew your Kathleen the most, sorry to hear she's gone.
Comment by: Linda on 27th November 2012 at 15:25
did your work take you ti Canada.Iwent to Austalia in the 1960 but came back after two and halgh years i could not settle the comunication was not as good then weve been back since but my husbands sister lives out there i would love to go back but the flight is to long even though we have stop overs
Comment by: Ken R on 30th November 2012 at 00:11
Hi Linda, we came to Canada in 1969, our own choice, we have grand kids, and this month we have our first Great Grand kid, a beauti of a girl.
Comment by: Linda on 9th December 2012 at 22:36
Hi Ken we have no gradchildren anyway congratulations on your great grandaughter i will wish you all a very merry christmas and best wishes for the new year