Photos of Wigan
Photos of Wigan
Album Contents
Album Contents
Wigan Album
Ashurst
11 Comments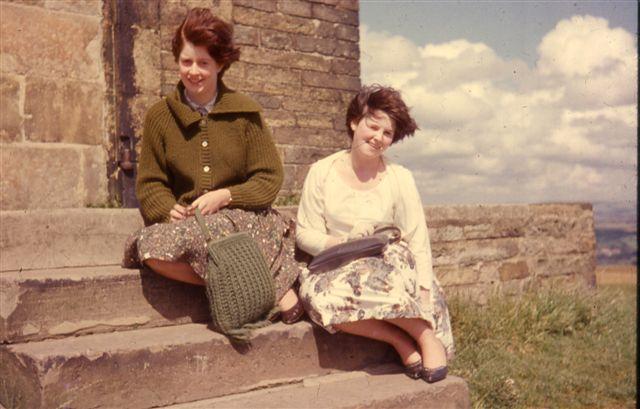 Ashurst Beacon 2
Photo: Helen West
Views: 2,329
Item #: 4447
My cousin Margaret ( nee Bryson ) & myself at the Beacon in 1960, Margaret was to be a bridesmaid at my wedding in Kent in 1962.
Comment by: Dave on 28th November 2007 at 11:53
Thanks for putting those 2 photos on Helen, it really brings back memories, "Exactly," on those steps is where i carved my name circa 1957, i would be 10 years old then. Nearby was my uncles name about 1927.
There were many many names on there, it was sort of a ritual but all the steps and stone flags with the names on have been replaced with refurbishment although there are just a few left on the main tower itself. (Happy days)Although it was wrong to damage property like that, we didnt really think so at the time.
Comment by: 1934granada on 28th November 2007 at 12:27
Was the building used for anything specific, and could you get inside?
Comment by: Helen on 28th November 2007 at 18:37
I should think you would have at some time been able to go inside, because the door & a window have been blocked up but perhaps someone with more knowledge of the history of the beacon would be able to help with that one.
Comment by: Helen on 28th November 2007 at 18:43
Glad you liked the pics Dave. Brings back happy memories for me as well. We had picnics up there in the days when kids went off on their bikes all day with some jam sandwiches, cornflakes & a bottle of pop ! I always thought old graffiti was history, inside an old priory I know there are names carved in the stonewalls.....all history.
Comment by: roland on 28th November 2007 at 22:37
I was told that the Beacon was one of many and they were lit to warn of invaders, the next one up is Rivington pike Beacon, l think they were also lit to celebrate a great occaison, l think the last time they were lit was in the 70's maybe for the Queens silver Jubilee, l took my children to Horwich, but it was so foggy and we couldn't get near, we didn't see a spark
Comment by: Carol King on 1st December 2007 at 09:12
I think the beacons were lit for the Millenium. I know the one at Billinge Hill was cos we could see that all night from my sister-in-law's back window
Comment by: supuplad on 3rd December 2007 at 01:46
I agree 'old' graffiti is history, graffiti that isn't abusive. Why do we always have to refurbish everything?!
Comment by: Mick on 3rd December 2007 at 21:17
Re the 'graffiti' covered flagstones surrounding the beacon - I was told they were stolen, and not removed as part of a refurbishment programme.
A great shame.
Comment by: Duncan on 1st February 2011 at 11:11
I think the last time beacon was lit at Ashurst was to commemorate the 400th anniversary of the Spanish Armada celebrated in 1988. Can remember the beacon being lit at Rivington a couple of times, saw it from UpHolland.
Comment by: Tom Meadows on 17th June 2017 at 18:18
apparently my great-grandfather (who I was named after), and who was the Editor of the Wigan Observer owned this land, and after his death, my great-grandmother gave it to the Wigan Corporation on condition it remained a public park and was not built on. Is that still the case?
Tom Meadows - Yes that's still the case. My grandfather, John, was Thomas Meadows's younger brother, btw, which obviously means we're related. All the best, Steve