Photos of Wigan
Photos of Wigan
Album Contents
Album Contents
Wigan Album
Market Street, Wigan
9 Comments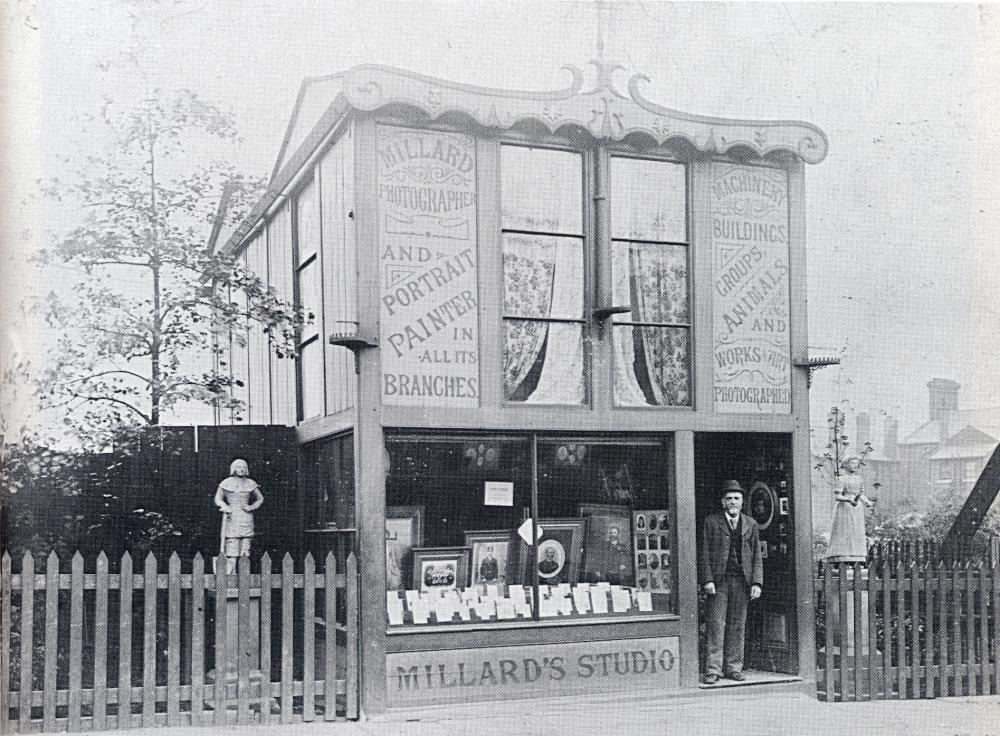 James Millard photo. studioc.1900
Photo: RON
Views: 2,644
Item #: 4178
Photograph of James Millard outside his studio in Market St. He built the studio, on the site now occupied by the Queens Hall, himself and sculptured the statues of the Pit Brow girl and Mill girl in 1895.
Photograph taken by his son William who followed in his father's footsteps.
Comment by: John Brown on 2nd November 2007 at 12:10
Would the building in the right of the picture be the old Bluecoat school I wonder?
Comment by: alison salter on 12th October 2009 at 22:54
lovely to see the man - and thee place where my Collier ancestors had their phots taken in thw 1890s...adds much welcome meat to the genealogical bones
Comment by: Chris on 14th October 2011 at 16:58
This info is taken from the National Archives Records of James Millard's Studio according to them is was built in the 1880's:-
James Millard's original studios, which he built himself, opposite the market hall in Wigan, approximately on the site of the present Queen's Hall. James himself is standing in the doorway. C.1895. Printed in gold letters on dark green mount: Millard, Artist, Opposite Market Hall, Wigan Cabinet. Wigan Observer 27 October 1983: "It stood where the Queens Hall now is and, neat and tidy though it is, the studio is built on spare land left vacant after the first building to occupy the site, the large wooden erection known as the Queens Theatre, was burned down on February 4, 1878. Old maps show that before the theatre was built a bowling green occupied the site in the early C19th. James Millard must have operated there in the years between about 1880 and the end of the century. The studio was certainly gone by May 15, 1907, for that is when the foundation stone of the Queens Hall was laid."
Comment by: Keith on 6th February 2015 at 16:58
This is a very belated comment but a necessary one - another absolute gem of a Wigan photo, courtesy yet again of Ron.
Comment by: Catherine Wright on 31st January 2022 at 01:02
I have a photo from 1862 or 1863 of my great grandmother as a baby with her mother. On the back of the photo is printed the photographer studio as Miss L Millard, Hope St, Wigan. Could this have been the mother of James Millard perhaps, a photographer in her own right? I can't find anything about her so far.
Comment by: Mick LD on 31st January 2022 at 10:17
Catherine Wright - photographer James Millard was born circa 1840. His mother's name was Jane.
He did however have a sister called Lucy who was about two years older than him, born 1837/38.
The 1869 Wigan Directory shows a Lucy Millard. Photographic Artist at 4 Hope Street.
Catherine Wright, Miss L Millard maybe Lilian Millard who was a grand daughter of James Millard. She was born in New Zealand but returned to Wigan around 1937 and for a lot of the time operated out of 41 Park Road.
I am in the process of sorting 100s of Millard images. The dates are wrong for Lilian to photograph your great grandmother, but mabe Lilian printed it?
I am in the process of putting together the life story of Lilian Millard who was my husbands cousin. She left New Zealand after the break up of her very abusive marriage but remarried later and returned there. I met her several times on my visits to New Zealand.
Great site. I have an old photo album which contains a photo by J. Millard of 118 Millgate, Wigan. It was through a Google search that I came across your site. Give me a shout if you'd like a scan of it.