Photos of Wigan
Photos of Wigan
Album Contents
Album Contents
Wigan Album
Bamfurlong
21 Comments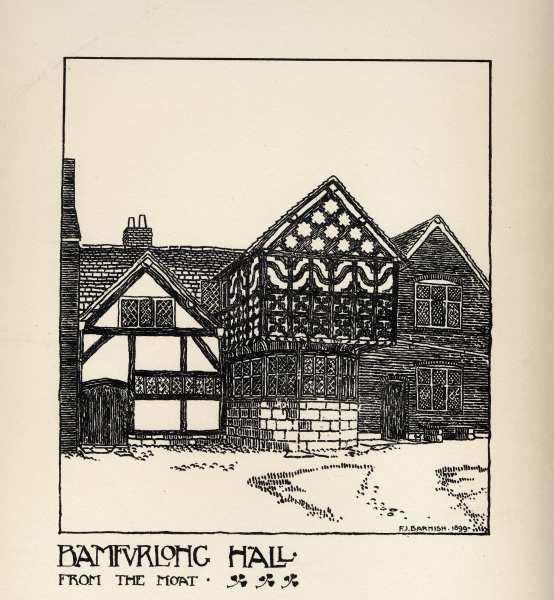 Old print of Bamfurlong Hall
Photo: RON
Views: 4,291
Item #: 3623
Old Print showing a view of Bamfurlong Hall from the moat
Comment by: derek on 4th March 2008 at 15:57
where was bamfurlong hall?
D
Comment by: Jeanette Collins on 15th June 2008 at 15:12
Bamfurlong Hall was over r/way bridge going to Platt Bridge on right. When I lived in Brynn Gates it was Walton's Farm or Bamfurlong Home Farm
I know where that is now. Thanks for that.
Jeanette Collins - that name ring a bell. I lived at Bryn Gates from 48 to 73.
Comment by: Beryl Bowker nee Houghton on 6th October 2009 at 02:01
hi Jennette how are u how is yvonne and the rest of the family
Comment by: Jeanette Collins on 2nd December 2009 at 15:37
Hello Beryl (Houghton). Nice to hear from a Bryn GateserYvonne & all Family are well. None living in Bryn Gates now. All Scattered to 'foreign' places like Haydock, Leigh &Platt Bridge & Hindley! Regards to all former Bolton Rd folks! Jeanette
Comment by: Derek on 3rd December 2009 at 10:35
Jeanette Have you seen the photo of Bryngates primary school. There is a photo of all the class about 1963
Comment by: derek on 3rd December 2009 at 13:34
I made a mistake the photo of bryngates school was taken 1959 ish
My great grandfather James was born at Bamfurlong Hall. I believe it was inhabited by Ashtons for most of the time after being rebuilt by John Ashton in the late 16th C, and before then continuously for some time.
Comment by: Lizie Walton Holland on 31st March 2013 at 20:53
Hi Jon my family and I lived @ Bamfurlong Hall Farm. Dad Tom Walton moved there in 1934 when 14 and took over the farm in 1950/51 when his parents died.We movedout of the old farm house when I was 9 as a new bungalow had been built just a short distance over and the old hall was demolished when I was a babe in 1952.
Hello, I have found a print of Bamfurlong Hall and research found this site my Grandmother was Minnie Holland does anyone know if we have a connection to the Hall.
Comment by: Lizie Walton Holland on 8th May 2014 at 16:01
Hello Frank Swires before the Waltons took over Bamfurlong Hall and the farm a family called the Ambroses lived there. To my knowledge there isn't a connection for a Minnie Holland.
Hello Lizzie Walton Holland.Iv'e just seen a picture of Bamfurlong Hall where you used to live.I knew your father and his brother Joe and Sammy Walton.I was in the same class at school as your mother Marjorie, in fact I knew all the Sherbourne family. I hope you are keeping well.
Comment by: pam crooks on 10th January 2015 at 18:52
Hi Lizie, my dad used to work for your dad Tom on the farm we lived on lily lane at the front of the farm quite a few of the family lived in that area the Winstanleys oh by the way im Pam winstanley i remember potatoe picking in the school holidays such fun hope your well.
HiPam.Are you any relation of an Ernie Winstanley who used live just over the railway bridge on the left hand side going towards Platt Bridge?
Jon, the Ashtons had a long history with Bamfurlong Hall, including family arguments & claims, then it was passed to the Gerard Estate in the 1500's. The Ambrose chap, mentioned by my sister Liz in previous comments, was a farm manager before our Walton family took tenancy in the 1930's. Tom Walton had to buy it or leave it in 1952 after his father died. We still have the piece of oak carved with 1577 from above the bay window the old hall. There's an article with pictures in Lancashire Life magazine January 1981 (on page 63)
Hello Lizie Walton Holland. I used to visit the farm too back in the 60's as I used to live in Abram and attended Hindley County Secondary School (Argyle Street).Just wondering if you are still in the area.
Comment by: lizie walton holland on 9th November 2015 at 23:27
Hello Tom good to hear that you knew my Walton grandparents something I never did as they passed away in 1950 and early 1952 I was born at the end of 1952.I have happy memories of a great childhood on the farm. All the people that used to work for dad were always so nice to us kids.
Comment by: lizie waltton holland on 9th November 2015 at 23:36
Hi Pam yes I remember you well lovely red curly hair you always had. Remember your mum and dad well Vi and Kenny also Kenny your sib. Never knew your younger brother tho' Your uncle Ernie married to Jenny and Edna Margarets mum who lived with your grandmother Sally. My brother John was talking to your aunt Edna not too long ago. We have a great family video of those long lost days with you all on it. John and Christine Govan too. Hope you are keeping well Pam I now live in Port Clinton Ohio and have lived over here for 29 years now. I visit the UK frequently and have been back to the farm many times and down the lane too. Hope you are keeping well.
Comment by: lizie walton holland on 9th November 2015 at 23:47
Hi Dave was your dad a policeman and did you move to the Garstang area at some point? How old were you when you used to visit the farm? Mum and dad are no longer with us and not much is left of the farm just the old dutch barn. I still love to visit Bamfurlong on my trips over, nostalgia! Hope you are well.
Comment by: lizie walton holland on 13th November 2015 at 20:29
Hello again Tom I knew Ernie Winstanley when I was a kid he passed away when I was around 10 years old. He was Pams uncle and lived in the house right by the railway embankment next door to the Moss family. They had one daughter Anne and Jenny his wife continued to live there for many a year after his death. I do not know what she did as I moved out of Bamfurlong in adulthood. Hope this helps.
Hi Lizzie, good to hear from you. The answer to your question is you got it in one! I was about 13/14 years old when I used to visit the farm, fond memories. I remember you and your family well. I have lived in Germany for 27 years (now in Oberneuching, close to Munich). I also visit the UK frequently on business and privately to see family and friends. Hope you are keeping well. My Email address is daveinerding@googlemail.com please contact me. Best Regards, Dave.