Photos of Wigan
Photos of Wigan
Album Contents
Album Contents
Wigan Album
Orrell
8 Comments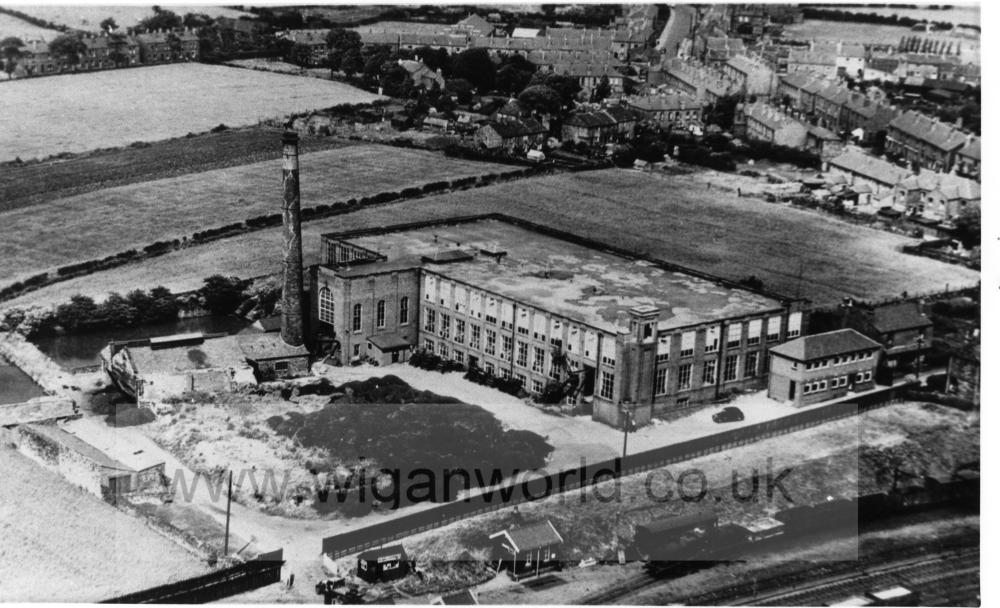 ORRELL MILL
Photo: RON HUNT
Views: 614
Item #: 34717
OVERHEAD PHOTOGRAPH OF THE MILL
Comment by: Peter Walsh on 5th November 2023 at 07:26
Is this site now the Hewit Business Park near Orrell Station.
Comment by: Dave on 5th November 2023 at 13:46
No Peter Orrell mill was at the bottom of Mill road off St James road at the side of the railway bridge about a mile from Hewitt park , all the fields and the mill are now a housing estate .
Comment by: Cyril on 5th November 2023 at 14:29
You got me thinking again Peter as I was thinking it was what became to be the paper mill as in the early 1960s a friend and I would often walk from Pemberton to a relations of his on Sandbrook Road, and the route went along the footpath by the railway going past the paper mill just off St James' Road, we would often get foreign canned food labels from the bales of recycling paper stacked near the fence, and though we couldn't read the writing we would always be amazed at the brightly coloured labels compared to the dull conventional British ones, I am still sure the mill in the photo is the one that became to be the paper mill, someone will know for sure.
Comment by: Peter Walsh on 5th November 2023 at 14:47
Thanks Dave, I see now that the old brick and tile works was on the site I was thinking of.
Comment by: Helen B on 5th November 2023 at 17:32
My GG Grandfather Robert Derbyshire was Mill Manager here in 1881. He was a Spinning Master.
Comment by: Sir Bob on 6th November 2023 at 16:27
It was called Sandbrook Mill.
Helen B, Robert was my GGG grandfather, the mill burnt down in 1881, he also lost his wife earlier that year. The owner went to his relatives for a loan, (Canal Mill, Chorley), they refused him and he threw himself onto the railway line, just before Christmas that same year.
Comment by: Helen B on 7th November 2023 at 15:48
Bernard Derbyshire. I've messaged tou about Robert Derbyshire. Didn't know about the demise of the mill owner.