Photos of Wigan
Photos of Wigan
Album Contents
Album Contents
Wigan Album
Standishgate
21 Comments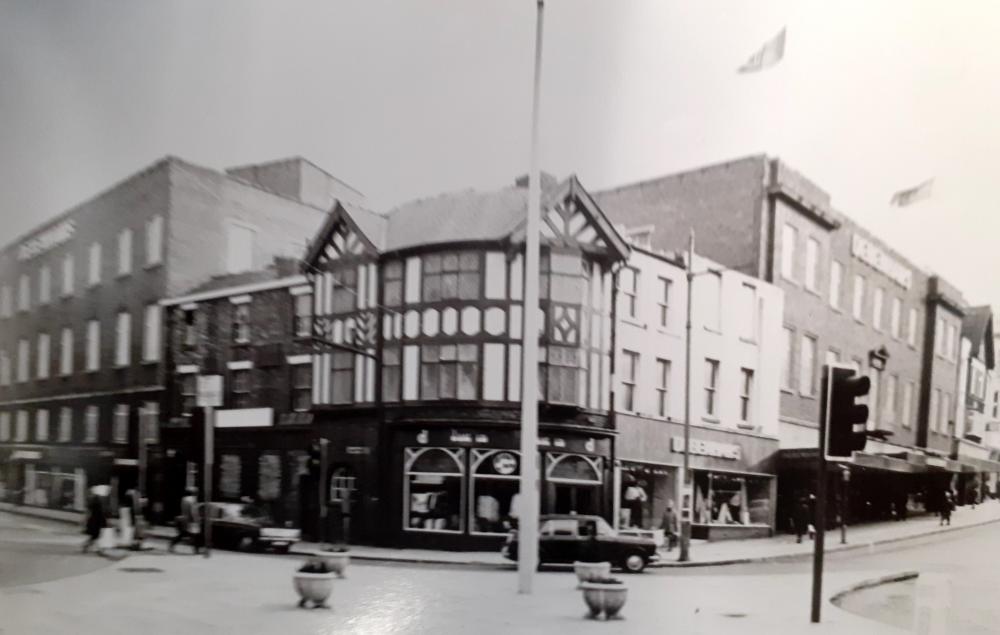 DEBENHAMS STORE
Photo: RON HUNT
Views: 1,290
Item #: 33416
TAKEN CORNER OF STANDISHGATE AND CROMPTON ST. 1970's?
Comment by: Andy Lomax on 20th November 2021 at 21:09
Makes you wonder why the building in front was demolished - Nowadays GAME computer store. I did not know Debenhams premises were on both streets.
Comment by: Veronica on 20th November 2021 at 23:11
I well remember all the entrances to Debenhams and all the floors. Basement, ground floor and 1st and 2nd floors and the lift. Much bigger than the new one in the Grand Arcade. It was a pleasure to go inside, a bit more expensive than all the others but good sales in January and other times. I bought a lot of stuff from there over the years. In particular clothes and household stuff.
I don't remember the island in the road with planters as early as the seventies. There was such a lot to go to Wigan for on a Saturday that's for sure.
Comment by: annemarie on 20th November 2021 at 23:16
I remember male department store could be entered from there bought my sons first over coat there
Comment by: Barrie on 21st November 2021 at 07:46
Built on the site of the old Pendlebury's shop that went up in flames in 1953. I cannot remember the year the new store opened though. C&A Modes further down was 1962.
Comment by: A.W. on 21st November 2021 at 08:23
There was an entrance to Debenham's/Pendlebury's on Crompton Street, also I recall an outdoor license in one of the shops near the corner on Crompton Street.
I worked at Debenhams from 1973 to 1976. I started in the basement on Glass and China, then moved onto Dress Fabrics and Patterns which was situated in the part which the car is just about to pass, with the DEBENHAMS name over the door. I got married when I worked in there, and in those days, we assistants had to call each other by our "titles" in front of customers. I remember how strange it felt to be called "Mrs. Roberts" instead of "Miss Griffiths" by my colleagues! That practise had ended by the time I left, which I think was a shame...I liked the old-fashioned ways. We all took our turn in the lift when the lift-assistant was off sick, and it was like being in Grace Brothers in "Are You Being Served?!"...."First Floor Perfumery, Stationery and Leather Goods......!" My last department was soft furnishings on the top floor, where I worked for the long, hot Summer of 1976 before leaving to have my son. There were no windows and no air-conditioning back then and I often felt faint. Then the day I left, the heatwave broke and it rained!
Comment by: Carolaen on 21st November 2021 at 09:28
Still Pendleburys to me !
Comment by: Carolaen on 21st November 2021 at 09:31
AW Maltbys is the name you are thinking of. It was a proper wine merchants , not just an off licence.
Comment by: annemarie on 21st November 2021 at 11:27
I remember going into the wine merchants to get a bottle of tonic wine for my aunt and they would not serve me said I was too young I was 20 years old.
Comment by: Elizabeth on 21st November 2021 at 15:56
I worked here when it was Pendlebury's ,in the 1960's as a Saturday job whilst still at school.I was on household ,(bakery items,pans etc) really envied one of my school friends who worked Saturdays but on the record department where people could go into a booth to listen the latest sounds.Yes,and everyone was known as Mrs or Miss,for working 9am to 6pm I earned the princely sum of £1( 19s 9d,with 3 old pence taken out for contributions !)
Comment by: DerekB on 21st November 2021 at 16:50
Barrie, the store which replaced the one which burned down opened in early 1957.
Comment by: CJAlan on 21st November 2021 at 17:03
I do find there is something regal about buildings with flag poles outside. The Debenhams store was one of Wigan's jewels for many years.

I never though the Grand Arcade Debenhams retained the charm and character of it's Standishgate predecessor.

CJ
Comment by: Maurice. on 21st November 2021 at 17:30
Pendleburys was excellent, but it was taken over by Debenhams in 1948.
That's correct. Maurice. In our "Induction" as new recruits at Debenhams in 1973, we were told that it had been Debenhams since 1948, and had just retained the name "Pendlebury's" because the people of Wigan were used to it.
Comment by: Colin on 21st November 2021 at 20:46
When it Was Pendlebury's there used to be a lady on a stool in the lift to get you to the correct floor, can remember a small blond lady think she was from Standish.
Comment by: Peter Walsh on 22nd November 2021 at 07:45
My dad worked at Pendleburys in the 1940s and 50s. He was the buyer on the top floor furniture department. I stood with him near Nymans watching the fire. My wife Alwyn worked as a junior in the mens department. She also took over the lift when the blonde lady had her break. She remembers names like Mr Goldson, Agnes Hill, Miss Beardsmore, Mrs Johnson, Mr Hardacre, Norman Pouncy, Gordon Mosley and Brian Harrison. My dad Joe Walsh had assistant Mr Valentine and Junior Barry Davenport.
Comment by: Elizabeth on 22nd November 2021 at 08:25
I can remember a lift lady named Alma,would she be the same lady?
Comment by: Albert.S. on 22nd November 2021 at 12:43
In an earlier photograph of Stairgate. I mentioned Bon marche being on the corner of Standishgate and Mesnes Street. I seem to now think, Bon marche moved much earlier than when that photograph was taken.
Comment by: Mr Rumbold on 22nd November 2021 at 14:20
All I remember about my time there was a camp man in menswear, a nice young girl in ladieswear, oh yes, and an old grump of a woman who was always worrying about her pussy getting wet.
Love it, Mr Rumbold! And all the comments on this photo too...."You've all done very well!". xxx
Comment by: Colin on 24th November 2021 at 17:59
The lift lady was a Sunday school teacher at St,Wilfred's Standish in the 60s.