Photos of Wigan
Photos of Wigan
Album Contents
Album Contents
Wigan Album
Mesnes Street, Wigan
8 Comments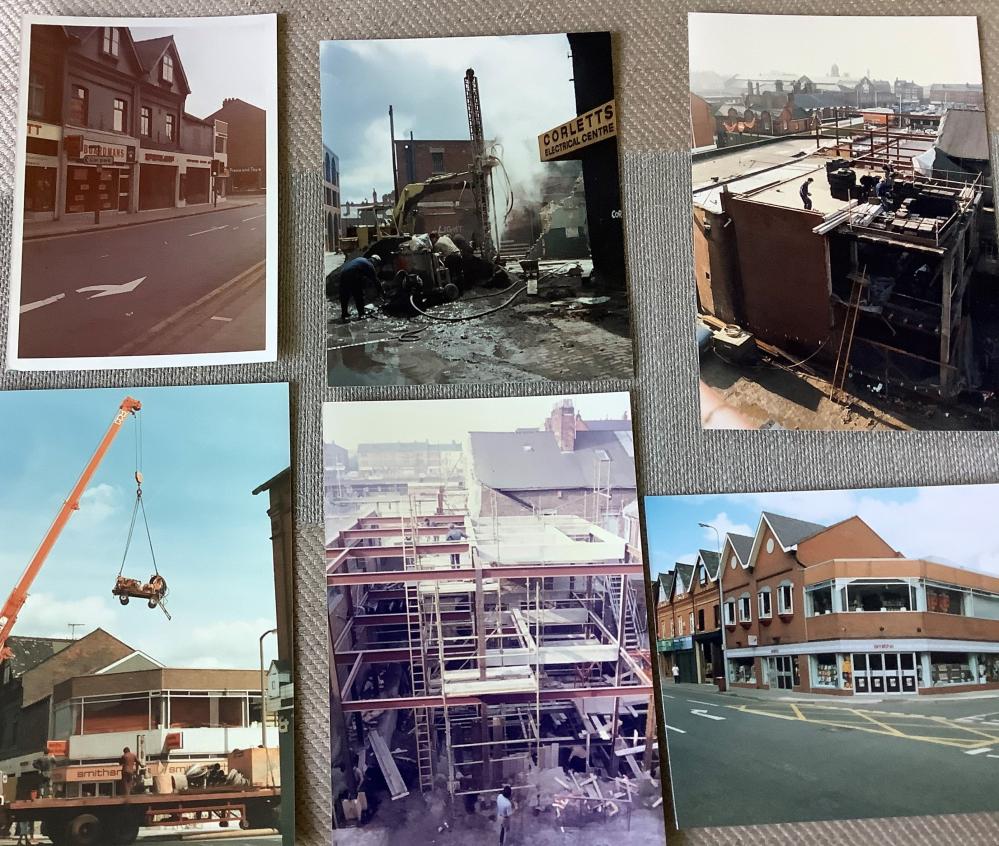 SMITHS BOOK SHOP
Photo: RON HUNT
Views: 903
Item #: 33414
SOME IMAGES SENT IN BY TREVOR SMITH SHOWING RENOVATIONS TO SMITHS BOOK SHOP EARLY 1970'S WHEN SMITHS TOOK OVER THE SHOP AND EXTENDED IT THROUGH TO WHAT WAS AT THE TIME 'BRIANS FURNITURE SHOP'
Comment by: CJAlan on 17th November 2021 at 22:03
Thanks for uploading these pics. The picture in the bottom right hand corner appears to be more recent than the 1970s - I would say this was taken possibly late 80s or early 90s.

Smiths really was a dapper shop in its day. It is such a shame the changing ecomonic fortunes of the town centre forced Trevor Smith to call it a day in 2008.
Comment by: DerekB on 18th November 2021 at 14:24
i remember it as the site of Bailey's Scotch Bakery with shop at street level and cafe upstairs. A well to do auntie would take me there as a treat in the school holidays.
Smiths was a brilliant shop. I loved their books and stationery. My daughter worked there for a short time around 2006/2007.
Comment by: Cyril on 18th November 2021 at 19:47
It was a brilliant shop Irene with excellent customer service, and if there was a particular book you needed and they didn't have it in stock they would get it in for you and phone when it had arrived, usually the next day or so.

I've just been reading your letter to the Observer - so true, where do some shop assistants learn how to deal with their customers?

Here's a joke - The young shop assistant had a high opinion of himself and regarded customers as nuisances. One day a meek looking man came into the shop and asked "Do you keep dog collars?" "No," the assistant said quite sharply, "we sell them." "That's okay," said the meek man as he was opening the door to walk out, "you'll be keeping the one you were going to sell me."
Brilliant, Cyril! I have no doubt whatsoever that my letter will not change the way things have changed in that shop one iota, but writing it down got it off my chest. Otherwise it would have rankled with me for days! Peter went into Halford's in Leigh next day to look for the parts and I nipped next door into "Next" for a look round the clothes. When I came out I wasn't sure if he'd left Halfords so hung about outside, peering in occasionally. A young lady assistant came out and asked if I was okay. I said yes, I was waiting for my husband and she said, "Come in out of the cold and wait in here". They only had one item that Peter wanted but she ordered the other and it was in that same afternoon, and she rung to tell him so. My faith was restored!
Comment by: Mr X on 20th November 2021 at 12:57
I wonder where Trevor Smith is today, I haven't seen him since his shop closed and must now be over 80.
Comment by: RON HUNT on 20th November 2021 at 14:20
I AM STILL IN REGULAR CONTACT WITH TREVOR. HE HAS SOME HEALTH PROBLEMS BUT HE IS STILL GOING STRONG AND STILL GOING TO THE LATICS..
Comment by: Trevor Smith on 20th November 2021 at 19:30
Bottom right mid 1980's.The shop was sold in 2004 and I retired.It closed 2009 and it became British Heart Foundation outlet. Hope this clears a few dates.