Photos of Wigan
Photos of Wigan
Album Contents
Album Contents
Wigan Album
Standishgate
15 Comments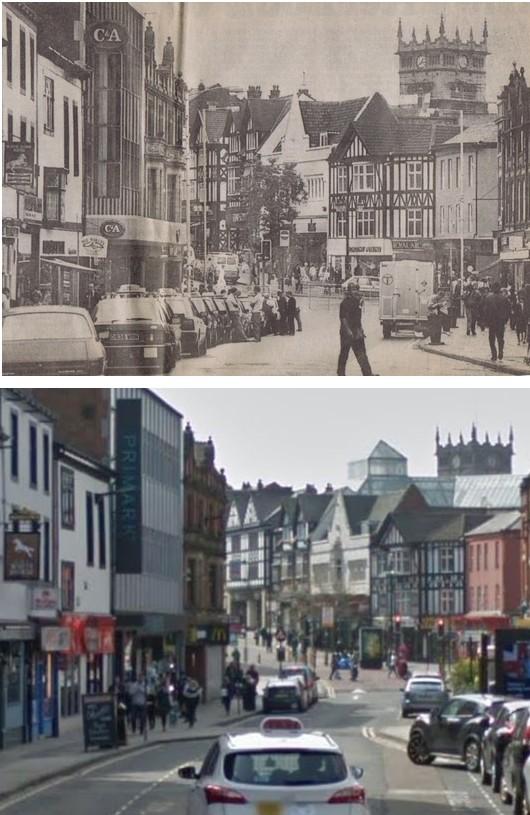 Standishgate Comparison Pic.
Photo: Jeff.
Views: 1,311
Item #: 33405
Further to comment by Arthur G on Ron's earlier pic of Standishgate.
'Then and Now' pics for comparison, showing location of church tower.
Comment by: Terry on 8th November 2021 at 10:22
Thats bob on Jeff. Only difference is the galleries glass roof blocks part of church tower out now.
Comment by: CJAlan on 8th November 2021 at 10:38
It definitely looked better in 1987 than it does now.
Comment by: alan winstanley on 8th November 2021 at 14:26
And reading your comments would you agree that back then it was a really good town to come into and shop , not like today Wigan has lost all it's appeal ,and when these dictator councillors have had their way with demolishing our market area it will never be the same anymore because they will have destroyed all the local character ...........
Comment by: Albert.S. on 8th November 2021 at 15:33
The mentioned scaffolding in a previous photograph. Would it be scaffolding for the placing of the glass roof on the Galleries, and nothing related to the parish church tower?.
Comment by: CJAlan on 8th November 2021 at 15:57
I total agree with the other Alan's comments about Wigan town centre's future.

How can a new cinema be viable when the one at Robin Park is struggling? A bowling alley is a bad idea - there is still one on Miry Lane that is just about still open.

As for a new hotel - the town centre has the Mercure and Premiere Inn which have sadly been turned into hostels for those coming in from abroad and homeless people supported by the Brick Project.

As for new flats and living quarters - I can only imagine any accommodation built on the market hall complex will be made up of local authority owned property.

Without sounding stereotypical, these can potentially bring problem tenants which will only serve to flood the town centre with more issues of alcohol, drugs and anti-social behaviour.

I am not holding my breath that Wigan's fortunes will improve, if anything I suspect they may get worse in time.

CJ
Comment by: Veronica on 8th November 2021 at 15:57
It certainly was a good town to shop in the eighties even in the Millenium it still was. After the Grand Arcade was built and the main stores were integrated inside that's when it went downhill after 2007 little by little, until the Galleries started to empty. It was a gradual process. The internet helped all the closures and put the top hat on it. But one day I feel people will get sick to death of ordering on the internet and shops may return again. Who can say!
Comment by: Jeff. on 8th November 2021 at 16:32
Albert, I think the scaffolding is on the church tower, as you stated.
Comment by: CJAlan on 8th November 2021 at 17:15
Veronica

I totally agree with your comments - the 1990s and early 2000s still brought some fun and attraction to the town centre.

I used to meet up with friends regularly in town in my late teens through to my early/mid 20s and even during the daytime, it was good to get out and meet others without necessarily shopping or gracing the pubs.

There was still a a lively vibrant atmosphere around the town, which has sadly long gone with a lot of the shops. Like you said, the change in misfortune started when the Grand Arcade arrived.

CJ
Veronica, I was only saying last night to Peter that I think shops will return....probably never to the extent they used to be, but someday "walking round the shops" will be a new experience to those who have known nothing but internet shopping. What goes around comes around.
Comment by: Peter Walsh on 9th November 2021 at 06:42
Jeff, the scaffolding platforms perspective angles are as the cornice below the church clock so you are right.
Comment by: alan wink on 9th November 2021 at 14:35
I note all your comments on our town and i just like to hope and pray that some of these people who are on the council would just take a breath and do one very simple thing ..........And that is .......
LISTEN TO THE VOICE OF US WIGANER'S , PLEASE .....
Comment by: Carolaen on 9th November 2021 at 16:35
Alan. I strongly suspect the Council did indeed listen to the voice of many Wiganers from the 1970s onwards who were very keen to have retail parks like Robin park and Marus Bridges so they could drive there and do all their shopping, and shiny new Arcades like the Grand Arcade with a big Department Store etc just like lots of other towns were building at the time. These issue are far from unique to Wigan. I used to live in Watford for many years where the town centre had a really good modern centre built as part of it with a John Lewis anchoring it and lots of town centre parking and bus stops. It was really nice and well used in the 1990s but not now and John Lewis has closed the store and lots of the old High Street shops have also gone.

Yes there are still people like us who want to get the bus into their local town and go round M&S but we are yesterdays people and those times will not return.
Comment by: CJAlan on 9th November 2021 at 16:47
Alan

I think one of the biggest issues with Wigan Council is that alot of the investment for the new projects are coming from over seas. I don't know how true the rumours are, but the Chinese have a big stake in alot of the real estate in and around the town centre.

The Pagefield Building is (or was) owned by a company in the Cayman Islands which has been part of the issue for the last few years - no one in the Council or partnership teams has been prepared to take responsibility for preventing the persistent anti-social behaviour and actually doing something with the whole site which has been derelict for years.

I very much doubt the people of Wigan have been at the forefront of the recent town centre planning decisions, but then again, every council in the country probably adopts a similar agenda.
Comment by: Alan Wink on 12th November 2021 at 14:37
Carolean & CJALan , Thank you both very much for your informative comment's , I do have to acknowledge that we are of another generation sad that it be ,but at the least it has helped me get it of my chest so to speak . Stay Safe ... Alan .
Comment by: alan wink on 2nd December 2021 at 15:47
The other day 30/11/21 my wife and i went into Wigan ,and i was so very upset to look down Standish gate and round the top near MOON -Pub it was so very drab ,there were very few people about too it was all so depressing we have agreed we will not be going again soon ,only as a last resort ,we are sad at what this council has done to our town ........