Photos of Wigan
Photos of Wigan
Album Contents
Album Contents
Wigan Album
Market Hall
14 Comments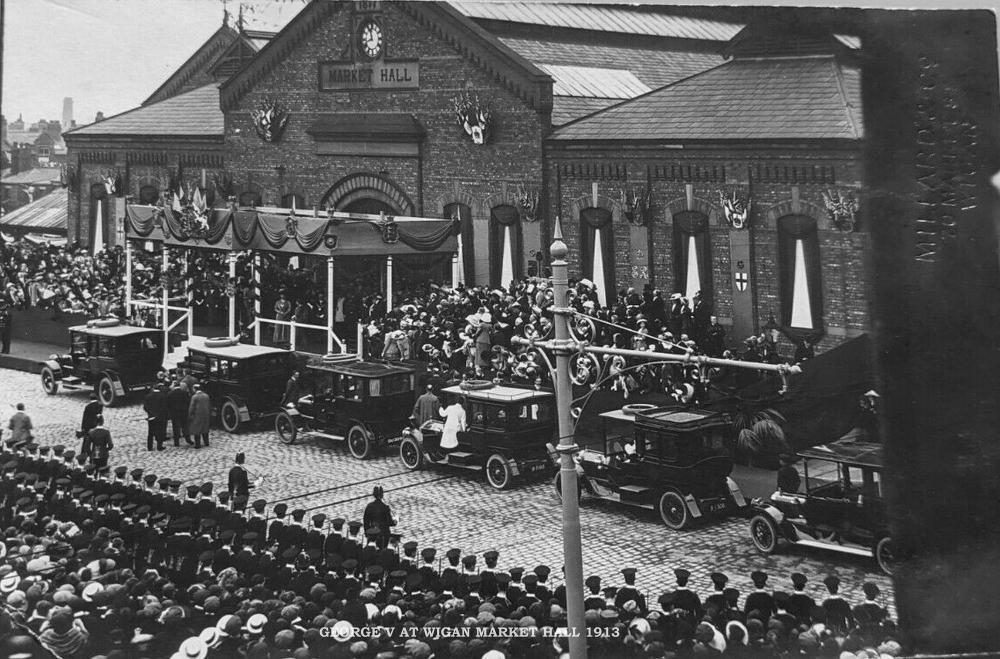 GEORGE V 1913 PHOTO 2
Photo: RON HUNT
Views: 1,428
Item #: 33312
VISIT TO THE MARKET HALL WIGAN BY GEORGE V 1913
Comment by: Albert.S. on 9th September 2021 at 09:50
Ron. Do you know when the Market Hall was built, It would seem, looking at it, that it had been built quite a fair time by the time this photograph was taken. All them years In existence, and demolished. Has anything significant been accomplished by its demolition?.
Comment by: Albert.S. on 9th September 2021 at 11:22
Ron. I can just make a date out, right above the words ' Market Hall' is it 1875?.
Comment by: WN1 Standisher on 9th September 2021 at 12:43
The building that replaced it is due to come down soon, it didn't last half as long as this one Albert. You'd get a shock if you walked some of your old beats today.
Comment by: Helen of Troy on 9th September 2021 at 12:45
I agree with Albert's comment entirely.
Comment by: Albert.S. on 9th September 2021 at 13:59
WN1 Standisher. My whole system would get a terrific shock to try and walk those Wigan beats today. At eighty seven my mobility is not as good as it was, walking those beats sixty odd years ago. Happy days.
Comment by: John on 9th September 2021 at 14:16
I believe the Market Hall opened in 1877. Incidentally, a big city like Leeds still has the flourishing old-fashioned Kirkgate market hall like I remember Wigan market hall in the 1940s and 50s so I can't understand why Wigan couldn't keep this one?
If you ever go to Durham don't miss their
Market Hall, (if you can't find what you want in there then I owe you 10 bob) fantastic, put ours in Wigan to shame.
Comment by: WN1 Standisher on 9th September 2021 at 17:47
Albert, next time you're in this neck of the woods, if you fancy a ride around Wigan to take in the changes, I'm your man :)
Comment by: Albert.S. on 9th September 2021 at 19:00
Thank you WN1 Standisher. Now I no longer drive, so my own locality is my main environment. I do enjoy my regular visits to Cleveleys. The promenade is first class.
Comment by: Cyril on 9th September 2021 at 19:22
Spot on there Zoonie, the market hall at Durham is superb, it reminds me so much of the Victorian hall that we had here. The atmosphere the little gems of stalls and the different aromas are pretty much the same, it gets you reminiscing.

John, the public of Wigan and the many inside and outside stallholders didn't want the market hall to be demolished, and thousands of signatures were collected on a petition to keep and renovate the original hall, but it was ignored by the council.
Comment by: MikeW on 10th September 2021 at 08:35
Ah the rose tinted spectacles are out again I see. My comments are probably not going to meet with the general consensus but all I can recall was an old, oppressive, dirty, smelly, vermin infested building that was falling apart, full of litter and a massive fire risk. I don't doubt for a second the council carefully considered all options before taking the one they did and equally I don't doubt there were many happy to see it go.
Comment by: Albert.S. on 10th September 2021 at 09:31
Variety of comment, and of opinion is the spice of life. In a manner of comparison, It always shows that there are two sides to a coin.
Comment by: Cyril on 10th September 2021 at 16:30
MikeW, I can assure you that the lenses of my spectacles are not rose tinted, nor have they ever been. I and a lot of others on Wiganworld see things as they actually are and have been!

Yes the hall was old - after all it was Victorian with a lot of character, also it was far from oppressive, it being airy with natural light from the glass roof and with a distinctive atmosphere and was thriving with shoppers. It was cleaned thoroughly on a daily basis so wasn't dirty! As for being smelly where had you been hanging out - in the bin area out at the back perhaps?

The scents from each stall created a very pleasant and unique aroma that stimulated the olfactory system in ones nose, obviously not so yours.

I worked at the environmental health at the council and can vouch that the hall was sprayed with insecticide weekly along with permanent baiting stations being checked every week and which had hardly ever been nibbled - so NO it wasn't vermin infested, obviously there were Sparrows within the building, but they added character as was vouched on a BBC TV programme.

The cardboard and other refuse was removed at the end of every working day and with water sprinklers installed throughout it posed a lot less of a fire risk than many other buildings in the town centre.

It took Walter Forshaw long enough to demolish it with his swinging ball and chain, so I and others too would have said it was far from falling apart!

If you would care to go down the slope on Market Street to the deep basement of the new market hall you would discover that to be very oppressive and dirty along with smells emanating from the foul water storage tank, rotting food waste and traffic fumes.

So after only 34 years the interior of this new hall looks to be in a far worse condition than the old thriving hall was after 134 years and is now too under the threat of the demolition gangs swinging ball and chain.
So are you happy that the council has carefully considered all options before taking the one they intend to do, and do you think that many also shall be happy to see it go and equally happy about what is to replace it?
Comment by: Bill on 13th September 2021 at 13:45
I would have thought the main structure of the Market Hall would have stood for a lot longer than it did.
I also worked on the verandah which went around the inside of the hall above the stalls and to say it was unhygienic would be an understatement as there was hundreds of birds flying round. and nests and bird traps up there.
It was accessed from a trap door and ladder near the Woodcock St entrance.