Photos of Wigan
Photos of Wigan
Album Contents
Album Contents
Wigan Album
Market Place, Wigan
13 Comments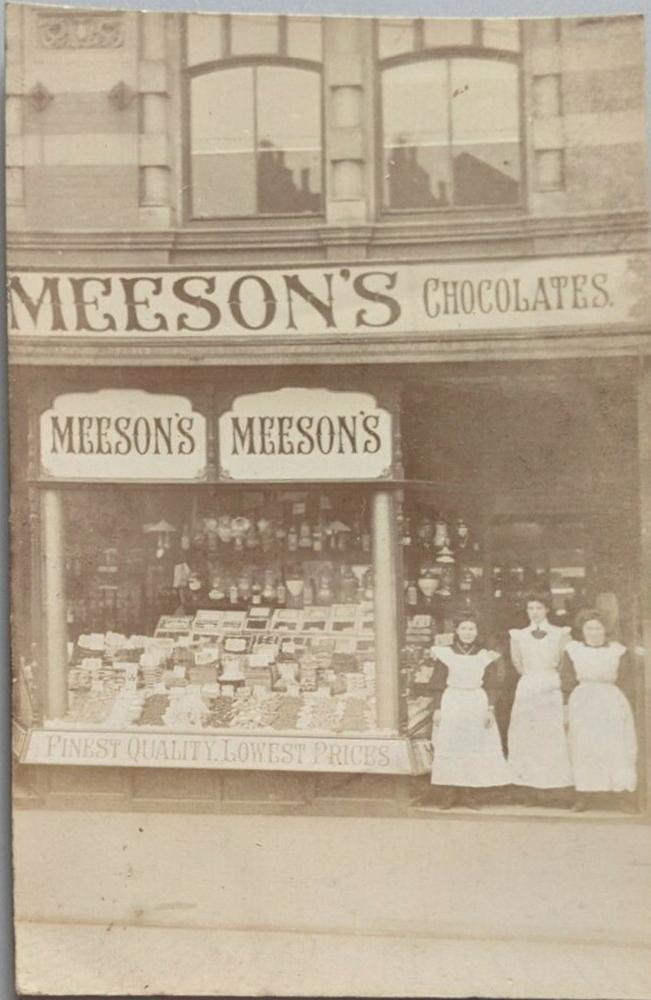 MEESONS CHOCOLATE SHOP EARLY 1900'S
Photo: RON HUNT
Views: 1,286
Item #: 33310
MEESONS SHOP WHICH WAS NEAR THE UNDERGROUND TOILETS IN THE MARKET PLACE.
Comment by: Linma on 9th September 2021 at 06:40
Was it Meesons where when you bought a quarter of sweets you got a quarter free?
Comment by: Veronica on 9th September 2021 at 08:30
I imagine that shop being very busy with three assistants and the location. I bet the smell of all that chocolate and sweets was scrumptious.
Comment by: Edna on 9th September 2021 at 09:05
Amazing this shop, chocolates must have been a luxury in the early 1900s. These photos are great of our past.Thank you for sharing Ron.
Comment by: Albert.S. on 9th September 2021 at 10:15
In those days, nobody could care less about calories. I don't suppose many of the general public had ever even heard of calories.
Comment by: irene robertsI on 9th September 2021 at 10:22
I only remember Meeson's when it was down Market Street, near Woodcock Street corner. When I was in my last year at Hindley Grammar School we made a Christmas cake in Domestic Science class......cake made one week then stored in a tin until it was time to cover with marzipan, then stored again until it was flat-iced, then another week for the decorating. We had to have a tin to keep it in between the stages and Meeson's sold me a Quality Street tin; in those days they weighed the sweets out from the tin into paper bags and the empty tins were returned to the manufacturer to be re-filled.
Comment by: A.W. on 9th September 2021 at 10:47
Meeson's later had a shop on the corner of Woodcock street and Market Street, it was indeed an excellent shop.
Comment by: Veronica on 9th September 2021 at 10:57
A tin containing chocolates and tobacco was sent to soldiers at Christmas 1914. It was the idea of Princess Mary the daughter of King George V that they should receive them. I believe cocoa was a popular drink in those days. I know it was in my grandma's day. I have seen many of those tins on eBay.
Comment by: Jack on 9th September 2021 at 13:07
Albert.S. I suppose after walking from home and back again after manuel work, any extra calories would have been worked off. Not as many obese people then.
Comment by: bogle on 9th September 2021 at 14:38
Veronica, not just "chocolates and tobacco". If you look at the contents of the Christmas tins from Harrods and the other big London stores, a variety of recreational chemicals which are not legal nowadays.
Comment by: Veronica on 9th September 2021 at 15:44
I dare say the chocolates and tobacco were meant as a comfort to the troops Bogle. It was the chemicals in the gas that was the most dangerous used first by the Germans in 1915.
Comment by: Maureen on 9th September 2021 at 20:11
Yes Veronica,so true,my Mams Dad who I never saw died at the age of 49 due to the effects of the gas...
Back to Meesons, Ron,I recall having a conversation about this shop before..was it Meesons that finished up down King Street next to the Court Cinema and later became Westheads???.
Comment by: Elizabeth on 9th September 2021 at 21:51
I can remember a Meeson's shop in King Street.
Comment by: Ena Malcup on 10th September 2021 at 11:40
I hadn't realised Cocoa was no longer a popular drink.

In the 1990's, I started to buy drinking chocolate rather than cocoa, seduced by the convenience of "just add hot water" to make a cup of the stuff.

However, the latter has started to contain some quite questionable ingredients, and I read that the health claims in respect of cocoa DO NOT extend to drinking chocolate. So, last few years, I have switched back to cocoa, made 80/20 water to milk.