Photos of Wigan
Photos of Wigan
Album Contents
Album Contents
Wigan Album
St Nathaniel's Platt Bridge
9 Comments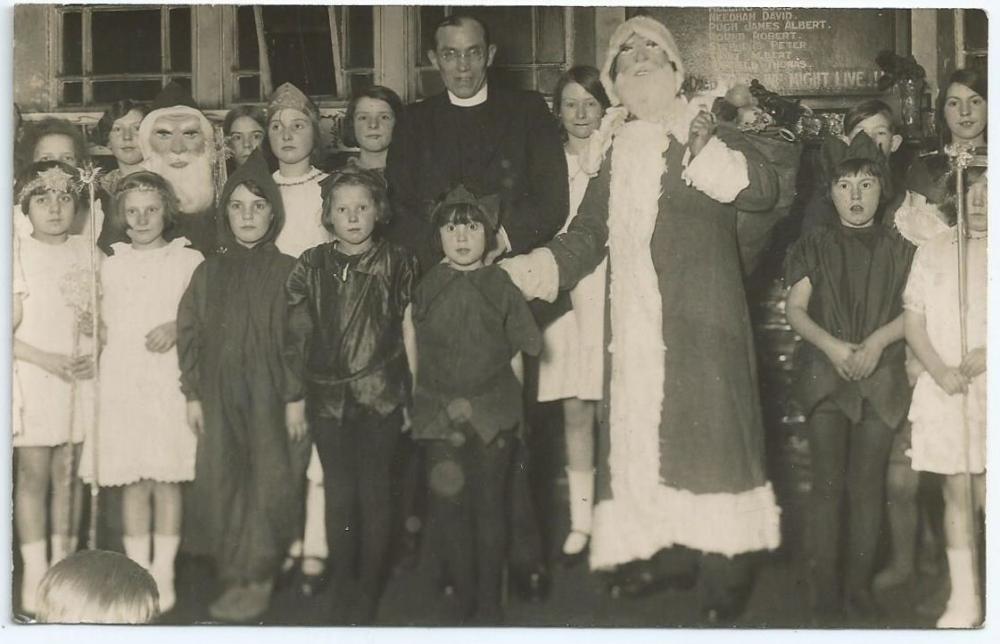 Christmas 1929
Photo: RON HUNT
Views: 392
Item #: 33051
Children's Christmas party 1929
I'd love to know what happened to the War Memorial plaque to the right of Santa.
Comment by: Albert.S. on 2nd April 2021 at 17:28
Reverend David. Is St Nathaniel's still an active church. It used to stand out quite plainly across the Moss, from beyond Melling's farm, Spring View. Is Melling's farm still an active farm. Went to school at the same time as the farmer's son, in the 1940s.
Comment by: Elizabeth on 2nd April 2021 at 17:57
I thought Melling's farm (Moss Hall ) was off what is now Seaman's Way,in Higher Ince?
Comment by: Albert.S. on 2nd April 2021 at 20:11
Elizebeth. There were two Melling's farms. One in Spring View, and one near to Liverpool Road, (A577)
Comment by: Elizabeth on 2nd April 2021 at 21:53
Ok Albert,I thought the farm in Spring View was Bushell's though.
I was under the same impression as Elizabeth re Melling's and Bushell's Farms but sometimes people know places by different names, and perhaps the owners changed over the years but some people kept to the old names, (such as Cain's Pie Shop in Ince when it had actually changed to Ashurst's). Hope you are both well, Elizabeth and Albert.
Comment by: Albert.S. on 3rd April 2021 at 09:46
Fair to middling Irene. Not too good now on my legs. Given up driving as my balance isn't too good at all.
Elizebeth. We always knew the one in Spring View, as Melling's farm. As I mentioned, Eric Melling went to the same school as I did. He lived in the farm at Spring View. I last visited Spring View in the nineties. I seem to remember that the farm was a preserved listed building.
Yes, Albert, St Nathaniel's is still active - though now without a Vicar of its own.
Their Great War Memorial was the church tower, with attendant painted boards around the sanctuary walls inside:
https://www.iwm.org.uk/memorials/item/memorial/18507
Comment by: Elizabeth on 3rd April 2021 at 17:21
Ok Albert,thanks.Yes thanks Irene,I'm fine ,hope you and Peter are both well.