Photos of Wigan
Photos of Wigan
Album Contents
Album Contents
Wigan Album
PRESCOTT STREET
10 Comments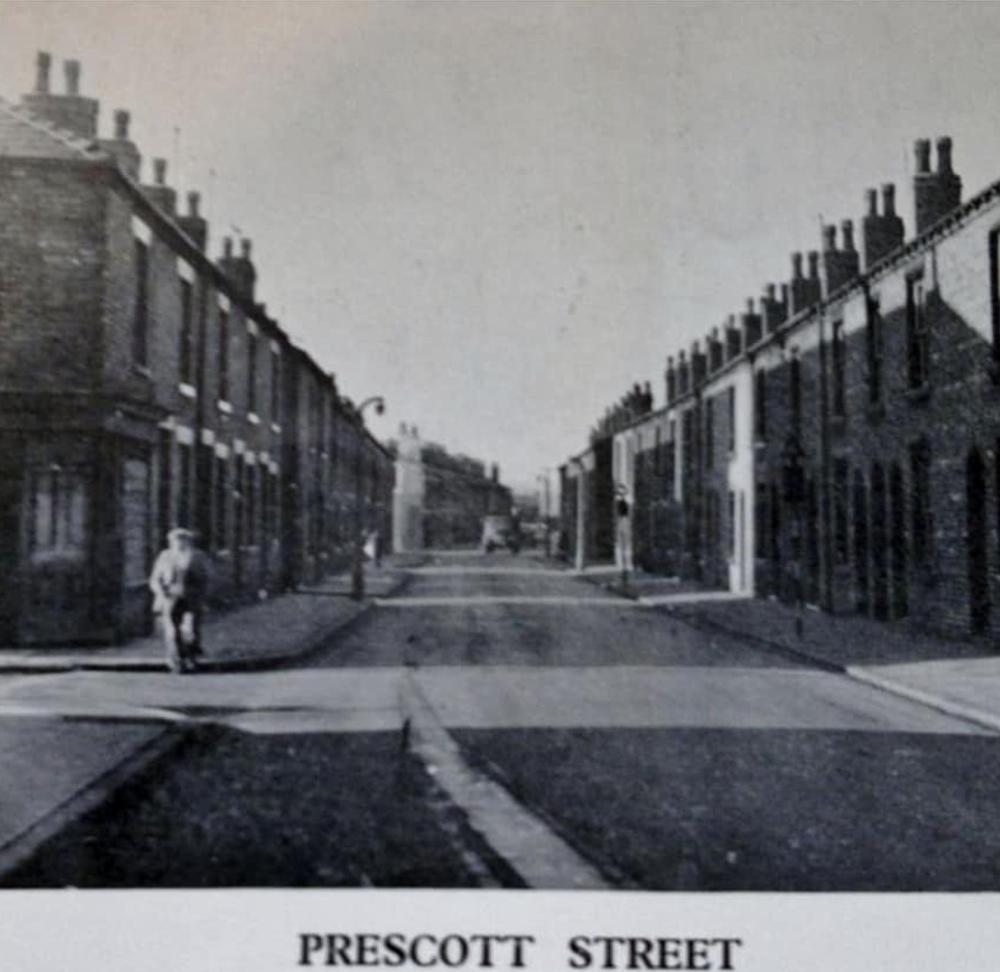 PRESCOTT STREET
Photo: RON HUNT
Views: 438
Item #: 32957
A RARE IMAGE OF PRESCOTT STREET PROBABLY 1950'S?
Comment by: Edna on 23rd February 2021 at 17:31
Ron, is this Prescott St. Just off Frog Lane? My husband's sister lived in this St.I don't recall it being so long?
Comment by: Mr X on 24th February 2021 at 10:47
Prescott Street is part of a shortcut for traffic going from Wallgate to Frog Lane that goes up Wilcock Street, Miry Lane, and Prescott Street. There are two railway bridges. Miry Lane on the Kirkby line is 14 feet high, and the one in Prescott Street is very low on the Southport line at 9'6" with traffic lights, so no big vehicles can go this way. There are still houses at the top end, but those on the other side of the bridge went in the 1970s before car scrapyards were started here. And there is a little tunnel for pedestrians under the Kirkby line.
One plan that has never happened was a road going from near Asda next to B&Q with bridges across the canal and Southport line to Frog Lane at the bottom of Gidlow Lane.
Comment by: ken on 24th February 2021 at 12:04
The white building on the left of the photo is the White Bull with the opening to the little tunnel leading to York St, which Mr X refers to.
Comment by: Edna on 24th February 2021 at 14:02
Mr X. I only remember the houses that are still there, its were my sister in law and her husband lived. I can't make out on the photo were the bridge is, their house is just before the bridge going in from Frog Lane end.
Comment by: Rainh on 24th February 2021 at 14:25
People who lived on this street would give you the clothes off their backs, literally . I bare witness to that . Salt of the Earth . As you say Ron a rare image . Only seen this one from that period . Thank you for all your many posts and contributions on WW. Without yours and others who contribute we wouldn't be able to replay these memories again . God Bless you .
Comment by: Edna on 24th February 2021 at 18:08
Thank you Ken, your right Rainh.My brother in law was born in that Street,and when he married my husbands sister, they bought next to the last house on the left from Frog Lane.He was well known with the neighbours for dropping anything he was doing to help anyone in need.He was a train driver so only had to go round the corner to Wallgate for work.
Comment by: DerekB on 24th February 2021 at 20:32
In the 70s the last business property on the left going from Frog Lane was a petrol station. When the West Coast main railway line was being electrified in the 70s, the land where the houses on the right of this photograph had stood was largely occupied by the contractors involved in the project.
Comment by: Dave johnson on 25th February 2021 at 10:52
Used to visit my mum's auntie and uncle who lived in a two up two down in Prescot st. When you hear people saying you could leave your door unlocked when you went out, it's true cos they had nowt to pinch. I've drawn a sketch of the house and all their possions which I can still remember from the late fifties and you could have flit them on a handcart.
Comment by: WN1 Standisher on 25th February 2021 at 19:12
Am I right in looking down the street where the lorry is on the right, is there a blue plaque there today marking where the first rugby match played by the new Wigan team took place, Cricket St ?
Comment by: Maureen on 26th February 2021 at 20:17
My Auntie Mary Rowe and her hubby Billy lived down towards Miry Lane.