Photos of Wigan
Photos of Wigan
Album Contents
Album Contents
Wigan Album
Darlington Street
62 Comments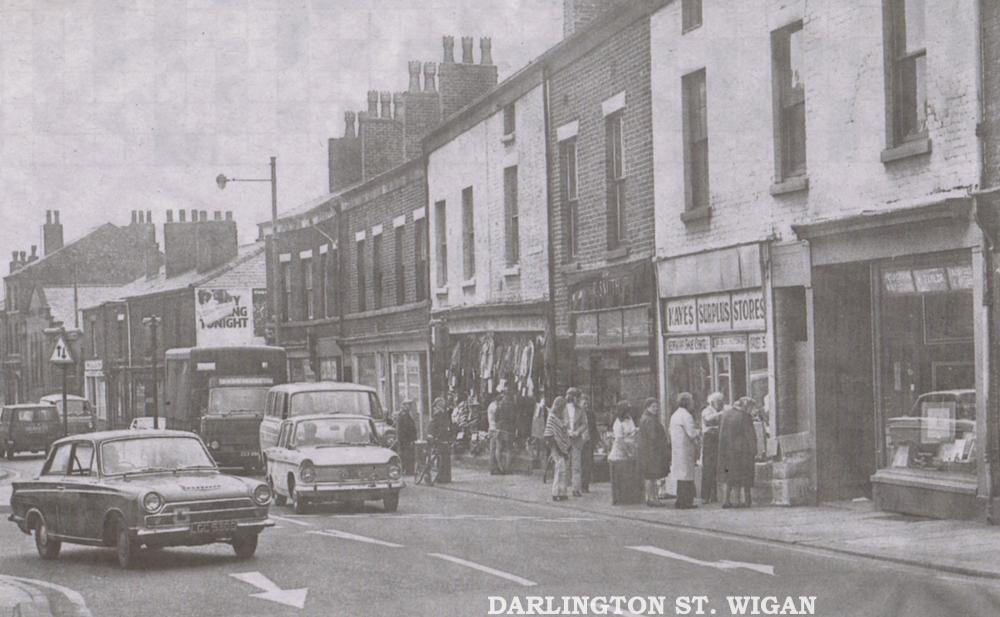 KAYE'S ARMY SURPLUS SHOP
Photo: RON HUNT
Views: 1,538
Item #: 32949
NEWSPAPER CUTTING. IF THIS DOESN'T GET A MASSIVE RESPONSE I'LL BE VERY SURPRISED. AS EVERYONE LIVING IN WIGAN AT THE TIME, THIS SHOP WAS OPEN, WILL REMEMBER IT.
IF IT WAS OPEN TODAY THE STUFF INSIDE WOULD BE WORTH A FORTUNE..
I THINK THIS MAY HAVE BEEN ONE OF FRANK ORRELL'S PHOTOS?
Comment by: Dave johnson on 16th February 2021 at 16:24
Suppose a gas mask would make a good face covering for shopping?
Comment by: tuddy on 16th February 2021 at 16:57
Couldn't go wrong in there, walk in with a ten shilling note, and come out dressed as a Yugoslavian sailor wearing a pair of hob nail boots and a gas mask!
Comment by: Ieric on 16th February 2021 at 16:58
Ten bob for a pair of work boots, ex army.lasted forever
Comment by: Arthur on 16th February 2021 at 17:23
Yes walk in there and come out has a Navy or Army man.
It was Kay's Army and Navy stores.
I went there many times with my Mam for clogs or work-clothes for my Dad and one of my brothers, (the other brother being kitted out by British Rail!). How the lady in the shop ever found anything is a miracle! It was Aladdin's Cave!
I did take this picture Ron but can you credit the Wigan Observer/Wigan Evening Post if you post any of my pictures or any newspaper cuttings in future. Thanks
Comment by: Mr X on 16th February 2021 at 19:24
This is at the bottom end of Darlington Street near the gasholders, with Ford Cortina and Hillman Super Minx cars, and a Ford Transit behind. There was a pub on the corner called the Derby Arms I think, and the old fire station was opposite.
Comment by: irene robertsI on 16th February 2021 at 20:25
Well spotted, Mr. X! We have a Hillman Minx, (but not a Super Minx). She is from 1959 and would look just right in this photo. Her name is Dorothy. (She was obviously never going to be a "Kylie"!). We love her to bits!
Comment by: Thomas(Tom)Walsh. on 16th February 2021 at 20:31
When Kay's first came to Wigan it was in Greenough Street. Kay was a Jewish lady and traveled from Manchester every day . Incidentally this is where George Orwell stayed in 1936 his second lodgings . the first was on the corner of Warrington Road and Sovereign Road.
Comment by: Cyril on 16th February 2021 at 21:28
In the early 1970s after walking my future wife home I would walk along there around midnight on my way home, and if it was a hot humid night the pavement all along there would be crawling with cockroaches swarming out of those cellar gratings, especially so from the grating of the bakery shop that was further up. George Orwell lodged in a tripe shop in that row and in his novel The Road to Wigan Pier he describes it thus: "Mr Brooker was a dark, small-boned, sour, Irish-looking man, and astonishingly dirty. I don't think I ever once saw his hands clean. As Mrs Brooker was now an invalid he prepared most of the food, and like all people with permanently dirty hands he had a peculiarly intimate, lingering manner of handling things. If he gave you a slice of bread-and-butter there was always a black thumb-print on it. Even in the early morning when he descended into the mysterious den behind Mrs Brooker's sofa and fished out the tripe, his hands were already black. I heard dreadful stories from the other lodgers about the place where the tripe was kept. Black Beetles were said to swarm there."

"We lodgers were never given tripe to eat. At the time I imagined that this was because tripe was too expensive; I have since thought that it was merely because we knew too much about it. The Brookers never ate tripe themselves, I noticed."

?
spottted the photo and was transported back into short trousers trailing into town and out along to this aladdins cave of wonders and delights gazing in the window at allsorts - even once blew my meagre pocket money on a gas mask. was recounting this to my better half then scrolled to the comments and just had the best laugh for years - the yugoslav navy will be burnished in my memory - cheers
Comment by: RON HUNT on 18th February 2021 at 11:09
When I was about 11 me and all my friends bought white Topee's from Kays. I think they were about 2/- a substantial sum for a young lad in those days(No doubt money boxes had been emptied," every time we went out to play for months after we all wore these topees and I can remember using pump whitening to whiten them up when they got dirty<g> I bet they would be worth a few bob now.
Comment by: tuddy on 18th February 2021 at 17:30
freddieb, I adapted that quip from one of Harry Pemberton's jokes. He said that his Mother went to Kay's to get him something to wear for school, and for the next two years he went to school every day dressed as a Japanese Admiral.
Comment by: Pw on 18th February 2021 at 19:43
Loved this shop when I was in my early teens.Bought a pair of RAF boots for 15/- and they had the MOD arrow stitched into the toe cap, bought some hob nails from a shop down Wallgate and knocked them in myself.Lasted until they would not fit me.It really was an Alladdins cave.
Comment by: Colin on 18th February 2021 at 21:09
Went in for work boots, donkey jacket and snap bag in the 60s and still had change to go into Bolton's herb shop for a beer.
Comment by: Roy on 19th February 2021 at 10:17
Do i remember Kaye's exchanging Embassy cigarette coupons for cash ?
Comment by: stuart liptrot on 19th February 2021 at 11:45
It's all coming back!...As an nine year old kid- After the swimming pool in the morning, I'd plead with my dad to go to the " Army shop."- Round the corner ...
Yep...I had the ww2 cork sun helmet...
The gas masks...The "spike " bayonet..
The French army gas mask haversack..
( Great for fishing gear!) And other fascinating things! All seemed to be within my pocket money!.
Comment by: ken on 20th February 2021 at 10:48
Probably not for cash but for items, Roy. I know they changed for Green Shield stamps for items.
Comment by: Cyril on 20th February 2021 at 16:41
Roy, I do remember that Kay's and other shops would have signs saying they'd buy cigarette coupons off you and like Ken says Green Shield Stamps too, also during the 1960s a lot of schools would ask for these to be donated so they could collect them and then be exchanged for goods and equipment from the catalogues for their school use.

Later in the 1980s it was empty crisp packets that schools collected to exchange for equipment, though I can't remember which brand of crisps it was.
Comment by: vic on 20th February 2021 at 17:15
i only remember this row of buildings being derelict ready for demolition. Looking at the left of the photo there is what looks like a church, which church was this?
Vic, that building does indeed look like a church and puzzles me because I have very vague memories of The Palace Cinema being around there. I would only have been a small child. I hope someone can come up with an answer. xx
Comment by: Veronica on 20th February 2021 at 18:49
Irene The Palace was way behind the photographer, on the same side. I remember the big double iron gates at the entrance.
It wasn't a Picture House we went to much. We had Scholes Pictures ( built specially for us Scowsers.). ;0)
Veronica, I'm sorry to disagree but I think The Palace was in front of the photographer and around where the church-like building is. It had a rounded entrance. The photo is taken, I would say, from outside The Court Cinema looking DOWN King Street. The Court Cinema is behind the photographer. The Palace was on the same side as Kaye's Surplus Store but further down towards Chapel Lane, and The County Cinema was also on the same side as Kaye's but further up King Street towards Wallgate. (out of sight on the photo). I know we won't fall out over this and if I'm wrong, I'm wrong. It's just what I remember but I realise. the memory plays tricks. But If you walked down King Street from Wallgate towards Pepper Mill, Kaye's was on the right and The Palace was further down, also on the right. Sorry if I'm wrong. xxxxxx
Comment by: Veronica on 20th February 2021 at 20:00
Irene I'm not very good with directions but going down King St on the same side of the Court Cinema and further down before the Old Hipodrome that was the Palace Cinema. To get to Kay's you would have to cross the main road of what was I think Chapel St, where the new very busy terrifying road is now. I'm sure we will be put right with some of WW experts. Xxx
Comment by: Dave johnson on 20th February 2021 at 20:38
I do not know what the building is but I would think that it is opposite the Pepper Mill?
We'll wait and see what comes up, Veronica. I would have sworn The Palace AND The Hippodrome AND Kaye's Surplus Stores were on the RIGHT-HAND side of the road as you turn into King Street from Wallgate. The Hippodrome and The Palace were near what is now Brocol House. The County Cinema was on the same side of the road but more towards Wallgate, and there was, (and still is), a passage down by the side of the old County Cinema that leads down to Wigan North Western Station. The only cinema on the LEFT-HAND side as you walk down King Street towards Chapel Lane was The Court Cinema. I saw Mary Poppins four Saturdays on the trot there in the sixties ON MY OWN, (doesn't bear thinking of these days!), trying to learn the words of "Supercalifragilisticexpialidocious", (no Google in those days!). We beg to differ, my lovely friend, but it doesn't matter!
Comment by: Veronica on 20th February 2021 at 21:36
The Peppermill was near the crossings on Warrington Rd. which is near where the Lidl is now.
Comment by: Veronica on 20th February 2021 at 22:02
Yes Irene the Palace was in between the Hippodrome and the Court Cinema with other buildings as well. Also a church. I still say there was a road to cross to get to Kayes near the shop where Orwell lodged. I also recall the green bridge as well. (Don't forget I'm a few years older than you Laura dear. ). I bet you never went to the Hippodrome. ;o)) xx
You're quite right, Dolly dear. I never did go the Hippodrome, just the pictures. They were showing "Flames of Passion" and it was a TERRIBLY bad picture and the good doctor and I were glad to get out into the fresh air. I told him we'll stick to The Bug in Ince in future. Or better still, Scows Picture -House where Dolly can "snake" us in through the lavvy door. We'll treat you to a box of Poppets dear. xx
Comment by: Roy on 21st February 2021 at 10:40
Sorry Irene, i think Veronica is correct, Chapel Lane and King St are behind the photographer. 'Your' Hillman Minx is in the lane to turn left into Chapel Lane, i think the Cortina would be turning right out o possibly Harrogate St. The Derby Arms was on Kaye's side, on the corner of Darlington St and Chapel Lane. You are correct about turning right into King St from Wallgate, County on the right, Court on the left then Hip and Palace on the right, the last building in King St on the right was The Brewers Arms opposite corner to The Derby Arms, and, as Veronica says cross over Chapel Lane and and Kaye's was on the right in Darlington St
Veronica, i am old enough to say that i saw Frankie Vaughan at The Hippodrome
Thankyou Roy. I could have sworn Kaye's was on the other side of the road, but the memory plays tricks. Don't worry, Veronica and I are good friends and have a lot of laughs on here and on photo-a-day in our Brief Encounter personas of Dolly and Laura, despite people thinking we're crackers!
Comment by: Dave johnson on 21st February 2021 at 11:34
But Roy, what is the name of the church/chapel that you can see in the distance?
Comment by: Veronica on 21st February 2021 at 12:08
I only remember a pantomime Roy, which was 'slap my thigh' Dick Whittington. That would be around 1953... Another time it was a variety show. There was a naughty lady dancing with two fans! I remember when the Hippodrome burned down circa 1956. (I think, could have been before) We saw the flaming red sky when we were playing outside. It felt like a part of history that we wouldn't see again.
Comment by: Roy on 21st February 2021 at 14:23
Thank you Veronica and Irene for your comments , i know you are good friends. Yes V, you're correct it was 1956, 21st April to be precise according to everybody's friend Google.
Sorry Dave i cant help you with the church, i don't 'come' from Wigan, it looks like a Methodist church / chapel by the shape of it.
Comment by: Veronica on 21st February 2021 at 16:15
You and the good doctor would have been very welcome in the red plush seats at the back Laura dear. 2s6d seats and a tub of ice cream with a wooden spoon or perhaps a bag of
Butterkist between you. Ol' Mother Riley would have made you laugh..;o))
Comment by: RON HUNT on 21st February 2021 at 16:32
If you check out the photos under KING STREET it will give you a better idea of the location. I remember opposite KAYS was a secondhand book shop with a large carousel in the window. I went in regular and the guy who owned the shop had made the carousel himself. I can remember seeing him sat in the back room, on an old arm chair carving the horses.
Comment by: Dave johnson on 21st February 2021 at 19:11
Sorry Roy I thowt thy wuz an owd wigging.
Comment by: Mick LD on 22nd February 2021 at 09:08
Ron - I remember the bookshop you mention well.
He was there in the mid 1970s - a chap with the surname Joynt, as I recall.
I've still got books on my shelves I bought from him.
I seem to remember he also bult a model Ferris wheel, which he also displayed in the window.
Comment by: Owd Chapel Laner on 22nd February 2021 at 09:57
The Palace cinema was in King Street next door to the Hippodrome, opposite the old police station.
See Item #: 14627 in Cinemas album.
Comment by: Veronica on 22nd February 2021 at 10:42
I seem to remember a bridge when walking down King St towards Darlington St after crossing Chapel Lane. It was near the entrance to Harrogate St. Sometimes when I am going to the Range I walk down there and try to place where it was. I know I'm not dreaming there was a bridge, sometimes I would walk home that way from shopping in the town centre. Does anyone else remember it?
Comment by: AH on 22nd February 2021 at 11:36
Brocol house is on the site of the Palace cinema ,Brewers arms was next door on the corner of chapel lane further up king st the hippodrome and the shakespeare pub on the same side
I realise my mistake, Dolly! I was thinking Kaye's was on KING Street when it was actually on Darlington Street! That's why I couldn't understand why people were saying Chapel Lane was behind the photographer! DOH!! I forget that it changes from King Street to Darlington Street. I wish I could remember your bridge as I'm sure your memory is correct but I just can't bring it to mind. Apart from visits to Kaye's, my Mam and I always stayed on the bus to King Street or Library Street when we travelled from Ince so I didn't know the bottom end of King Street well, although my Mam used to go to Copeland's Opticians there, opposite what later became Lennon's Supermarket. I'm sure one or more of our Wigan World friends will remember your bridge. Looking forward to replies!
Comment by: Veronica on 22nd February 2021 at 13:23
It's easy to forget how it was Irene, but the bridge I think, must have been integrated into that new wide road. I hate crossing there - it must be an age thing! I walked up there a lot in years gone by that's why I remember the bridge. Perhaps it came from the railway station on Station Rd. as I say when I have been to the Range for Art stuff I sometimes catch the bus home from Darlington St. Also the Gas Works was on Darlington St, I always try to imagine where places were that I used to know. xx
Comment by: Dave johnson on 22nd February 2021 at 14:19
Veronica I can't remember any bridges on Darley, you sure your not thinking of the Iron bridge off King St?
Comment by: Veronica on 22nd February 2021 at 15:20
No Dave, you mean the one where you cut through to go to Wigan North Western Station.
The one I mean was in the vicinity of Harrogate street, and in the region of those shops on Darlington St. It was similar to the one as you walk up Scholes near the Amy Lane. Not the big one that was taken down. I am sure there was one there - you walked over not under it. Thanks
Comment by: Veronica on 22nd February 2021 at 15:42
The pavement and the road was incorporated as you walked over it Dave. I don't know if it was railway lines or the river come to think of it.
Comment by: Dave johnson on 22nd February 2021 at 16:37
That would be the one over the Duggie just before the Peppermill I think?
Comment by: Pw on 22nd February 2021 at 16:58
Was the bridge the one that went to Central station on the GC line,Manchester to Wigan.
Comment by: Caro!aen on 22nd February 2021 at 18:22
Veronica. I can't ever recall a bridge at the site you mention. I think you might be thinking of the one that crossed Darlington Street East just up from the Pepper mill. It was the old Central Line railway that ran up to Station Road, crossing Scholes next to Douglas House.
Comment by: Veronica on 22nd February 2021 at 19:44
No not that one Carolaen, it was further down Darlington St. I know it was there, there was some shops near to on the opposite side to the ones on the photo. I bet if there was a map of the area it would show on it. I thought someone would know. As I said I don't know if it was over the Duggie or train lines. Anyway it's no longer there! ;o))
Comment by: ken on 23rd February 2021 at 10:40
The the road, forming a bridge over the Douglas, was just before the entrance to the gas works. I think it was Ablett St.
Comment by: RON HUNT on 23rd February 2021 at 10:53
Veronica if you look at picture Item #: 30524 under Darlington street, you can make out the Douglas bridge top left. The building you can see with the bill boards on the gable end, was next to the bridge. The gable end of the building was on the Douglas bank. The opposite bank was the Pepper Mill. I'll see if I can find a better image..
Comment by: RON HUNT on 23rd February 2021 at 10:59
This is the bridge as it is today
https://www.wiganworld.co.uk/album/photo.php?opt=3&id=32049&gallery=Wigan+Flood+Alleviation+%28FAS%29+Phase+1%262.&page=2
Comment by: Veronica on 23rd February 2021 at 12:13
I've looked at the picture Ron and got a headache looking for the gasworks! The bridge I mean looks similar to the road bridge in the left hand corner going over the canal where the van is just about to cross. I think the bridge was near those buildings with bill boards on the photo above. So could it have been going over the canal? Anyway thank you for showing where to look as I am hopeless with maps!
Comment by: RON HUNT on 23rd February 2021 at 12:59
Veronica it isn't the canal bridge its the River Douglas bridge
Comment by: Veronica on 23rd February 2021 at 14:09
I'll take your word for it Ron... thanks. ;o)
Comment by: Bill on 25th February 2021 at 10:13
The building that looks like a church was in fact the police garage and then became the Post Office Telephones underground maintenance vehicle garage. I garaged my vehicle there in my early years working for the Post Office before it became British Telecom.
At the rear of the garage was a slaughter house and if my memory serves me right the first shop towards the town centre was a butchers shop.
The position of the photographer would have been near to where Darlington St Post Office was,the site of the motor cycle and Polish shop today.
Comment by: Dave johnson on 25th February 2021 at 10:56
Bill thanks for the info, been pulling my hair out!
Comment by: Maureen on 26th February 2021 at 20:44
The Palace as someone has stated stood on where Brocol House is now,it was called 'The flea pit' there is a photograph on album somewhere,and yes Veronica,there was a bridge on your way to ' 'The Range'but not sure if it's still there..we lived just around the corner of Darlington St nearly opposite where there used to be I believe a bridge which had been demolished before we moved in..1970-1976. We lived next door but one to Lily Smiths shop who sold some beautiful clothes.
I can remember nearly every shop on Darlington street as I walk up and down there every day taking the little one to School.
Comment by: Veronica on 27th February 2021 at 08:58
I remember Lily Smith's
Shop , I bought a few things from there. It was more like a posh trendy boutique Maureen. I bought an emerald green dress from there one time. Also a blue coat , in the days when girls bought 'Going away' outfits after the wedding! She sold good stuff a bit more expensive but quality. It was a lovely little shop and she had quite a bit of stock even thought the shop was small.
Comment by: Maureen on 27th February 2021 at 10:01
Veronica,I'll tell you a funny story although it wasn't funny at the time..passing her shop before I went home I saw a notice on her window saying 'Closing Tomorrow' such and such a date,I thought well seeing as I'm next door but one I'll be in there to see what I can buy..as you say she had some beautiful clothes..got up early the next morning went clutching my purse,on the window was the sign 'Sold Out'..she'd been open since 8o'clock..can you believe that,I lived next door but one and missed bargains of a lifetime..when I saw the notice the previous day I was that excited I didn't look any further than Closing Tomorrow.i can laugh at it now,but wasn't laughing that day I can tell you.
Comment by: Veronica on 27th February 2021 at 11:08
I bet you could have kicked yourself Maureen. I bought a lovely navy and white striped dress with long sleeves and a sleeveless coat/ tunic over the top in navy. That would be 1969, I have a photo of myself in it! I was really sad when that shop closed, there was always something special in her shop.