Photos of Wigan
Photos of Wigan
Album Contents
Album Contents
Wigan Album
PUBS
11 Comments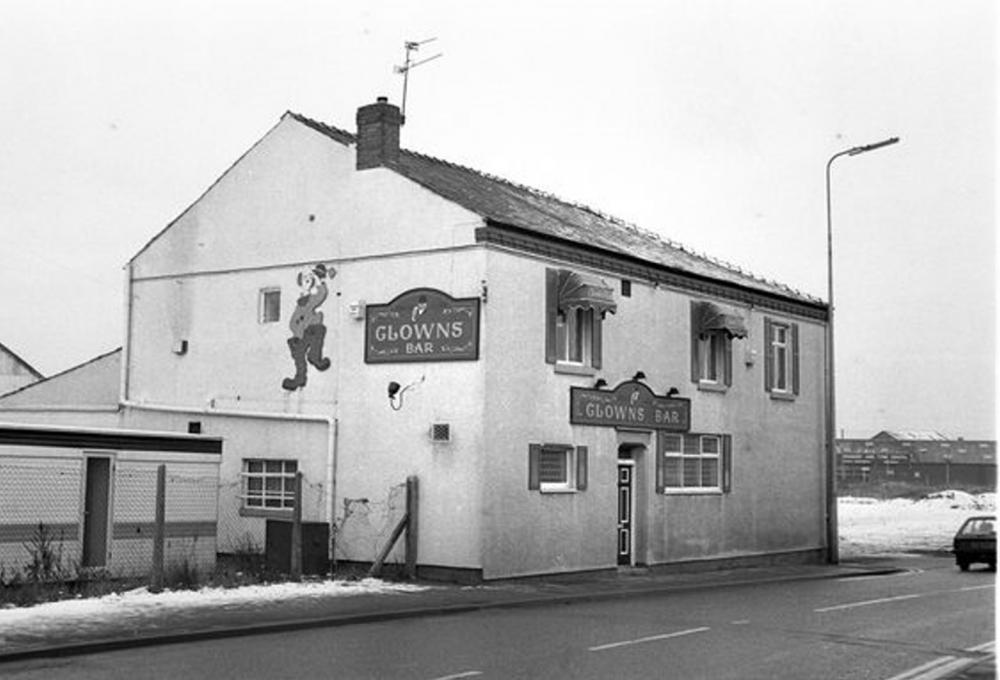 CLOWNS BAR, WOODHOUSE LANE 1980's?
Photo: RON HUNT
Views: 819
Item #: 32947
PHOTOGRAPH OF THE OLD CLOWNS BAR. IT HAS HAD VARIOUS NAMES DURING IT'S LIFETIME. DON'T KNOW WHAT IT'S CALLED NOW? WOODHOUSE TAVERN, RINGS A BELL?
Comment by: Geoff on 16th February 2021 at 18:56
It's the Douglas Bank now
Comment by: A.W. on 17th February 2021 at 10:06
Only went there once with lads from work C. 1989, seem to think the start turn was a topless stripper.
Comment by: Jarvo on 17th February 2021 at 22:38
A sad time in Wigan's social history. A time of unglamorous, cheap, and sordid entertainment. A time when queers became acceptable, but in a condescending and cold environment. A time to be almost ashamed of actually being in such a sad and dreadful place. Led by a drag queen who befriended troubled and neurotic young women. The men? Hang your heads in shame of the fact that you dared to attend week after week week. You couldn't tap in there - it wasn't that kind of atmosphere. I liken it to a Victorian Gin House, but selling nasty foul smelling beer instead of gin. The gin actually arrived some thirty odd years later when the phantoms of this establishment were long dead. Leaving not a trace of their existence. Thank God.
Comment by: J.C. on 18th February 2021 at 09:47
Jarvo, I form an impression that you must be completely bigoted or have just had a very sheltered life; if there was anything unglamorous, cheap and sordid about Clown's it was a or sign of the times, the whole Thatcher era could be summed up in that way.
Comment by: Jarvo on 18th February 2021 at 11:17
Bigoted? Naaah, just being brutally honest. About time folk owned up to their true feelings and opinions. All this PC stuff gets my goat. Clowns was a dive. No more no less.
Comment by: WN1 Standisher on 18th February 2021 at 14:01
I take it you didn't like Clowns Bar then Jarvo ?
Comment by: CJAlan on 18th February 2021 at 17:06
Thanks for uploading this picture.

From reading the comments on here, I fully appreciate Clowns was maybe not everyone's cup of tea.

I vaguely remember the place but I never graced it. I do think that certainly back in the 1990s and early 2000s, there were a few 'entertainment' pubs peppered around the Wigan area.

Mr Earls at Ince and the Cricketers at Poolstock were also similar venues as they were 'out of town' nightspots that offered an alternative evening social scene rather than the usual King Street crawl.

It makes me wonder if it's present form as the Douglas Bank will ever reopen once this Covid fiasco is finally behind us?

CJ
Comment by: James Hanson on 18th February 2021 at 20:11
Being called "Douglas Bank", you'd think it was near to the 'Douglas' (the river/brook of that name). But it's nowhere near the bank of the Douglas.
Comment by: rainh on 18th February 2021 at 22:23
How can such a fluent and clearly creative writer be a bigot? That is self harming in the purest form.
Comment by: J.C. on 19th February 2021 at 10:10
rainh, I have to agree with your use of the word "Creative" when referring to Jarvo's writing skills.
Comment by: Stuart on 21st February 2021 at 20:34
It was called the 'Douglas Bank' because it was near the site of the colliery of the same name.