Photos of Wigan
Photos of Wigan
Album Contents
Album Contents
Wigan Album
Wallgate
8 Comments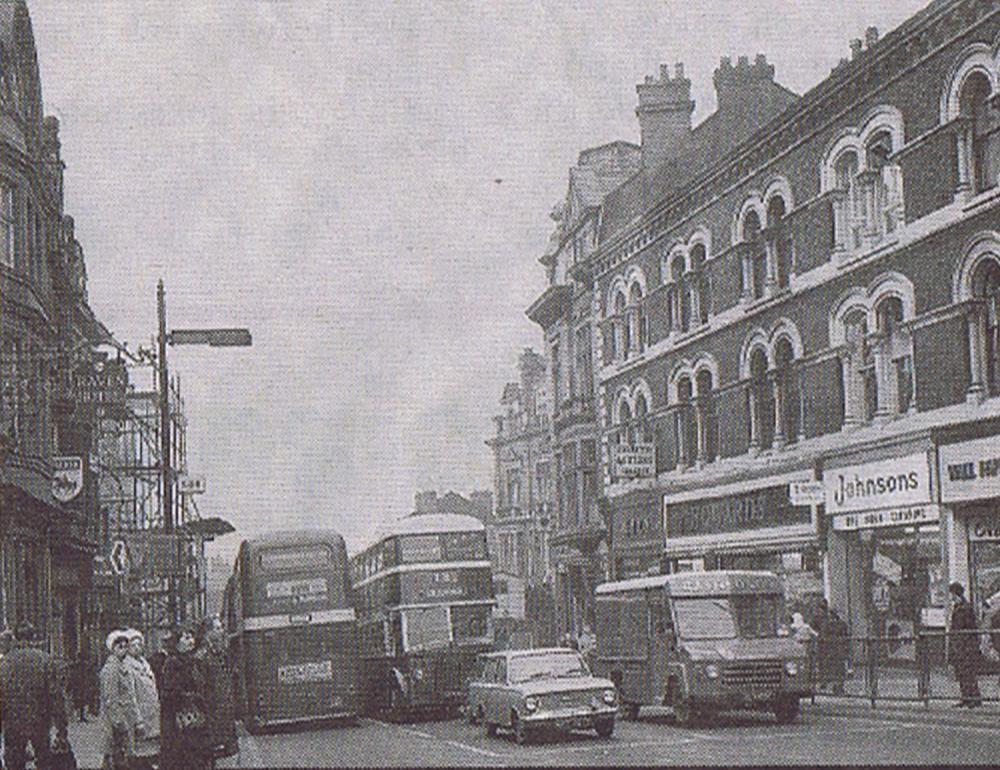 Two way traffic
Photo: RON HUNT
Views: 659
Item #: 32931
Image showing Wallgate in the 1960's? or early 70's?
Comment by: Garry on 10th February 2021 at 12:39
Thriving Wigan Town, no junk food outlets about then.
Good clean top quality shops, great.
I need a sherry.
Comment by: Julie on 10th February 2021 at 13:26
Once again Irene good times wasn't they Wigan town centre.
You're right Julie. Look how busy it is, even on Wallgate. It was so vibrant back then and I'm glad we knew it, aren't you? Pour me one, Garry, please! Thanks, Ron. for posting.
Comment by: Julie on 10th February 2021 at 15:29
Irene I was just thinking all of the usual people who go on wigan world, when this pandemic is over should we all meet up for a coffee in wigan in the near future, it would be such a nice thing to do.
Comment by: CJAlan on 10th February 2021 at 16:01
A cracking photograph.

Wallgate was just as much of a hub of the town centre commerce for many years before it became run down with fast food outlets and empty premises.

I remember a few of the banks were on Wallgate originally before they gravitated onto Market Place and Standishgate.

The Midland Bank was on the corner of Wallgate and Library Street and the Bradford & Bingley was opposite. The N&P was just a few doors down from the Raven Pub and the Natwest & RBS were also close to King Street at one time.

I grew up in Pemberton, so entering town from Wallgate, always meant getting your money from the bank before you did the weekly shop in the centre of town.

How times have changed.

CJ
Comment by: Edna on 10th February 2021 at 16:02
Looking back at these photos, I think we had forgotten how busy it really was, so many happy memories of bygone times.Thanks Ron, pour one for me Garry, but don't have too many, we don't want you swaying.
Good idea, Julie. (Whilst there are some cafes left!). What a shame we can't go to Gorner's! Veronica and I met in Bruccianni's and that disappeared shortly after, (hope it wasn't something we said!). Perhaps photo-a-day people would like that too.
Comment by: Mr X on 10th February 2021 at 19:11
Before 1963 when the M6 was built traffic from the south and Midlands came through the centre of Wigan to get to places like Preston, Blackpool and all the way to Scotland. The car is a Vauxhall Viva HA with boxy styling, the replacement HB and HC models had more curves.