Photos of Wigan
Photos of Wigan
Album Contents
Album Contents
Wigan Album
Gathurst
10 Comments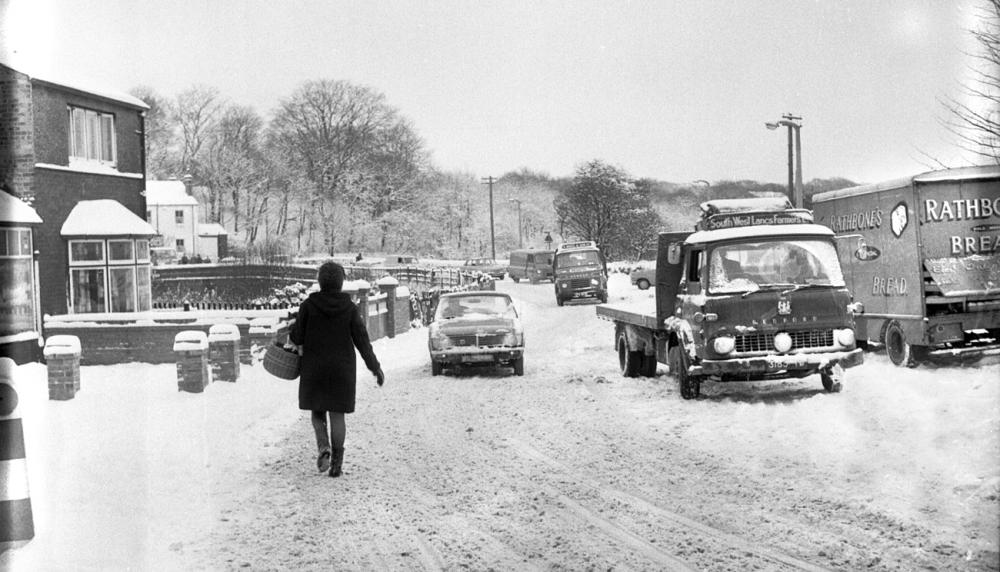 GATHURST SNOW
Photo: Frank Orrell
Views: 946
Item #: 32833
Treacherous driving conditions on Gathurst Lane with the ascent of the steep Gathurst Hill to come after a heavy snowfall in 1968.
Comment by: Mr X on 22nd December 2020 at 23:14
It wouldn't be wise to attempt to drive up the steep Gathurst Hill in the snow, far more dangerous would be decending the hill even with good brakes. In 1968 that car looks like a Hillman Hunter/Minx or Mk2 Ford Cortina.
Comment by: Mick on 23rd December 2020 at 06:46
Gathurst in the snow in 2010, car zig zagging as it attemted to get up the little hill near the Robrite gate and cars being pushed sideways away from the bridge as they slide down the hill.

https://youtu.be/udU4i7rBX54
Comment by: Roy on 23rd December 2020 at 10:19
Memories !!! I've had a few run ins with Gathurst, up AND down because of ice and snow, living in Shevington working at Heinz for 20 years on night turn. More than once i and a few others have got to the top of the hill coming home at 07-15 and had to turn back and go the 'long' way home, through Marsh Green and Standish LG, ( Mick, you would have hated it, that route goes past some Council Houses !!! ).
Comment by: WN1 Standisher on 23rd December 2020 at 10:34
I agree Mr X, the pointy bit in the middle of the grille suggests a Hillman Hunter. Only ever drove one, it had the luxury of ' overdrive '
Comment by: Veronica on 23rd December 2020 at 10:48
Looks like Irene is out shopping with her basket. Perhaps the lovely Rathbone's van has stopped so she can buy a loaf -save her going any further in that dreadful weather! Have a very Merry (little) Christmas Laura dear! ;o))
Comment by: e on 23rd December 2020 at 14:31
Miss the little sweet shop at bottom of the Brew .
Gathurst is a lovely place but changed from what I knew .
Navvy we would drink in , we'd pack in with my friends ,
Seems like only yesterday , so sad it had to end .
Carefree days in Gathurst , then up to
Shevvy too, ,
Then turn back up to Orrell , or Abbey for a few .
I never forgot the hermits ,
I doubt I ever will ,
Just like my time in Gathurst ,
Will stay with me until ..
Comment by: Roy on 23rd December 2020 at 16:54
Brilliant e !!
I know the feeling re the Navvy and its closure
But, life goes on as you said, until..........
Comment by: Edna on 23rd December 2020 at 18:08
Now now, Roy don't get him started.(council houses) !!!
Comment by: CJAlan on 24th December 2020 at 16:38
Am I right in thinking there was once a shop to the left of this picture (out of camera shot) which would have been immediately next to the railway bridge.

I don't remember a shop being there in my lifetime, but my dad claims there was indeed some sort of convenience shop once there which I find odd as there are not many residential properties close by.
Comment by: Mick on 24th December 2020 at 23:32
The shop was owned by a Mrs Lyon in the 50s and 6Os