Photos of Wigan
Photos of Wigan
Album Contents
Album Contents
Wigan Album
Station Road, Wigan
7 Comments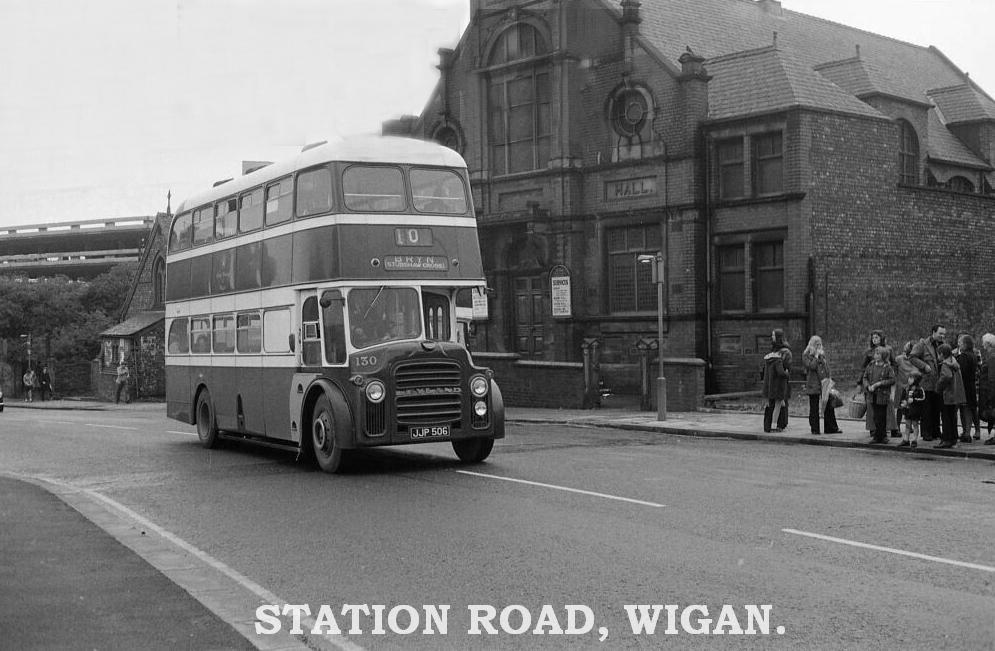 Bryn Bus
Photo: RON HUNT
Views: 779
Item #: 32830
Bus on Station Road on its way to the Ashton / Bryn stand in Market Place
Comment by: AH on 22nd December 2020 at 20:31
No 10 this was worsley mesnes /marus bridge route No 1/2 was Bryn/ashton beech hill circular ?
Comment by: John on 22nd December 2020 at 21:10
There were a few variants of the 10. This one went to Stubshaw Cross behind where Barton's is now('Bryn' on the blind is stretching geography a bit). Think the 10A/10B went on the Worsley Mesnes & Hawkley Hall estates respectively.
Comment by: James Hanson on 22nd December 2020 at 22:22
I can't understand why it said Bryn as the main destination, then Stubshaw Cross underneath.
Possibly it meant it wasn't going to the centre of Ashton but going down Bryn Road to Stubshaw Cross and back.
The number 10 now goes to Ashton, but carries on to Leigh via Golborne.
Comment by: Mr X on 22nd December 2020 at 23:06
In 1959 Wigan Corporation Massey and Northern Counties Leyland double deckers switched from rear to front entrance, and those up to 1961 were long PD3s, EJP501-510, GJP8-19, HEK705-707 and HJP1-11 before opting for the short PD2 from 1962-68, JJP502-509, KEK739-750, AEK1-10B, DEK2-3D, DEK4-7E and FEK1-9F. That is a total of 81 and all passed to Greater Manchester Transport in 1974 with fleet numbers 3201-3251 3255-3266 3270-3281 3285-3288 3290-3298 and a large majority were repainted orange and white. Ironically it was the JJP and KEK batches that were withdrawn first (some had moved to Manchester depots and Ashton under Lyne) like this Northern Counties bus (JJP506) in 1975/76 before the older PD3s in 1977-79 with the exception of orange HJP1 and HEK705 until late 1981 that remained in corporation livery and is now preserved.
In this picture of Station Road that is now a one way street the multistorey carpark can be seen so I would guess the date to be between 1970 and 1974. And what was the church, Methodist? There appears to be a smaller chapel further back.
Comment by: alan winstanley on 23rd December 2020 at 15:54
Help i just cannot place this photo of station road ( wigan) i have not got a clue where abouts this church was can someone throw some light on this please because its annoying the life out of me .
Comment by: Cyril on 23rd December 2020 at 19:42
Alan, it was at the side of Stairgate, which brought you out on Millgate, to the right of the building was George Makinson plumbers merchant, across the road was where the Central Station once stood.
Comment by: Cyril on 23rd December 2020 at 19:59
Alan, this aerial photo in the Album of the area should also help jog your memory.
https://www.wiganworld.co.uk/album/photo.php?opt=4&id=12728&gallery=Millgate&offset=0

Methodist Central Hall was where Elim Pentecostal held their services before they moved to Greenhough Street, a small Chapel was on the other side of Stairgate.