Photos of Wigan
Photos of Wigan
Album Contents
Album Contents
Wigan Album
Ince
19 Comments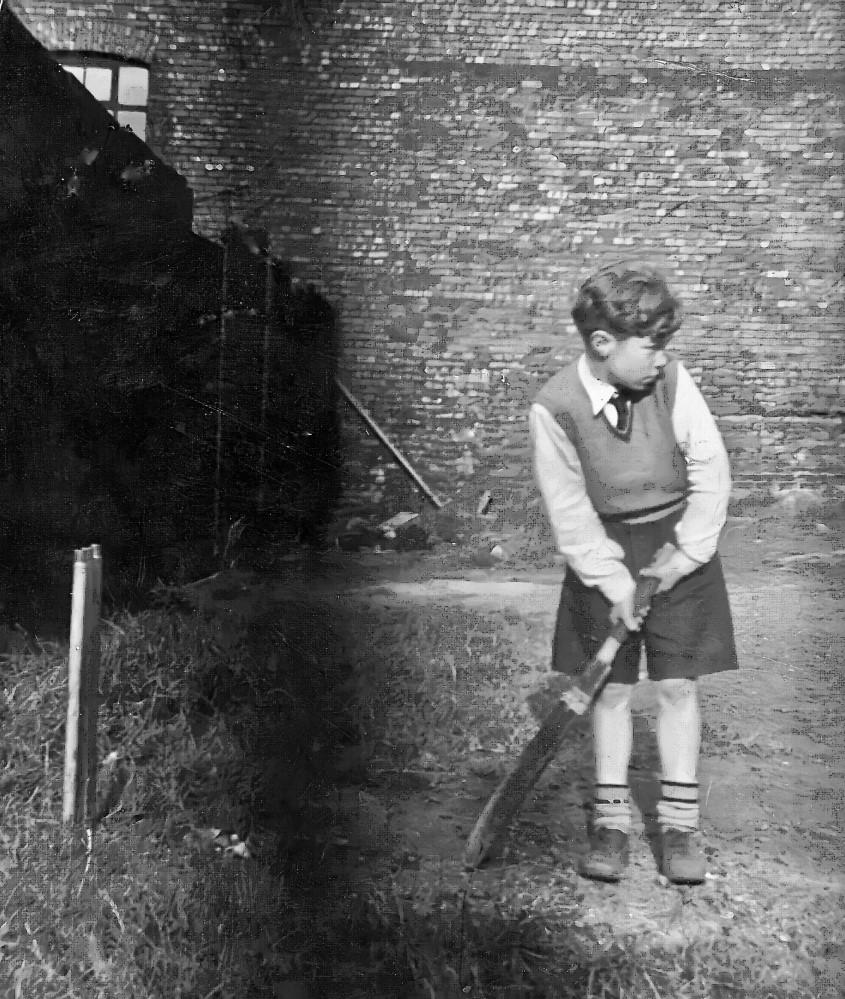 Masons Hollow, Manchester Rd. Higher Ince
Photo: Keith Bowen
Views: 960
Item #: 32826
Mason's Hollow" just off Manchester Road, Higher Ince, around 1954. Here, together with my friend Eric Long, we would spend many happy hours playing cricket, "Honing our skills". Usually just the two of us, but on at least one occasion, we were graced by the presence of "Jack To-morrow" the local Chemist. How he found the time, I've no idea, since his shop always seemed so busy. This is me taking stance, I can only imagine it was Eric who took the photo, he lived in the nearby shop while I lived some 50 yards away, "over the border" in Wigan, at the Crispin Arms, Birkett Bank, Scholes.
I've just noticed we had "real" wickets - how posh, they weren't mine, but I did later acquire a "Don Bradman signed" cricket bat. I was very proud of it and remember oiling it with linseed oil, had it for many years. However, did little to improve my cricketing skills, which sadly never rose to any great heights.
Comment by: Veronica on 19th December 2020 at 15:17
What a lovely photograph of the time in the fifties. We didn't have play clothes in those days! As you can see from Keith wearing a tie, pullover and short pants. Lads were all dressed the same then.
hi keith when i first started work 1959/60 i worked with horace long at mark williams eric longs dad also in your anns class at school remember jack come tomorrow very well small world eh
Comment by: Elizabeth on 19th December 2020 at 17:44
Yes,this is a great photo of the 1950's,such innocent and unsophisticated times.No such thing as 'designer labels' then,we were just happy to play out.
Comment by: Edna on 19th December 2020 at 18:23
What lovely memories this photo evokes for you Keith.I remember Jack to morrow as well. Also my father in law was a regular in the Crispin in the time you must have been there.
Comment by: Keith on 19th December 2020 at 18:59
It is Roy. For a short while, Horace, Eric and myself would go along to Burden Park to watch Bolton Wanderers play, which included the great Nat Lofthouse. Bolton were invariably in the top 6 and the attendance was usually around the 30,000+ mark - how times have changed.
Comment by: Keith on 19th December 2020 at 22:50
Hi Edna, yes Jack was a well known and much loved character. We were at the Crispin from January 1950 until February 1956 but in those days unlike today, us youngsters were not allowed in the pub's bar or rooms, so I'm afraid your father-in-law would have been unknown to me.
What a fantastic photo! And what a lovely name...."Mason's Hollow"....a new one on me even though I am from Higher Ince. I remember Jack Tomorrow and how lovely to think that he found the time to play cricket with you! It's a good job you didn't accidentally lob the ball into his shop or you'd never have found it! Thankyou for sharing this with us.
Comment by: john on 20th December 2020 at 14:22
Great picture, but what happened to the bails?
Comment by: Veronica on 20th December 2020 at 15:22
Jack Tomorrow must have been waiting for supplies that day to complete a prescription.., " Sod it ! - I'll go and have a game of cricket with them two little lads.. " No wonder we had to go back again tomorrow! ;o))
Comment by: Edna on 20th December 2020 at 18:00
Jack to morrow was in his shop until all hours.It was sometimes nearly midnight when he was going home.He has called at our house at 11:30pm with a prescription sometimes. He was known affectionately by a lot of people.
Comment by: alan w on 21st December 2020 at 14:50
Jack -to -morrow's was a truly fantastic shop no matter what you wanted if he did not have in i guarantee you would get it the following day thus jacktomorrow's he was a gent too sadly though there is no way anyone will give you that kind of service today ,they could n't give a fig they do not know what service is .Sadly missed .
Comment by: Benji on 21st December 2020 at 16:08
I totally agree with you alan w, he was reliably as good as his word. The number of times I would be disappointed when my Gratispool photos were not ready - but sure enough they were there the very next day - tomorrow! A unique man was Jack with such a kindly disposition.
Comment by: Veronica on 21st December 2020 at 17:13
He always reminded me of an absent minded professor, I can still see his shock of grey thick hair. Another thing he always wore ordinary clothes, where most Pharmacists wore a white coat! I can see him now in his shirt sleeves and sleeveless wooley pullover!
Comment by: Keith on 21st December 2020 at 20:47
Thank you all for those lovely comments. Veronica your memory of Jack is the same as mine, loads of energy, slightly distracted air, and always those shirt sleeves - he probably never had time to put on a white coat.
Benji.....I'd completely forgotten Gratispool photos.....what a blast from the past!
Comment by: Veronica on 21st December 2020 at 21:40
I remember sending films to Gratispool to be developed, I recall the disappointment when some photos didn't turn out as well!
Comment by: e on 22nd December 2020 at 02:09
Waiting for delivery, a full toss or a york,
razor concentration, a bouncer could be caught,
I'll knock it over long on or meet the ball half way,
Hoping for a straight six , as that would make my day.
This bowler looks a monster,
and wants to take my stumps ,
He's charging in aggressive,
as I break out in bumps.
Keep your concentration,
Just one straight bat for four,
Then back to yon pavilion,
With a raised bat century score..
Comment by: Veronica on 22nd December 2020 at 09:33
It's very strange how some people we knew in childhood, stay forever the same. Be it neighbours, shopkeepers, teachers and friends. They stay forever young or old as the case may be. It's come to the stage nowadays that I remember my mam and dad as they where when younger! ( than I am now!)