Photos of Wigan
Photos of Wigan
Album Contents
Album Contents
Wigan Album
Market Place, Wigan
16 Comments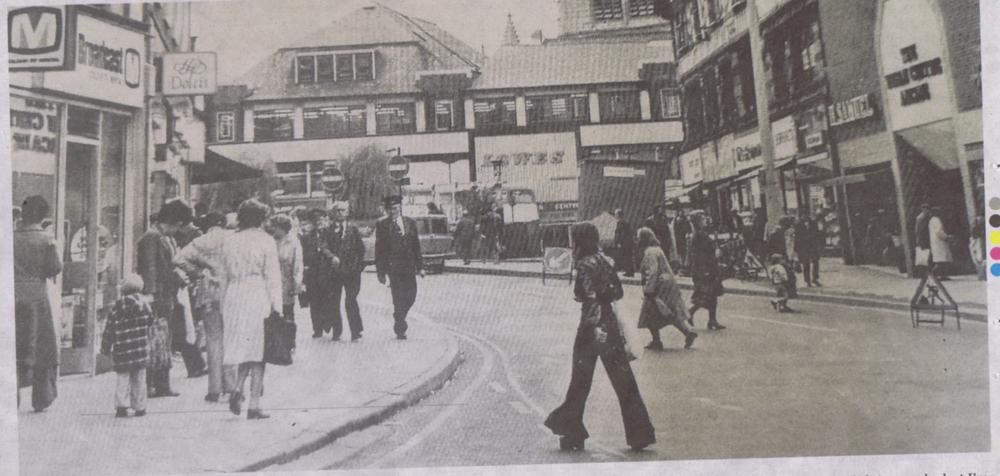 MARKET PLACE 1970's
Photo: RON HUNT
Views: 2,158
Item #: 32782
Newspaper cutting Looks like another of Frank Orrell's pictures? Check out the flared pants and platform shoes.
Comment by: Albert.S. on 14th November 2020 at 12:39
The underground toilets. Did the authorities cover them over, or were the whole toilets filled in?. I believe they were still in use in the mid sixties. My mates' dad was the attendant there in the fifties. He had a wooden leg.
Comment by: Dave on 14th November 2020 at 13:09
Absolutely the seventies with those Bell Bottomes!.
Comment by: Veronica on 14th November 2020 at 13:15
I agree early seventies. It was a common sight to see the bus drivers and conductors strolling about .
Comment by: CJAlan on 14th November 2020 at 13:22
Albert S - to answer your question I believe the council just covered over them. A few years ago, when the Council were revamping the area immediately outside the front of the Poundbakery, there was a huge hole and evidence that the steps and underground area is still in existence.

Personally, I think the central part of Market Place was far better as it was, with an elevated greenery area and a perimeter wall. The current layout is bland and characterless (much like the town centre in general now).

I doubt the Council would want to retain or maintain the underground toilets nowadays considering the problems with the undesirables. It would just be asking for trouble.
Comment by: Donald Underwood on 14th November 2020 at 15:42
Back in the late forties & early fifties Arthur Lowe in Council Debates always called them the Inconveniences

The last time they were in the news was when Philip Maiden was left chained to their railings after his stag night
Comment by: Elaine on 14th November 2020 at 16:47
Is that the Philip Maiden from Lower Ince and attended HAGS?
Comment by: Ray on 14th November 2020 at 17:51
Great picture Ron. Near the centre of the picture are, from left to right
are a bus conductor, a bus driver, and a bus inspector, heading to Station Road to start a bus journey. I recognise the bus driver, but cant
remember his name, he was one of the older drivers who always had
a large grey moustache. I remember the inspector, but I cant recall
his name either. Perhaps some of the older Corporation bus crews
can remember their names.
Comment by: Helen B on 14th November 2020 at 18:11
@Donald Underwood - Was that the Phil Maiden who used to play in a group in the 1960's?
I took this picture in the mid 1970s. I'll do a book of then and now pictures one day including pictures like this. The originals will be better quality than these newspaper cuttings.
Comment by: A.W. on 15th November 2020 at 09:39
Albert S. the underground toilets were filled in around the late 1990's, I worked in the town centre then and kept an eye on what was hapenning.
Comment by: Olive on 15th November 2020 at 12:33
Comment by: Donald Underwoo on 16th November 2020 at 14:53
Elaine.I think not
HelenB I don't know
I knew this one's daily He would have been born around 1946
they lived in Lessingham Avenue
Comment by: Donald Underwood on 17th November 2020 at 09:55
Correction
For "daily" read "family"
Comment by: Julie on 25th November 2020 at 08:09
Dear Frank Orrell you have made my day seeing this photo it brings back some good memories of wigan days gone bye, I only wish that it was those times now, how things was so good to me thakyou for the photo.
Comment by: WN1 Standisher on 26th November 2020 at 09:27
Were you married to Arthur Olive ? :)
Comment by: Olive on 26th November 2020 at 14:34
? ? ?
?
I still am WN1 Standisher, mores the pity. ?