Photos of Wigan
Photos of Wigan
Album Contents
Album Contents
Wigan Album
Mesnes Park
17 Comments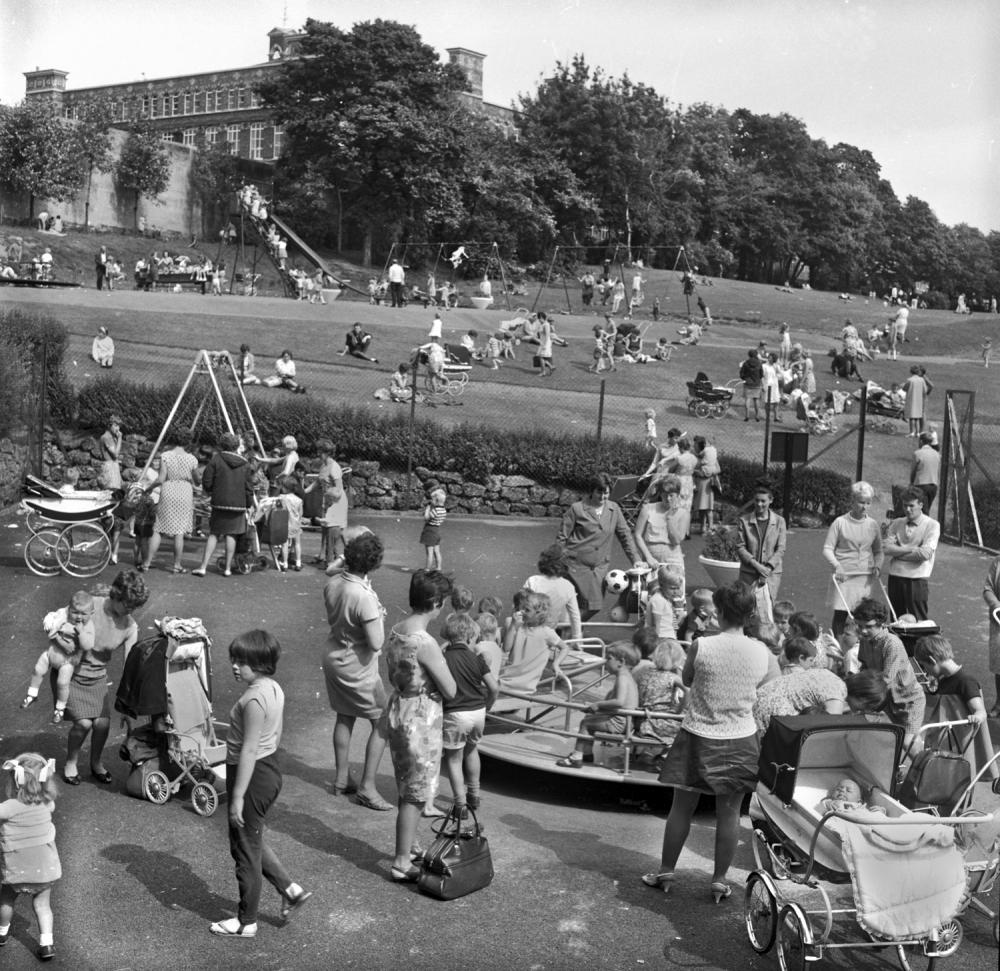 MESNES PARK PLAYGROUNDS
Photo: Frank Orrell
Views: 1,840
Item #: 32776
The packed playgrounds of Mesnes Park in July 1968.
Comment by: fw on 12th November 2020 at 01:29
How my heart doth rush through me,
to be again a child so free,
To set my eyes upon this place,
the sense of knowing each every trace,
The smell and taste I feel it now,
and take a moment to dream somehow,
Beyond no purpose only this,
to be again such place I miss..
I remember that playground so well and begging my Mam and Dad for "just one more go" on that slide. It seemed so tall compared with slides in today's playgrounds.
Comment by: Veronica on 12th November 2020 at 08:48
A few Silver Cross prams in the photo. Only the best for some mums.
Comment by: Barrie on 12th November 2020 at 08:59
The era of when young parents had prams for their offspring not like today's generation. When our son was born in 1976 he had a Silver Cross pram that had a detachable body that we could put on the back seat of the car and was strapped in using the special straps available had to be fitted into the car. That is a good photograph Frank showing a bye gone era. Maybe some of those children in the photograph could now be contributing to the Wigan World website.
Comment by: Linma on 12th November 2020 at 09:18
My eldest son was born in 1979 and like you Barrie the body of his Silver Cross pram lifted off and went on the back seat of the car, the wheels collapsed and went in the boot. Can't remember how much the pram cost but they go into four figures today.
Comment by: Albert.S. on 12th November 2020 at 09:29
I believe that that is Ryland's Mill in background. Is it still standing, and if so, what use has it been put to?.
Comment by: Edna on 12th November 2020 at 10:37
1960s, the best time ever to be a teenager.
Comment by: Mr X on 12th November 2020 at 12:00
Mesnes Park playground was distmantled in the 1980s. Behind is Rylands Mill that later became GUS and finally Wigan College. That building is now abandoned in a dangerous state. The watch tower can be seen and from there are views all over town and on to the Pennine moors beyond Manchester and Oldham, and Fiddlers Ferry power station and places in Cheshire.
Comment by: Barrie. on 12th November 2020 at 17:31
Linda, that was like ours, we had a Triumph Toledo 4 door, so the wheels etc went in the boot. Cost of the Silver Cross was £45 plus extra for the shopping tray and pram net. 1976, the year we never forget because of the sun and temperatures plus living in a residential mobile home on a farm near Ormskirk. Looking at the photograph I guess it may be taken late July as the weather became warmer and sunny for a few weeks.(According to my diary.)
Comment by: CJAlan on 12th November 2020 at 18:51
It just makes you think - even on a warm summers day without any Covid restrictions, it is unlikely we will ever see a scene like this again in Mesnes Park.
Comment by: WN1 Standisher on 13th November 2020 at 09:31
Ashfield Park had a monster slide too Irene, lining up to slide down it as shown on the photo. The really brave would climb onto the wooden cage that sourounded the top of it. Didn't see the attraction of that. We used to speed up the slide by rubbing greased proofed paper from bread wrapping onto the sliding surface. You used to fly down after that. Also there, the swings, the roundabout and the ' longtom '. 2 football pitches and a clay surfaced tennis court. A quick walk through the woods onto the 'Hockey Nets', 2 more football pitches, half a dozen concrete based courts, a long jump pit and of course, the old air raid shelter. I don't thnk 'elf and safety' would allow such amusements today.
Comment by: Barrie. on 13th November 2020 at 17:42
I assume this area in the mid 1800's was the site of Mesnes Colliery No.1 & 2. Until I read about it in the The Industrial Railways of the Wigan Coalfield book. The mines closed down in 1880,
I can remember walking to Gidlow school in the late 50's and seeing the rail lines from Rylands Mill crossing Walkden Avenue.
Absolutely lovely to see this photograph; I would have been around 9 when it was taken. Mum would take me and my brother regularly to the park and my favourite was always the slide. I have mentioned just how high this slide was to my daughter, and I'm not sure she thought I might have been exaggerating - until she saw this photograph! There was a feeling of fear walking slowly up those steps, and I always looked down when I got to the little tower at the top, because we were so high up. I did take my own children on the bottom park many years later, but don't actually remember if the top park was still there. Such happy times.
Comment by: Richard on 17th November 2020 at 12:29
A practical use for a park that has now turned into a "showpiece" rather than somewhere children and adults can enjoy a free day out.
Comment by: Jarvo on 25th November 2020 at 12:44
The summer of'68: a teenager chasing my impossible love. The end of steam locomotives by early August, and the haze of a time spent listening to music from a lost age. Walls ice-cream has never tasted the same. But my impossible love recently became possible...And I didn't hesitate. Lovely opening poem. Well done.
Comment by: Harry on 25th November 2020 at 19:37
Beautiful post Jarvo .
What a lovely outcome for you . He who waits.. Captured perfectly .
Comment by: Bill Aldridge on 2nd December 2020 at 11:42
Fantastic photo Ron, just how I remember it