Photos of Wigan
Photos of Wigan
Album Contents
Album Contents
Wigan Album
Shevington
8 Comments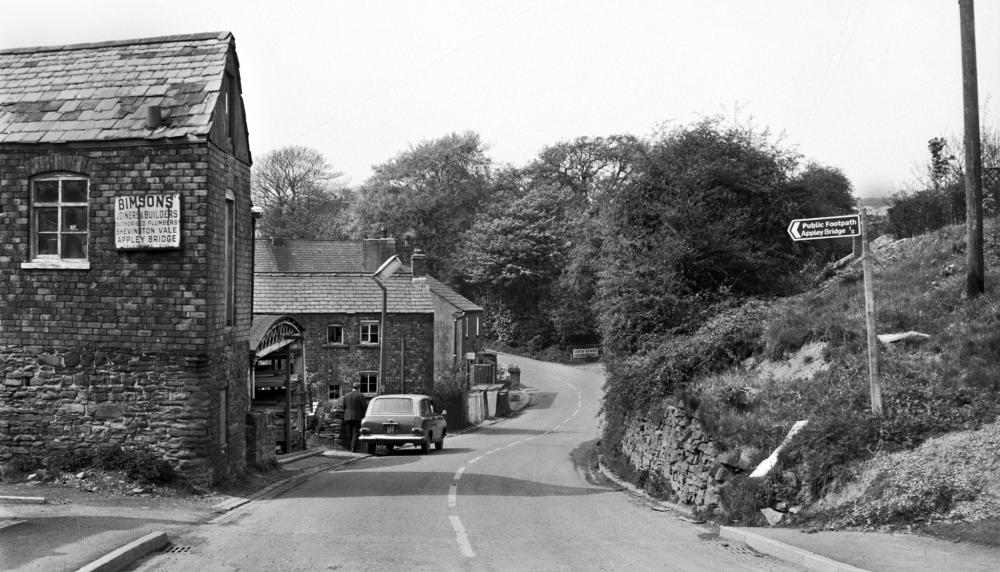 SHEVINGTON VALE
Photo: Frank Orrell
Views: 1,402
Item #: 32775
Miles Lane running into Skull House Lane in Shevington Vale in May 1968.
Comment by: Mr X on 12th November 2020 at 11:41
This is the boundary between Greater Manchester and Lancashire from 1974. In 1968 there is a parked Vauxhall Victor estate, or it could be its bigger brother Cresta. I remember the toothbrush shaped lampposts of this shape in the Shevington area, especially Miles Lane there until the 1980s. There were two bus routes from Wigan to Wrightington hospital operated by Ribble and Wigan Corporation, double deckers were able to go this way along Skull House Lane, but single deckers had to be used on Mill Lane because of the low railway bridge.
Comment by: CJAlan on 12th November 2020 at 16:31
There used to be two boundary signs on this stretch of road - one for Wigan MBC & one for Greater Manchester. The latter sign is a rarity because Greater Manchester is not actually regarded as a County - there were some signs erected after 1974 to identify the new boundary changes. Sadly 'Welcome to Greater Manchester' road signs are a rarity and probably no longer exist. The one on Skull House Lane was very rare indeed - I'm sure there was one on the M6 on the south bound carriageway just after junction 27 that was removed many years ago.
Comment by: Mick on 12th November 2020 at 16:49
I used to come out of the Railway hotel and walk my girl friend home to Beacon view, then I would walk down skull house lane back up to Shevy
Skull House lane back then in the 60s was a narrow dark and spooky lane to walk down
Comment by: Carolaen on 12th November 2020 at 17:35
Skull House Lane - best name ever. Anybody know the story behind it ?
Comment by: CJAlan on 12th November 2020 at 18:48
Mr X, there were quite a few of the concrete toothbrush lighting columns dotted around Shevington and Standish at one time.

There were still a couple left standing on the old stretch of Miles Lane where the Conservative Club is that were removed just a few years ago when the Council completely phased out SOX and switched over to the LED lights.
Comment by: Mick on 12th November 2020 at 18:50
Comment by: Cyril on 12th November 2020 at 20:36
Carolaen, there's some information about the Skull House in the comments on the link below, there was more grisly tales on the Forum, but that's now gone.
https://www.wiganworld.co.uk/communicate/mb_message.php?opt=f2&msd=436295&offset=&subject=Skull%2520House%2520Lane
Comment by: George (Hindley) on 15th November 2020 at 19:30