Photos of Wigan
Photos of Wigan
Album Contents
Album Contents
Wigan Album
BLOODY MOUNTAINS
23 Comments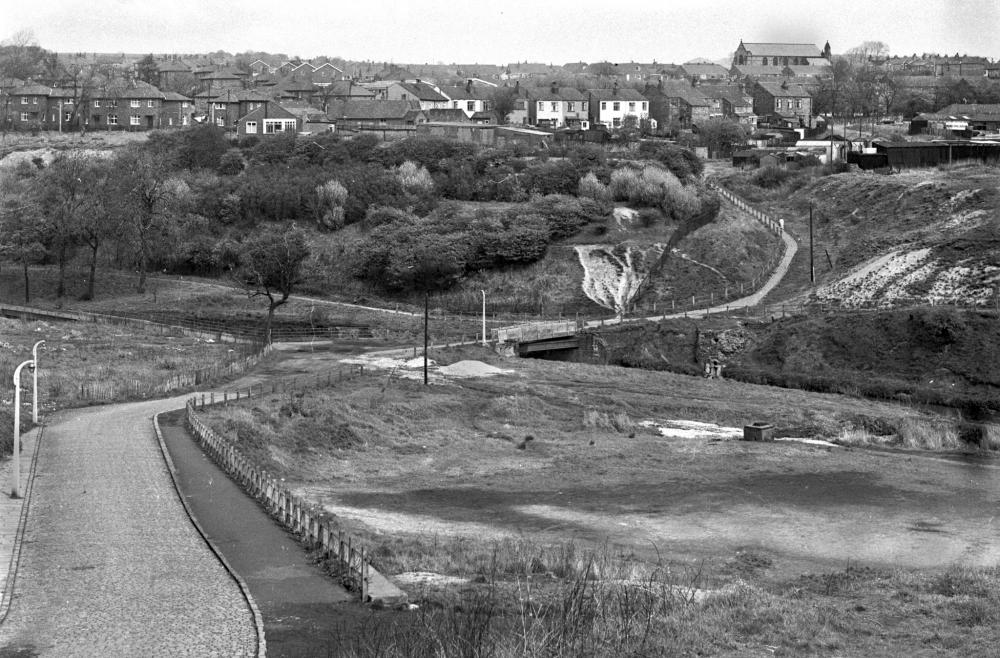 BLOODY MOUNTAINS
Photo: Frank Orrell
Views: 900
Item #: 32772
A view from Coppull Lane, Swinley, towards the Bloody Mountains, Bottling Wood and Whelley in May 1967. The Bloody Mountains get their name from the site of the fierce Battle of Wigan Lane during the English civil war in August 1651.
Comment by: RON HUNT on 12th November 2020 at 10:17
This area was the equivalent to the Theme Parks of today. In those days kids made their own entertainment from bits of wood etc. Fighting battles and shooting Red Indians.
Comment by: Edna on 12th November 2020 at 10:29
What a good photo Ron for evoking memories of the past.I walked this way to Wigan, daily going to work in the late 70s.
Comment by: Tom on 12th November 2020 at 10:37
In the background must be st Stephens church it looks closer in the photo also st Mary's rugby league pitch next to the duggy
Comment by: Edna on 12th November 2020 at 10:55
Sorry,I meant to thank Frank for the photo...Its down to the brain fog!!!!
Comment by: Veronica on 12th November 2020 at 11:00
The Camel's Hump was the best adventure playground ever. Always headed there in the school holidays. Bottles of corporation pop and a butty or two kept you going! It was 'Jungle Jim ' creeping through the bushes - when we weren't roly polying down the hill.
This set of photos is amazing! Frank's photos bring back to life the Wigan we used to know.
Comment by: CJAlan on 12th November 2020 at 16:36
Another wonderful pic.

I believe the houses on West Mount & Fellside were built in the 1980s.

Does anyone know what the site at the top of the hill was used for before it was redeveloped?

CJ
Comment by: Edna on 12th November 2020 at 18:06
Precious memories Veronica, we used to take some of the childen there from our street, with pop and butties, out all day, just playing & walking.Then later I was there in my teens with my boyfriend, later my husband. Such happy times.
Comment by: Mr X on 12th November 2020 at 20:13
Coppull Lane goes from Swinley to Whelley across the River Douglas. There has been trouble here recently with youths congregating. Bradshaw Street and Whelley Hospital is visible as is the Bottling Wood estate, Chestnut Road, Walnut Avenue, Rosemary Crescent and Cedar Drive with identical houses to those in Beech Hill.
Comment by: Cyril on 12th November 2020 at 20:29
CJAllan, copy and paste the link below into your Browser Bar or do a Google search, it's a great photo that Ron put on of the area in the 1930s and you can see what was at the top of the hill and also the bottom.
https://www.wiganworld.co.uk/album/photo.php?opt=5&id=30046&gallery=Coppull+Lane&page=1
Comment by: Edna on 12th November 2020 at 20:41
There is a housing estate now, were Whelley hospital once stood.
Comment by: fairpaul on 13th November 2020 at 09:44
CJ West Mount was built in the late 50's early 60's. As kids we used to play on the building site and Jones the builder used to come back in the evenings to chase us off. The path leading down to the Duggy is Maloney's Brow and at the side of that the little jungle with the 'Devil's Cave'
Comment by: DerekB on 13th November 2020 at 13:02
When I went to St Georges School part of the Camel's hump at the rear of Pyke Street was our football playing field . Not very level as I recall. At the top of the path leading from the bridge across the river to the end of Moore St. was Winnards dairy though I imagine it would have been long gone by the time of this photograph.
Comment by: Tom on 13th November 2020 at 17:33
Camels hump is just to the right of this photo st georges used to have a football pitch on top if you kicked the ball to hard it was down the hill. there was also a lot of pens were the pigeon men used to use
Comment by: fairpaul on 13th November 2020 at 18:23
My memory (having lived in Pyke Street) was Rimmers, who used to make Jubbly the frozen triangular shaped drink, was at the end of Moore Street with the path at the side leading to Bottling Wood. Rimmers had a large concrete loading bay that we used to sit on eating our Jubblies At the top of the path at the side of it on Bradshaw lane was Brookfields shop and later on a Chippy next door. I'm talking late 50's early 60's
Comment by: DerekB on 14th November 2020 at 12:40
You are right fairpaul, it was Rimmers dairy, not Winnards as I quoted.
When I was recording the memorial plaques installed at their pits etc by the Wigan Coal and Iron Co, I came across a number of men from Victoria and Alexandra Pits who lived in Bottling Wood. There are a couple of photographs under 'Bottling Wood' in this Album which shows the houses which used to be there - mostly up to the left of the area shown.
Wigan Archives lists 16 men from there who served - many of whom died, including a number who died at Gallipoli with the 1st/5th Manchesters:
https://archives.wigan.gov.uk/search?q=Bottling+Wood&action=search

The Victoria Pit plaque is in St Wilfrid's Gate House (with a copy outside St Anne's Shevington), but the Alexandra/ Lindsay Pit plaque has disappeared.
Comment by: Ste Wigan on 15th November 2020 at 09:25
fairpaul... I remember playing in that jungle as a kid and also the cave. Any idea as to the origin of the cave?
Comment by: fairpaul on 15th November 2020 at 17:18
No Ste. don't know the origin of it but spent a lot of time playing in there and surrounding area, 89 steps leading up to Walnut Ave. Catching Newts in the pond which as you look at the photo was to the left at the bottom of Coppull Lane. Jumping in the sand pit on Camel's Hump and of course the Plantations, where we had a swing on the iron bridge.The list goes on from a brilliant era.
Comment by: CJAlan on 16th November 2020 at 10:52
Fairpaul

I believe some of the houses on West Mount were built in the 1950s or 60s - however the houses close to the paddock are quite modern looking and I assume they were built about 30 odd years ago.

You can see the houses at the bottom of Bradshaw Street on this photograph. Does anyone remember there being an off licence and chippy there? The chippy was run by a lady called Josie if I remember.

CJ
Comment by: fairpaul on 16th November 2020 at 13:56
Yes definitely remember Josie and her Chippy next door to Brookfields shop which I think is the most prominent building directly in front of St Stephen's Church (not in reality just in this photo) Don't recall an off licence though?
When West Mount was built it ran from the bottom of Vine Street almost right up to the area on the top right were you can see two dark wooden buildings which I think were garages for HGVs. West Mount stood alone at the side of the Camels Hump until they started to build at the back of it which if I was to guess I'd say late sixties 68/69???
Comment by: CJAlan on 16th November 2020 at 17:01
Fairpaul

I apologise - I could be wrong about it being an off licence, but there was definately a shop there on Bradshaw Street. It could have been a traditional convenience store.

Parts of Whelley have changed a bit over the years. I remember the hospital and the tax offices, which are also long gone.

CJ
Comment by: ken on 17th November 2020 at 11:16
In the 40s the 2 shops were a general store and a chip shop owned by Pilkington's. never knew the name of the owners of the store, always referred to as the Bottom shop by Bottling Wooders.