Photos of Wigan
Photos of Wigan
Album Contents
Album Contents
Wigan Album
Southport
10 Comments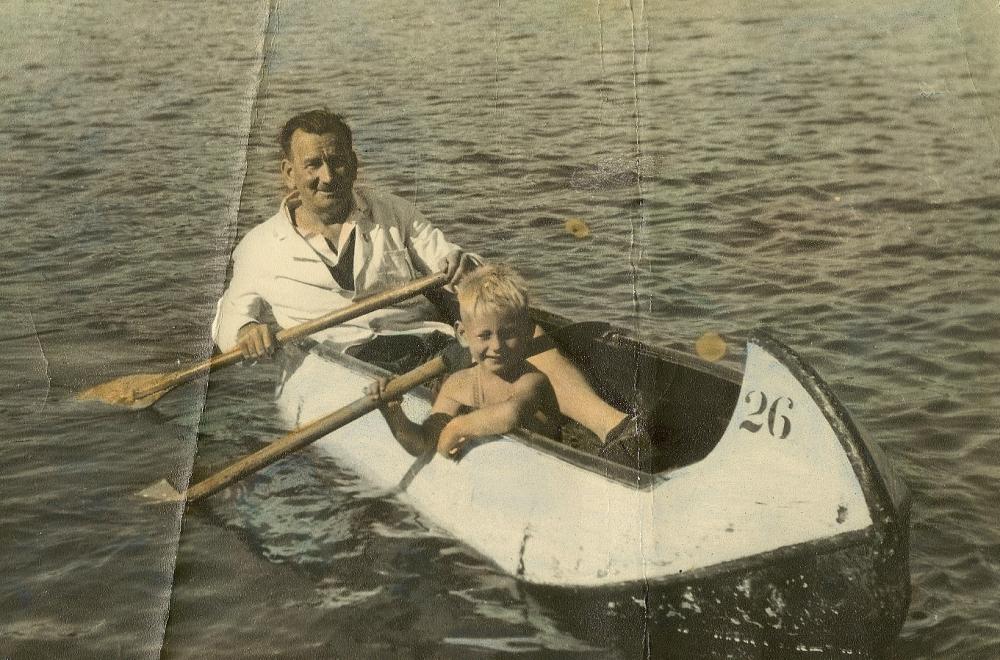 Peter Pan's Playground-Boating lake July 1950
Photo: Barrie
Views: 757
Item #: 32732
Following on from my previous photo, I think this one was taken earlier in the week when we had the whole day in Southport. Father loved canoes from his youth. The white coat he's wearing tells me it was a different day. This was known within the close family as his "Ice Cream Man" coat due to the fact in the 50's ice cream sellers seem to wear them. I was never keen on canoes so have never been in once since. Row boats or motor ones -yes. (Apology about the crease , this photo for many years used to be in a frame in my parents bedroom. I took it out of the frame years ago.)
Comment by: Veronica on 21st October 2020 at 17:25
You look like you are enjoying this more than in the 'car' Barrie. I remember the ice cream man in his white coat, but he was in fancy cart pulled by a horse. That was more exciting than in a van like Mr Whippy. In the fifties horses were used a lot more more not only for ice cream, but the fruit and veg cart, and the rag bone man. I wonder if others can remember any more...
Comment by: tuddy on 21st October 2020 at 19:48
Veronica, I seem to remember a man called Tommy Norris who had a horse and cart, I think he sold fish.
Comment by: Veronica on 21st October 2020 at 21:50
I didn't know that Tuddy, well done! I wonder if there was a coal cart. I don't know whether I dreamt it but there seems a very vague memory of one.
Comment by: Pw on 22nd October 2020 at 06:07
Bill Eatock,who had a farm down Lord St in Hindley used to deliver milk using a horse and a covered type of cart.
Comment by: Barrie on 22nd October 2020 at 09:04
Veronica, item #32202 under places-Standish shows my 2 sisters with their ex ice cream vendor pony Lady Bet that Father bought from someone in Scholes in 1940 as he gave up his round due to the war. In the early 50's in Standish we had a greengrocer with a horse and cart coming round the village. Later he bought a lorry to do the rounds and us "kids" used to help him serve and help out for a bit of pocket money. I can't remember his name now.
Comment by: Carolaen on 22nd October 2020 at 16:48
Barrie. A lot of the tradesman gave up their horses and ponies after the war. My dad bought such a pony in the 1950s and also rented the bit of land and stable along with a little dog cart. We used to go out on the roads with it around Wigan and sometimes I was allowed to get on a saddle on "Tommy" even though he always used to try and bite me !!
Comment by: Veronica on 22nd October 2020 at 20:24
I have added a comment on the photo 32202 Barrie. Thanks.
Don't know whether it is of any help.
My friend's Dad went all through the war in the Royal Navy, and when he came home he got stuck in the Marine Lake at Southport!
Comment by: Poet on 23rd October 2020 at 09:59
He sounds like Uncle Albert from ' Only fools ..' , Irene .
Comment by: Barrie. on 23rd October 2020 at 19:43
Veronica, saw the comment & replied to it. Carolaen, according to my sisters, father built a stable on our back garden -plenty of room - after a few months grazing in the field close by. We also had an allotment at Ashfield during the war so the pony was put to work during that period as well as being ridden by the girls.