Photos of Wigan
Photos of Wigan
Album Contents
Album Contents
Wigan Album
Market Hall
14 Comments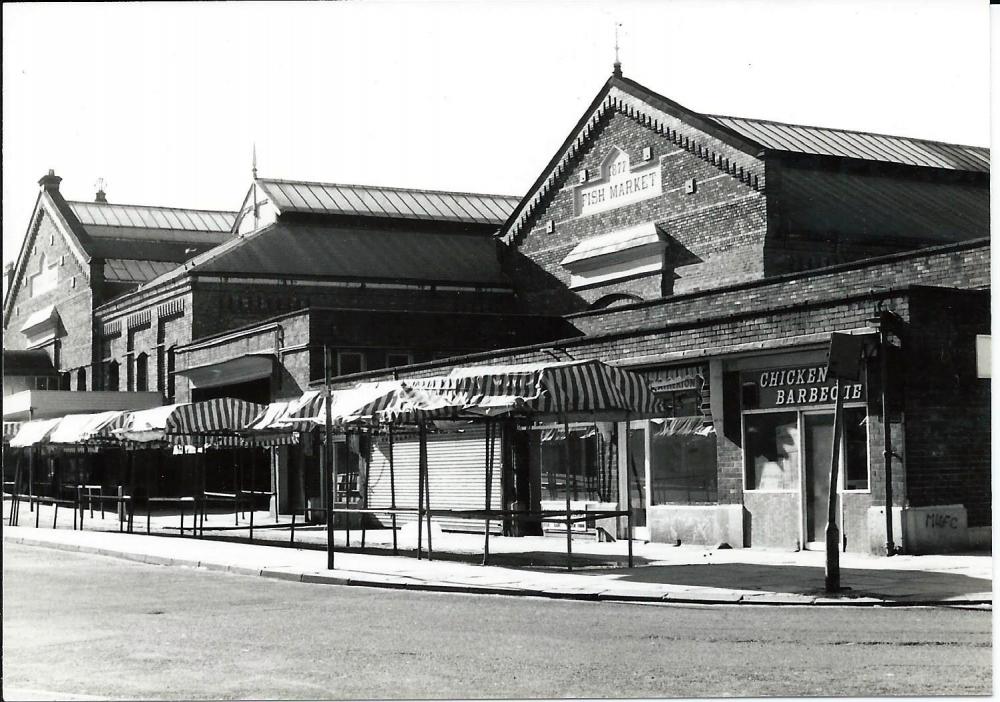 Fish Market
Photo: Mel Carter
Views: 1,356
Item #: 32728
Fish Market in Woodcock Street.
Comment by: Veronica on 19th October 2020 at 11:30
Another good one , the smell was enough to drive you away, but the Chicken Barbeque conquered that stink with its lovely aroma of roasting chickens and coffee. I went every Saturday afternoon for one of those sandwiches and a coffee .. absolute bliss! sandwiches
Comment by: Carolaen on 19th October 2020 at 14:38
Veronica. I believe the roast chicken shop (not really by a despite the name) was Percivals. Like you many happy memories of chicken in a bun.
I remember those fish shops so well. One was Shacklady's. Round the corner was the fruit market which was separate from the Market Hall proper, but you could go through a door from the fruit market into the Market Hall.
Comment by: Cyril on 19th October 2020 at 15:04
I never went into any of those chicken rotisseries, but was always surprised that folks would prefer either this one or the one on the other end facing Market Street with each being named as the best, but didn't they belong to the same owner, maybe they used a different mix of spices on the chicken at each shop to suit different tastes, though I don't know.
Comment by: Linma on 19th October 2020 at 15:14
Oh those chicken sandwiches Veronica, I can remember them so well, the bread was so soft. Chicken and stuffing, delicious. Used to catch the bus to Bolton and eat the sandwich on the way.
Comment by: Gill on 19th October 2020 at 15:15
My mum shopped there regularly when I was a little girl, I actually quite liked the 'aroma' of the wet fish. I recall us buying some gorgeous local tomatoes from the open market stalls, they were so good we ate most of them on the bus on the way home!
Comment by: Edna on 19th October 2020 at 21:49
All lovely memories these photos.Going into Wigan on Saturday's was a big treat, after shopping in Scholes all week. That was when the Market was a Proper market.
Comment by: Mr x on 21st October 2020 at 14:41
The old Wigan market hall was built in 1877 and demolished in 1988 when 111 years old. There were extensions built in the 1950s being the fruit market section and Petticoat Lane arcade.
Comment by: Cyril on 21st October 2020 at 16:31
So true Edna, though we shopped at Robin. I can also remember going on Fridays too when the farmers came to the market and amongst other produce they had live chickens and ducks in crates, and once I got a nasty peck by one hen when I offered a piece of bread to them, I suppose they would have been highly stressed in those crates and all the hustle and bustle of the market, so would have been narky.

The leisure department never spent the money that was needed to keep this market hall maintained, it was just left to decay.
Comment by: Peter on 21st October 2020 at 17:18
The fish shop next to chicken shop was Edward Atherton who set up business with my father across the road next to crank and Burton.And remember going to Wigan with my grandmother who pointed to the date on the market and told me she was born in 1877.
I remember Atherton's had a fish stall INSIDE the Market Hall too, Peter, if it's the same family.
Comment by: Peter on 22nd October 2020 at 07:26
Comment by: Mick LD on 24th October 2020 at 11:19
As I remember forty and fifty years ago, the fish shops from left to right were: Austins, Reids, Boylans, Shackladys, and Athertons.
Comment by: Valerie Cooper (walls) on 27th October 2020 at 21:49
Oh, I remember going to shackladys every Friday for my mum. We used to stick to fish every Friday, but always from there. I loved the atmosphere and the people. Oh, what lovely memories.