Photos of Wigan
Photos of Wigan
Album Contents
Album Contents
Wigan Album
Southport
2 Comments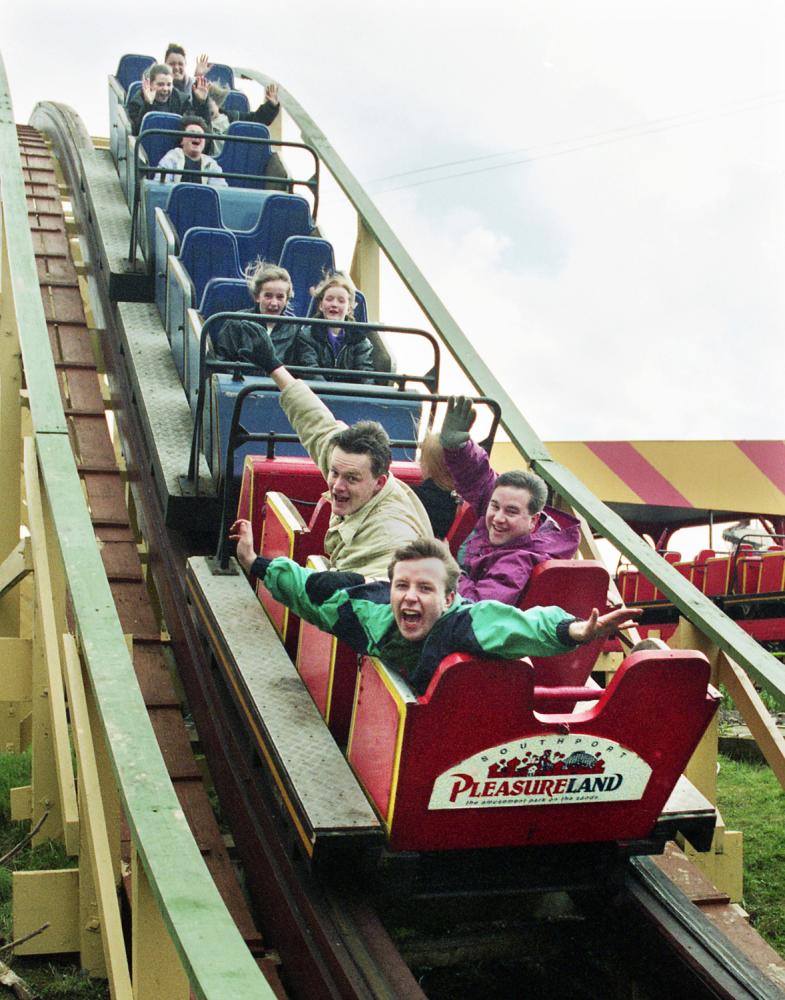 SOUTHPORT ROLLER COASTER
Photo: Frank Orrell
Views: 669
Item #: 32723
Wigan lads Paul Eccleston, front, and James Lawrence, behind, with a friend on a practise run before attempting to ride Southport Pleasureland's Cyclone roller coaster in reverse non-stop for 24 hours and break a world record in the process.
They were attempting their stunt on one of the oldest roller-coasters around on Saturday 25th of March 1995 and hoping to earn a place in the Guinness Book of Records.
The members of the roller coaster club of Great Britain would have to do around 350 circuits backwards on the cyclone built in 1937.
I can't actually remember if they achieved the record.
Comment by: CJ Alan on 16th October 2020 at 18:14
Thank you for sharing the picture. As a youngster, I loved Southport Pleasureland - I much preferred it to Blackpool's Pleasure Beach any day. Pleasureland was such an enjoyable day out - I remember being taken there by my mum in the late 1980s/early 1990s, then as a young adult I went a few times in the early 2000s with friends to generally hang around and have a few pints in one of the arcades. I believe the axe fell in 2006, when it was closed by the original owners due to a lack of return on investments. The site has changed ownership a couple of times in recent years but sadly it is now a shadow of its former self, with most of its original attractions gone and what's left is looking run down and neglected these days.
Wow that's me! I never quite figured out if we made the record, I could not find it. We rode the 24 hours (I still have nightmares about it), but then don't think it was filled with Guinness. I did get a call from the guy who organized it (Andy) years later asking did we want to do again. Believe someone from the US broke our record by doing 3 days! (Crazy). Thanks for posting Frank!

I feel so old! Thanks for posting