Photos of Wigan
Photos of Wigan
Album Contents
Album Contents
Wigan Album
Southport
4 Comments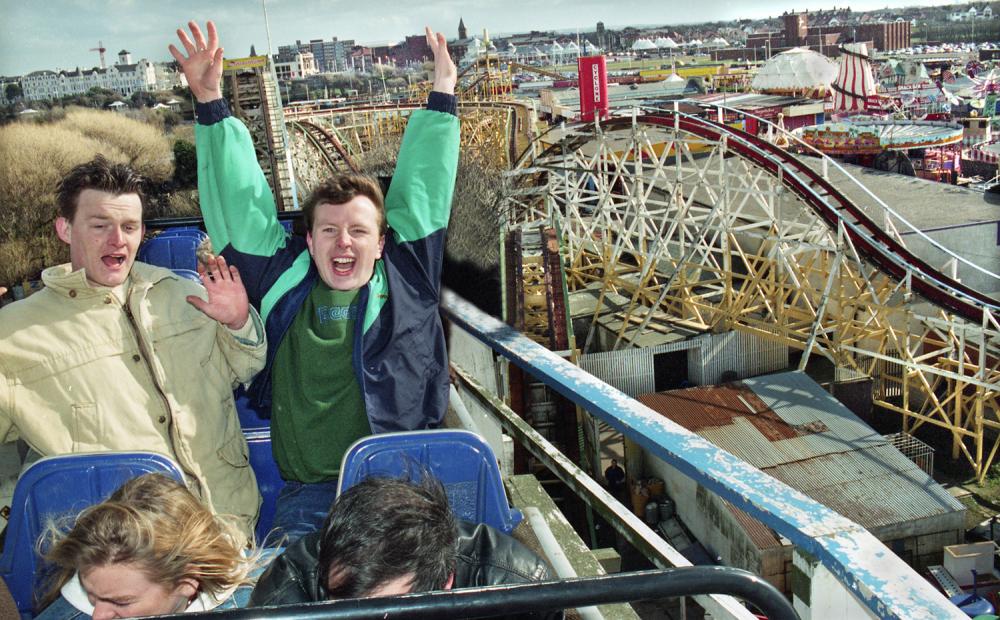 SOUTHPORT ROLLER COASTER
Photo: Frank Orrell
Views: 645
Item #: 32722
James Lawrence and Paul Eccleston ready to plunge down the steep incline on their practise run on the Cyclone Roller Coaster at Southport.
Comment by: WN1 Standisher on 16th October 2020 at 08:31
Did you take that one Frank ?. A great shot considering you had your back to the steep decent you're just about to meet. Been on that one quite a few times over the years.
Hello WN1 Standisher, I did take all three pictures on here connected with the lads record attempt. I was doing the shoot for the Wigan Observer and when I got to the roller coaster I thought how will I be able to show on a still picture whether they are going forwards or backwards. So I got on board with them and whizzed round a few times taking photos of them doing a few yelps. The solution in the end was, that since other coaster enthusiasts were allowed to get on and off as normal, the lads would have to sit with their backs to me and other riders facing forwards as I stood below to take the shots as seen on the other picture. But even so how can you tell on still film who is going one way or the other
Thanks for posting Frank, this is amazing (I'm Paul - guy on right - who appears to have loved green back then!)
Comment by: Alb on 30th October 2020 at 10:08
What year was this? (the 1980s?). When Southport had a proper fairground not the rubbish it is now. Officially Southport Pleasureland closed in 2006, but I thought it is still named that?. Southport had everything going for it back then, now it's just a clone of every other town albeit by the sea. Same soulless and bland retail parks with McDs, Costa, Dunhelm Mills, Cineworld's, bowling, etc. Anyone know what that crane is there for in the background behind the hotel?. Anyone know what they were building?.