Photos of Wigan
Photos of Wigan
Album Contents
Album Contents
Wigan Album
Southport
9 Comments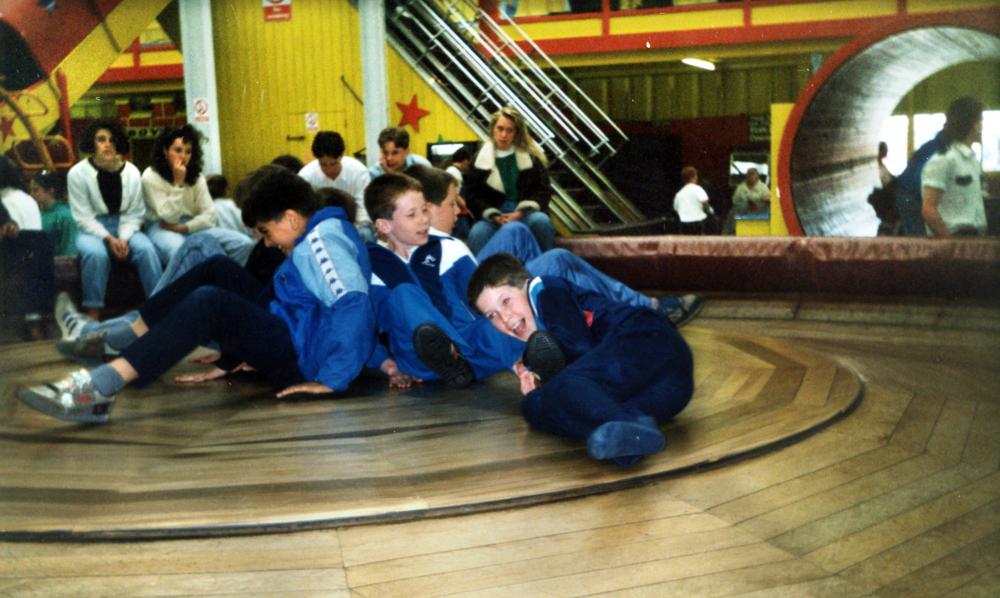 SOUTHPORT FUNHOUSE
Photo: Frank Orrell
Views: 941
Item #: 32720
The spinning disc in Southport funhouse mentioned by Poet. These are my sons, Danny and Mike, there in 1989. If I remember rightly there was also a chair that you could sit in and got a mild electric shock. Health and Safety eh!
Comment by: Poet on 15th October 2020 at 23:58
Frank , you're like a conjuror , except your tricks are real . I never thought I'd see this again .
I love the contrast here between the sheer innocent joy of the kids and the slightly ' uur couldn't be bovvered ' teenagers . Magic.
Comment by: Brendell on 16th October 2020 at 11:47
Looks just like I remember it back in the late 50's/early 60's. Was a great facility on rainy days.
Comment by: Veronica on 16th October 2020 at 14:28
This was great fun and good exercise as well!
Used to go late 50s with Goose Green Labour Club
Comment by: susan boardman on 16th October 2020 at 15:22
had many happy times in the fun house, the spinning barrel, the puff of air that blew up your skirt the moving walkway great value for the money as you could stay in as long as you liked
Comment by: CJ Alan on 16th October 2020 at 18:22
Such a blast from the past. Hard to believe this picture is from over 30 years ago. I went to Southport recently to take the dog around the marina and the pier. I walked around the outskirts of the Pleasureland complex and it is quite heartbreaking to see how it is today. I'm not too sure if the Funhouse building still exits, but much of the park attractions were dismantled and removed after Pleasureland was sold in 2006.
Comment by: Joe Maplin on 16th October 2020 at 19:35
the building still exists,but now houses a ghost train
Comment by: Edna on 16th October 2020 at 21:36
I knew someone would have photos of Pleasure Land. Great day out,and not too far away.Thank you for the memories Frank.
Comment by: Andrew Kershaw on 20th October 2020 at 14:26
There was also a Funhouse at Blackpool Pleasure Beach that was bigger and better than the one in Southport, and had a giant slide, spinning discs, barrel, slot machines etc. It was sadly destroyed by fire in the 1990s and not rebuilt. Valhalla now occupies the site.