Photos of Wigan
Photos of Wigan
Album Contents
Album Contents
Wigan Album
Southport
35 Comments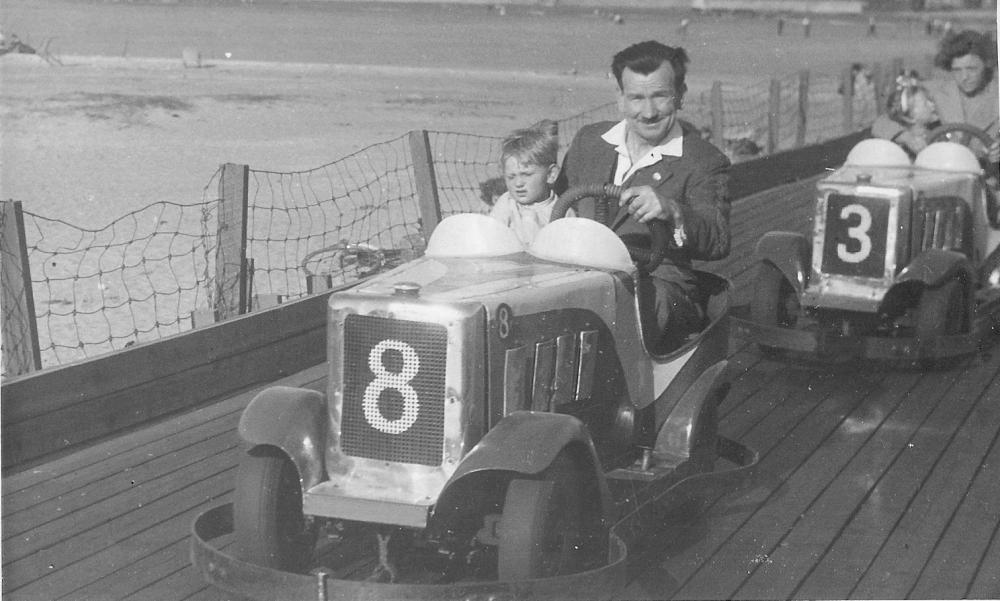 July 1950-Southport Pier race track
Photo: Barrie.
Views: 1,035
Item #: 32716
Came across this photo in my miscellaneous album recently. My Dad & I on the pier race track-I know it was a day out from Standish during late July (not Wigan wakes). Can anyone remember this attraction because I cannot recall seeing later that decade.
Comment by: Veronica on 11th October 2020 at 14:58
What a great photo, I do vaguely remember these cars, but didn't go on them. I bet they wouldn't be allowed today, they look a tad worse for wear..
Comment by: Xpat on 11th October 2020 at 16:08
That was the scope of our childhood holidays back then, one day in Southport, never went twice. Remember one lad went to somewhere in Wales for a week one year. The fact I remember it shows how rare holidays were. I was 19 the first time I went to Blackpool. Being street kids we made our own entertainment and had wonderful Summers.
Comment by: Cyril on 11th October 2020 at 17:18
I can't recall seeing them at the pier, the only ones I remember was in the fairground. Veronica I too agree they wouldn't be allowed looking at the flimsy wooden crash barrier and rope netting, though it looks to be good fun all the same.
Comment by: Veronica on 11th October 2020 at 22:36
You are probably not as old as me Cyril. I once went to New Brighton in the early fifties, it was a one off though! I was sick with excitement going on a boat! It's true you do remember things that were out of the ordinary.
Comment by: rt on 12th October 2020 at 01:46
NEW BRIGHTON now that sends an electric shock through the memory bank . catching a ship to take you across the ocean to a foreign land, thats what my mam said, come think of it they did speak funny though
Comment by: Barrie on 12th October 2020 at 11:04
Southport, New Brighton & Liverpool were our days out in the late 40's /early 50's. Until 1954 we had no car so it was either the train or bus from Wigan. The day this photo was taken (according to Dad's diary) it was the train and Southport was "jammed" with visitors. Earlier that week we had been to Southport for the whole day by bus from Standish-Southport-Standish. I don't suppose one can do that in this day and age.
It's strange that now 70 years later I live on the Wirral and New Brighton is only 5 miles away and on a hot day can be rammed with day visitors. Even got a Travel lodge on the front.
Xpat, the 1st holiday I had on my own was to Butlins Holiday camp Filey 1962 (17 years old) by coach from Wigan.
I was 5 when this photo was taken and I think it was done by a pier photographer if any remember those. Blackpool had them as well in the 60's.
Comment by: JohnH on 12th October 2020 at 11:52
Right through the 1960s, I used to look forward to driving these little petrol-engined cars (with their smelly exhaust fumes!) on an oval 'racetrack' in 'Pleasureland'. Though I was only a few years old I was allowed to drive unaccompanied - what a thrill for a youngster! - which certainly wouldn't be permitted now but was quite normal in the days when a little common sense was relied on. Although the cars were old they felt quite safe, chugging round the track at just a few MPH. I think they survived into the 1970s.
I don't remember those cars but we always went to Southport on the train for a half-day outing. I can remember the Peter Pan playground, the little train and Pleasureland. I can recall going to New Brighton with Ince Central Junior School on our annual day trip. I have a book about New Brighton in its heyday and one cafe advertises "bread and butter cut corner to corner"....that must have been a sign that it was a bit upmarket! xxx
Comment by: Barrie on 12th October 2020 at 15:30
Since my last comment above, I've been doing a bit of digging in Google and found out more details of the photograph. The race track is not on the pier but was adjacent to it in Peter Pan's Playground. The track was called "The Speedway". The playground was closed in the late 70's/early 80's but under another name.. Ocean Plaza Shopping development is now on the site according to Google. However, it was a good day out for a 5 year old!!
Comment by: Cyril on 12th October 2020 at 15:33
Travelling by ferry to New Brighton was the highlight of going as there wasn't very much to do when you got there apart from the pleasure fair, and there's probably a whole lot less now, though in its favour it has a Sea Fort for an attraction. I remember in the 1960s a zoo of sorts on the top floors of a tall building that you reached by cable car, how they got those animals up to there I don't know, but they surely must have lived a miserable life and most likely cruelly treated too, there was always enormous red jelly fish which resembled rubber washed up on the beach, wonder if they still do wash up?

There still is a bus from Wigan to Southport, but not through Standish though, it must take an age to get there too with all those stops shown.
375 Wigan to Southport.
https://tfgm.com/public-transport/bus/routes/375-wigan
Comment by: Veronica on 12th October 2020 at 16:02
I recall the 'beach' there wasn't much of it..it seemed a bit dirty to me with bits of tar in the 'sand'. I remember thinking it wasn't as good as Blackpool, it was the boat that made my day. There must have been a couple of donkeys too as I had my photo taken on one. It was a poor photo, I don't know what happened to it.
Comment by: JohnH on 12th October 2020 at 16:28
Ah yes, 'Peter Pan's Playground', that was it. Thanks for the correction.
Comment by: Pw on 12th October 2020 at 17:59
Used to go to Southport with Platt Bridge legion and had our dinner and tea in the cafe at Peter Pans.Beside the rides there was a model railway layout which I always went to see.Happy days
Comment by: Veronica on 12th October 2020 at 18:44
I remember the Funhouse at 'Pleasure Land' I loved going on the 'cakewalk'! Can't remember what it cost to go inside though. I wonder what happened to the laughing man inside the glass case.
Comment by: Linma day on 13th October 2020 at 08:19
If my memory serves me right, opposite the Peter Pan playground there was a reptile house and you wouldn't have got me in there for all the tea in China. I have a fear of snakes, someone frightened me when I was a child with a toy one.
Comment by: Cyril on 13th October 2020 at 11:19
You've jogged my mind about the Funhouse Veronica, you could spend some time in there, I doubt that much of the machinery that was in there would be allowed now, when you think back some of it now seems deadly, though you had good fun.

I don't know if it is still there but a Penny Arcade Amusements Museum was at Bygone Times and they had both a Laughing Policeman and Laughing Sailor automaton.
Comment by: Veronica on 13th October 2020 at 14:14
There was a 'Crooked House' as well Cyril and they played the latest records if I remember..
Comment by: Poet on 13th October 2020 at 14:49
The first thing to negotiate in the Funhouse was a wind machine that blew intermittently Marilyn Monroe style . I liked the spinning disc that threw you off as it whirled faster , the rotating barrel , the wonky steps and wobbly planks and the big almost vertical slide.
The best outside rides were The Caterpillar and The Haunted Swing . There was also the River Caves , Go Carts , Ghost train , the Helter Skelter which emptied you and your rug into a big wooden bowl , ( there was always an audience here ) , the Carousel and the Crazy Cottage.
I loved the outdoor baths too with its sea water and water slide . The floating platform was always crowded with folk diving off it .
In front of the baths was a huge grassy field for football , cricket and rounders or families having picnics . And visible to all, the white pylons of the Big dipper , alive with screams and woosh .
Comment by: Veronica on 13th October 2020 at 16:16
There was also a roller skating rink at one point near the the outdoor baths.
Comment by: Edna on 13th October 2020 at 18:49
My word Barrie,you've not half stirred everyone's imagination with this photo.Lovely memories everyone.I remember them all.Thank you.Ho! for the Southport of yesteryear.We seemed to have more fun.
Comment by: JohnThe on 13th October 2020 at 19:31
The Funhouse was at Blackpool
Comment by: tuddy on 13th October 2020 at 19:52
Wasn't the laughing clown at Blackpool Funhouse? I remember the ferry to New Brighton in the 60s, apparently there was a tower there similar to to Blackpool's until the 1920s.
Comment by: Steve on 13th October 2020 at 20:24
I also remember going on day trips to Southport with both Platt Bridge Labour Club and the British Legion. A trip on the train from Platt Bridge station, a packed lunch, an envelope with a little spending money Happy days !
Comment by: Cyril on 13th October 2020 at 20:29
Here's some film footage of folks having loads of fun in the Funhouse at Southport.

https://twitter.com/plinketyplink/status/1005749759234240512?lang=en

https://youtu.be/6fCGctF1Lpk
Comment by: Cyril on 13th October 2020 at 21:16
Some more footage from youtube of the Funhouse and also Pleasureland at Southport before demolition.
https://youtu.be/TA8DQ8pZxtk

The Pleasureland was featured in scenes in the film One Summer, though the scenes at the fairground do become quite violent with scouse scallies fighting, which at the time I thought to be bad publicity.
Comment by: Veronica on 13th October 2020 at 23:16
There was definitely a Funhouse at Southport, we went as teenagers 13 and 14 . I might be wrong about the laughing clown, it's many years ago and Southport was the main place to go as it was nearer.
Yes, I remember The Funhouse at Southport. I went in 1967 on a Labour Club Trip. There was a jukebox playing "A Whiter Shade of Pale" over and over again, and we were watching people being thrown off the spinning disc and a big lad was flung off and hit me in the eye! I remember getting off the train that evening at Ince Station with a red, very sore eye, and next day I had a shiner! I have never been able to listen to A Whiter Shade of Pale since without thinking of that!
Comment by: Poet on 14th October 2020 at 09:22
Labour club trips were brilliant . A quid in a little envelope given to you as you got off the coach and spent entirely at the fair . Then onto the little train that ran alongside the marine lake . It ran mostly through cuttings passing under several bridges . The driver always tooted the horn as it went under , shrouding the waving people in steam . You got off at the pier for fish and chips in an upstairs cafe .
A tradition gone now sadly , like pop and crisp night .
Comment by: Veronica on 14th October 2020 at 09:37
It was the late 50's and Eddie Cochran was singing Summer Time Blues, we were watching some older teenagers bopping away. Fascinating to watch as we weren't in that age group, I know the music was loud, it was outside though. 3 steps to Heaven was another one. I always liked Eddie Cochran.
Comment by: JohnH on 14th October 2020 at 10:19
There was a laughing clown (or policeman?) just inside the entrance to Blackpool's pleasure beach.
Comment by: Barrie on 17th October 2020 at 08:37
Thank you all for the comments this photograph from a bygone age has brought and the memories of our childhood and growing up to what we are today. I can't remember in detail about Peter Pan's Playground but I have another photo from the same year which I will post that may also bring back memories. Later in my growing period it was the Pleasureland fun park Dad took us to. I think it was the laughing Policeman that stood in the entrance to Blackpool Pleasure ground and I am sure that it was still there about 10 years or so ago (before admission charges were introduced).
Comment by: Tom on 18th October 2020 at 14:16
It's an expensive day out nowadays we went every weekend in the summer back then great times
Comment by: Cyril on 21st October 2020 at 19:32
Anyone remember the Ghost Train in the fairground, they had someone inside who gave you a pinch and also ruffled or gave a tug to your hair as you passed by, no idea how they saw you as it was pitch black.

Mesmoland has filmed the one at Blackpool, the poor cat that keeps having its tail stood on, also look out for Mick, Tom and Tonker having a bike ride. https://youtu.be/HcNxav7W-m8 Such larks.
Comment by: Veronica on 23rd October 2020 at 16:53
Yes it was good fun Cyril and it was draughty .. no matter how many times you went on the Ghost train it always seemed scary! I remember a coffin with the lid opening and a skeleton popping up... Agh! At least I think it was the Southport one.