Photos of Wigan
Photos of Wigan
Album Contents
Album Contents
Wigan Album
New Springs
9 Comments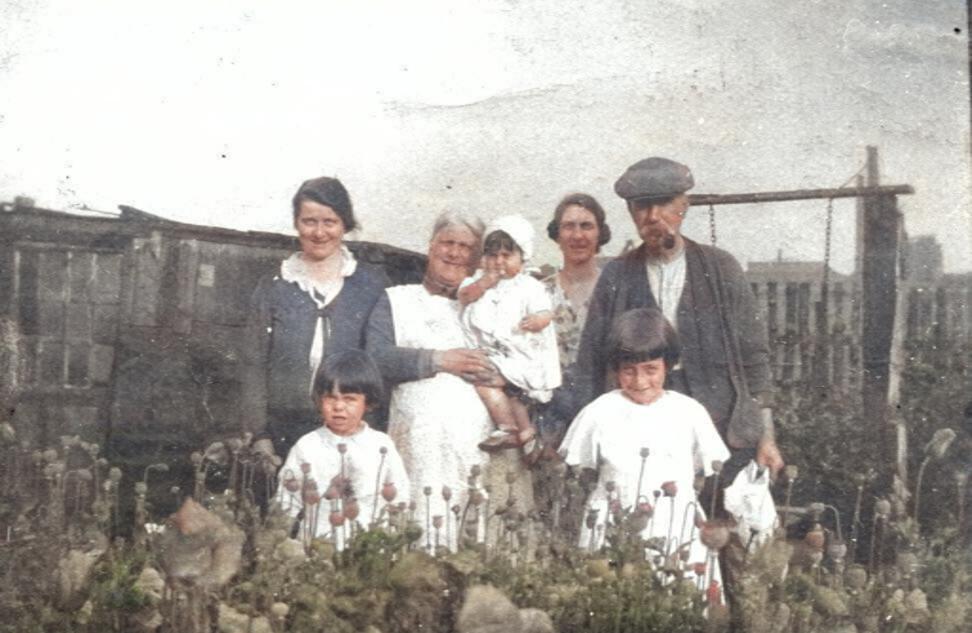 Foot family at Old Mill House, early 1930s
Photo: Graeme Lindsay-Foot
Views: 795
Item #: 32666
The old lady and gentleman are my great-grandparents, Sarah (1869-1938) and James Foot (1869-1941) at their home behind Cale Lane with two of their daughters, Lily (at the left) and Charlotte (at the back). At the front is Annie Houghton, daughter of another of the sisters, Mary Alice (1898-1976 - not pictured). You can see the Top Place chimney at the back, which dates this to before July 1936. Colourised from the original black and white image.
Comment by: Elizabeth on 24th August 2020 at 07:29
Lovely family group photo.My great-grandparents on my Mum's side came to live in New Springs from Worcestershire for the work.
Comment by: Helen of Troy on 24th August 2020 at 07:32
That is a great family photo Graeme enhanced by the touch ofcolour.the building at the back reminds me of my Uncle Fred Foster's chicken shed in Pemberton.
Comment by: Veronica on 24th August 2020 at 09:37
Colour gives them life, they become even more real in the link to us than the distant relatives in black and white.
Comment by: Philip G. on 24th August 2020 at 12:55
I like this photo. No strain or tension in the folk.
Comment by: Cyril on 24th August 2020 at 13:35
That's a wonderful nostalgic photo, they liked growing poppies too and I'd imagine it to have been a superb display of colour when they were in bloom.
Comment by: Edna on 24th August 2020 at 21:55
What a lovely family photo.To be able to see your great grandparents.
Comment by: Dr Keith Tattum on 26th August 2020 at 11:51
Thanks again Graeme. I haven't seen this one before. I suspect you've confused some names, and I can see why.
The lady on the far left is my Grandmother, Mary Alice Houghton (nee Foot). The little girl directly in front of her is her daughter, Annie Houghton, my mother.
The lady between our Great-Grandparents is Charlotte Rigby (nee Foot). Somewhere I have a silver lidded crystal glass jar, presented to Charlotte when she left the service of the Earl of Crawford, of Haigh Hall.
The little girl in arms and the child on the far right, are the daughters of Lily Foot. Lily was married to Ernie and they moved to Warrington. Was Lily taking the photograph I wonder?
Comment by: Eddie on 1st September 2020 at 12:35
Slowly wigan world is on its way out,poeple are not sending their
Photographs in,reason being all this interference with flashing adds.
Thanks for the clarification, Keith - of course, you'd recognise your own Grandma! And the other little girls are indeed young Evelyn and Lilian. I'm in contact with Evelyn's daughter Julia, and am sharing these photos with her. More to follow soon if I can. And the memento to Aunty Lottie is something wondrous - I'd love to see that.