Photos of Wigan
Photos of Wigan
Album Contents
Album Contents
Wigan Album
New Springs
5 Comments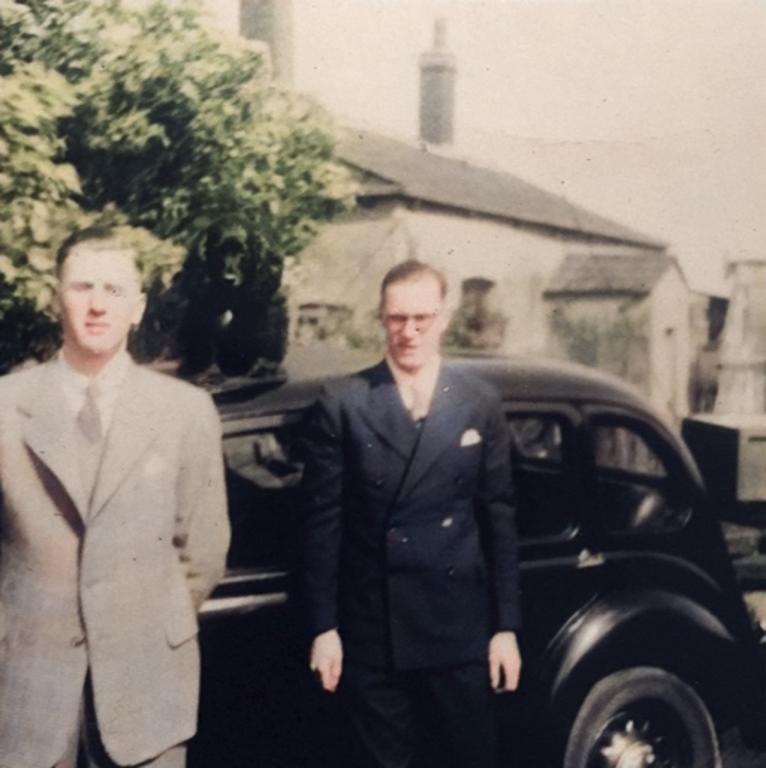 Old Mill House, Cale Lane
Photo: Graeme Lindsay-Foot
Views: 767
Item #: 32665
My dad Jim Foot and his brother Albert in front of the 'Old Home', Old Mill House, Cale Lane, New Springs, early 1950s. Colourised from the original b/w print.
Comment by: Dr Keith Tattum on 24th August 2020 at 18:38
Thank you for posting these photographs Graeme.

This is exactly how I remember Jim (my Godfather) and Albert in the fifties. Even the colourisation of the clothes is perfect. Uncanny.
Sadly I haven't seen eIther since Mum's funeral in the mid nineties. The last I heard Jim and Hilda had moved to Somerset, and Albert was living in Bamber Bridge. Modern families eh ?
A pleasure, Keith.
My Mum and Dad did indeed move to Somerset in 2012, when Dad turned eighty (my brother David moved to the south in 2000, and suggested they might like to move down there). Dad eventually missed Wigan Rugby and Greenhalgh's pies so much, I moved them back in 2017. Sadly, Dad's health was fading fast, and he died aged 86 in March 2018, having been back up North less than six months. Mum soldiered on until August last year - we moved her into a lovely flat in Formby, which she enjoyed for six weeks, until she died aged 81. At least they came 'back home', as it were. Uncle Albert passed away in June last year, aged 90, still living near Bamber Bridge - Kathleen still lives near there, in the nursing home Albert had to move into after a stroke.
As you say, modern families! I'll try and post some more. I've got some shockers of you in my Mum and Dad's wedding album... ;¬)
Comment by: cindy on 29th August 2020 at 12:25
Where abouts in cale lane was this.
Comment by: Dr Keith Tattum on 1st September 2020 at 14:34
Cindy, if you walk down Ash Lane to the junction with Cale Lane, on the opposite side of Cale Lane, just a few yards eastwards, you will see an entry between some late 50's housing. The Old Mill House was about 25 yards down the track. Looking on Google Earth the site is now occupied by a rather grand looking house.
Comment by: cindy on 18th September 2020 at 16:56
Thanks Dr Keith, Was Cliff Grays coach firm somewhere near there.