Photos of Wigan
Photos of Wigan
Album Contents
Album Contents
Wigan Album
Whitley
17 Comments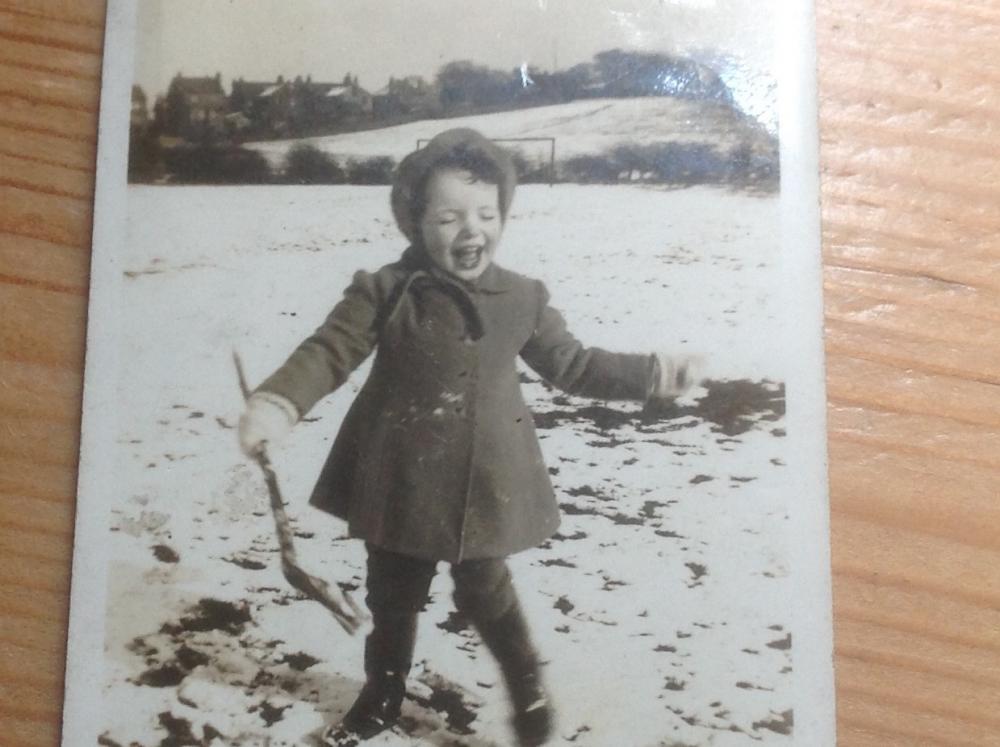 Whitley playing fields
Photo: Graham Parkinson
Views: 1,049
Item #: 32656
A view from the football pitch that used to be in Whitley next to Scouts Hill. You can see Old Lane in the background and beyond that the farmers field which is where Newenden Rd is sited now. The houses at the back are on Wigan Lane , one was where I used to live. We would climb over the garden wall, through the field to Old Lane and then to Scouts Hill, the railway line and beyond. I think this is my sister playing in the snow!
Comment by: Cyril on 19th August 2020 at 17:54
Now covered over with housing in every direction. Turnbull's farm was there and strangely a Doctor Turnbull lived along there when the houses were built, I always wondered if they were related.
Comment by: jack on 19th August 2020 at 18:03
Sometimes weather permitting, our class would walk from St Johns, along the dougie bank to play football there. Our football kit comprised of a pair of boots. The field was called Camels Hump.
Comment by: Eric on 19th August 2020 at 22:00
Green hill in the background.a good place for sledging when it snowed.brilliant photo.
Comment by: f on 20th August 2020 at 00:02
How we destroy for money,
The spaces of our play,
The places that we loved so much,
in mind don't fade away.
Now we're left with pictures,
of joyous times like this,
when once we had a space to run,
And a ...treasured ....moment ... bliss..
Comment by: Linma on 20th August 2020 at 08:12
Comment by: Roy on 20th August 2020 at 10:13
Graham, I was sat in the car in front of your house only yesterday showing my 50 year old daughter where Jennifer Moss lived.
I have played cricket and football MANY times on there, having been at St Michaels school as a youngster, happy days, we used to walk from Swinley to there before starting our 'lesson'.
Jack, this isn't the Camel's Hump, the CH is / was in the Bottling Wood area of Wigan.
Comment by: WN1 Standisher on 20th August 2020 at 10:28
Trying to get my bearings with this one. Where is Old Lane on the photo and where is Green Hill now ? I think where the girl is stood is where they briefly built Whitley School
Comment by: Roy on 20th August 2020 at 19:23
WN1 Standisher, Old Lane is directly behind the goalpost, it runs from Wigan Lane, approximately opposite Sicklefield (64 steps), down towards the Whitley railway crossings.
Comment by: WN1 Standisher on 21st August 2020 at 10:43
Got it Roy, so Newenden Rd is to the left of the goalposts and Ashford Rise and the bungalows to the right. The little girl would be facing Scouts Hill then. Coincidentally, there was an incident last night on Whitley Crescent where an ambulance turned up and then 2 incident support vehicles. 6 people in attendance. Not sure what had happened but it looked like the paramedics recovered someone from the park area near the railway lines round about the Scouts Hill area. Ambulance left the scene with blue lights on. Not seen anything on the news !
Comment by: Roy on 21st August 2020 at 11:49
Correct WN1, not heard anything about that incident, my daughter usually picks up things like that on Facebook.
Why WNI, are you from Chorley Rd or the Platt Lane area ? Just curious !!
Comment by: WN1 Standisher on 21st August 2020 at 14:40
Comment by: Graham Parkinson on 21st August 2020 at 21:50
Roy, Do we know each other? I was interested that you say you were outside my old house. I Iived at 296 and Jennifer lived at 300. We grew up together and I knew her well until she became 'famous'. You can see the back garden of 296 in the photo. My dad would blow a whistle to tell me to come home for tea when I was playing on the fields. Not a practice that I would ever condone or encourage these days but my friends and I used to put pennies on the railway line to get them flattened by the steam trains! Highly dangerous!
Comment by: Roy on 24th August 2020 at 11:08
Graham, sorry for the late reply, I DID reply on the 22nd but it doesn't seem to have 'arrived'.
I went to St Michael's and the TLS from 1950 - 1957 inclusive.
I knew I was outside your house because of a previous posting you made on WW stating that you were a neighbour of JM.
Comment by: Roy on 4th September 2020 at 10:13
I / we also tried to make pennies out of halfpennies by placing then on the line, but we were on the opposite side of Boars Head bridge to you at Midgy Lane in Standish.
Comment by: John on 4th September 2020 at 15:56
Roy, hope you're keeping well in these strange times. I well remember us doing that at Midgy Lane with MF, JF, AN etc. and we never came to any harm, but I see from Google maps they've put a footbridge over there now instead of the level crossing. People must be more stupid these days although to be fair the trains are much quieter and faster now - better safe than sorry.
Wasn't Richardson's farm in this area too? I was at Woodfield School with John Richardson, back in the 1950's.
Comment by: Graham Parkinson on 8th November 2020 at 15:42
Derek, I remember the farm at Whitley but I wouldn't know if it was Richardson's. I used to play in the old buildings when the place was deserted. I too was at Woodfield... 1954 -61, but I can't recall a John Richardson.