Photos of Wigan
Photos of Wigan
Album Contents
Album Contents
Wigan Album
New Market Street, Wigan
36 Comments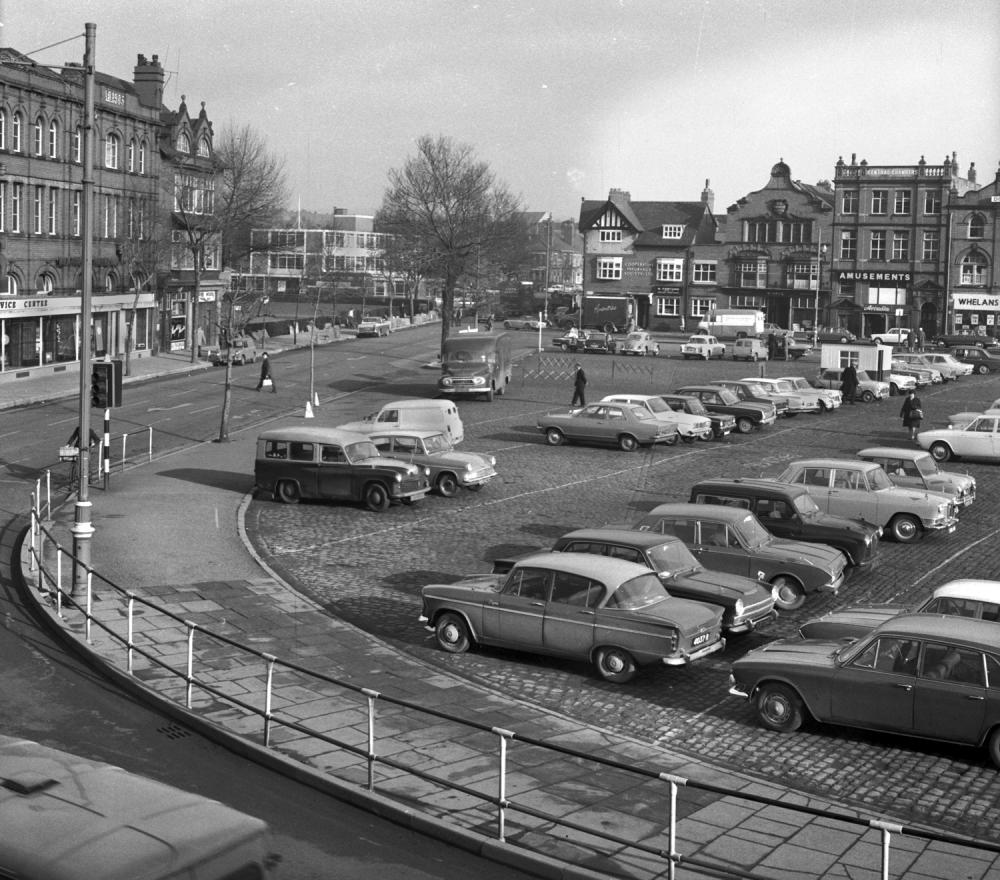 NEW MARKET STREET
Photo: Frank Orrell
Views: 1,916
Item #: 32637
A corner of Wigan market square and New Market Street in 1968. All pictures in this set courtesy of jpi media.
Comment by: Malc on 1st August 2020 at 21:50
All British cars apart from the VW Beatle. I remember these taken by the great photographer Arnold Hall of the Wigan Observer, then United Newspapers.
Thanks Malc. When I research these pictures from the newspaper files there is no indication as to who has taken the pictures so I can only put my name on as the contributor. I agree that Arnold Hall was a great photographer for the Wigan Observer. If anybody objects to me posting other photographer's pictures I will stop.
Comment by: Edna on 1st August 2020 at 22:32
Unrecognisable now, Whelan's supermarket just on top right of photo I got a job there in Sept 1973 supposedly for 3 mths., until Christmas.Ended up staying 14 hrs.
Comment by: Edna on 1st August 2020 at 22:36
No! Frank don't stop, they are great photos, of time gone by.
Comment by: Edna on 1st August 2020 at 23:22
The comment above should have read 14 yrs.
Comment by: James Hanson on 1st August 2020 at 23:51
Malc said "All British cars apart from the VW Beatle" (Beetle)

But Ford are American. So is Vauxhall (General Motors) and Hillman (Chrysler).
Comment by: Malc on 2nd August 2020 at 06:59
Frank no objections at all. Keep them coming and thanks for digging them out.
Comment by: Malc on 2nd August 2020 at 09:27
James Hanson: In the 1960s when this great photo was taken, Ford of Britain built all these Ford cars you can see in the picture, they would have been built at Dagenham or Halewood, Ford head office Brentwood.

Vauxhall head office is Bedfordshire, their car plants are Luton and Ellesmere Port, these Vauxhall cars you can see in the photo are British built.

Hillman (Rootes Group) it's British car plants WAS Ryton-on-Dunsmore Coventry, in 1968 when this photo was taken Hillman was still British, Chrysler bought out Rootes in 1976.

One of Britain's biggest car manufacturers Austin, Morris, Land Rover, MG, Riley, Wolseley, Vanden Plas, Jaguar, Rover and Triumph etc cars ( BMC ) British Motor Corporation were taken over by (BLMC) British Leyland Motor Company 1968, and defunct in 1986.

l've tried to spell it out for you James that the cars you see in the photo are all born and bred British cars, apart from the VW.
Comment by: Roy on 2nd August 2020 at 10:19
I don't think there will be any objections Frank, keep 'em coming, great memories for some of us 'owd' Wiganer's. Was the Savoy café / chippy in the building before Whelan's 'buy out of a box' supermarket ? I used to go for my dinner there from school in the early 50's.
Comment by: James Hanson on 2nd August 2020 at 10:33
But Ford , Vauxhall (General Motors) and Hillman (Chrysler) are American companies.
You wouldn't classify Toyota as British, or Nissan, but they are made in Deeside, Derbyshire and Sunderland, which are all in Britain..

Bentley, Rolls-Royce, Jaguar, Bristol, Aston Martin and Austin/Morris (BMC), were 'British' motor companies making 'British' cars.

Get to know.
Comment by: Ray on 2nd August 2020 at 10:48
Good info Malc, spot on. Re the delivery vans, the one facing the camera
is a bonneted Ford Thames Trader with coachbuilt bodywork, the van at the
bottom of Hope Street looks like a Bedford, could be a Morris or an Austin,
It is signwritten as Rowntree, could be carrying chocolates. The van behind
it near the Ribble bus office is a Karrier/Commer from Rootes Group.
Comment by: Linma on 2nd August 2020 at 13:25
Whelan's supermarket, the first place where I was indoctrinated to decimalisation, the assistant bless her explained the change in my hand.
Comment by: Broady on 2nd August 2020 at 16:07
The Valuation Office in the top left hand corner. I would have been working there in 1968 I think. Previously it was at the Mount in Orrell.
Comment by: Alan on 2nd August 2020 at 16:20
Malc is spot on with his history of car makers.
Comment by: James Hanson on 2nd August 2020 at 16:34
Malc is correct in saying the cars are made in Britain, but he's very wrong to suggest they are British cars as they are as much British cars as Aldi and Lidl are British supermarkets.
Comment by: wigginlad on 2nd August 2020 at 17:52
Aye, that picture was taken when you could find a car parking space. Malc just accept some people see things differently, I agree with your train of thoughts.
Comment by: Arthur on 2nd August 2020 at 22:57
Comment by: James Hanson on 2nd August 2020 at 23:38
That's because you're as daft as he is. I suppose Heinz is a Wigan company too.
Comment by: Jim Latham on 3rd August 2020 at 08:19
Vauxhall in now part of the PSA Group, which in simple terms is Peugeot- Citroën.
A rather complicated company, to say the least.
Comment by: Wiganer on 3rd August 2020 at 09:34
I think Malc is talking about 1968 and not today when car manufacturers have a bit of a merger here and a bit of merger there. My own view is Malc is correct with his asumption of the then car makers in Great Britain. America are just parent companies of these British cars and Van's.
Comment by: John Walsh's Mate on 3rd August 2020 at 17:59
There's nowt as thick as folk. Moreso in wiggin.
Frank; keep coming with those fabulous photos , by the way do you have any of the Wigan Dairy, which was on the right hand side just before Mesnes St. ?
Comment by: Peter on 3rd August 2020 at 21:24
Room at the top beat club to the left of whealan shop
Hello Brian, Thanks for your comment. I'm afraid I don't have any pictures at the moment of Wigan Dairy but if I find any during future research I'll post them on here.
Comment by: Owd viewer on 3rd August 2020 at 22:58
Only went once to the room at the top, we were to young and they would not let us in.
Comment by: Cyril on 4th August 2020 at 10:27
The dairy was Grimshaw & Culshaw, some info here.
https://www.wiganworld.co.uk/communicate/mb_message.php?opt=f2&opt2=&msd=152694&offset=920&subject=Grimshaw%2520&%2520Culshaw%2527s%2520Dairy
Comment by: Graham Parkinson on 4th August 2020 at 10:45
Frank, great photo keep them coming! Do you have any of Millgate? I'm trying to find a photo of my grandma's shop that used to be opposite the Weind
Comment by: Alb on 4th August 2020 at 11:53
Why are photos like this always from Frank Orrell?, Did noone bother to take interesting town scenes photos like this other than photographers?. That must've been one top of the range camera he used as the above photo is superb. Most of the photos I from the 60s are awful quality.
Comment by: Keith on 4th August 2020 at 12:44
Hi Frank, very impressed by these Wigan photos you are posting. They are so evocative of the Wigan I remember. I have an interest in Wigan rugby photos, years ago I contacted Martland Mill Lane (the Wigan Observer offices? can't remember) and asked if they had an archive of rugby photos but was told they didn't. So I'm interested in knowing that there is at least an archive somewhere of local newspaper photos.
Comment by: John on 4th August 2020 at 13:27
Frank is a professional photographer and retired newspaper photographer for
our local papers . Yes you do need top draw cameras and equipment but you also need an eye and position angles and experience helps over the years.
Comment by: Cyril on 4th August 2020 at 19:34
Keith, Harold Farrimond was the man for sports photos, I remember when did some work at his bungalow in Aspull he had a dark room and office in the loft, he must have had hundreds or possibly thousands of photos filed away in there, he may have been freelance, though I do remember that sports related photos in the Evening Post and probably the Observer was credited to him. He's been long dead though, so what happened to the photos he took - who knows, hopefully they'll have been preserved somewhere.
Thanks everybody for your comments.
I didn't actually take this particular picture Alb, it was taken by Wigan Observer photographer Arnold Hall.
I try to post any interesting pictures that I find while researching in the newspaper files for my books but most of the time there is no indication as to who took the photos.
It's only with permission of Wigan Observer editor, Janet Wilson, that I can post the pictures and use them in my books because they are copyright of jpi media.
Both the Wigan Observer and Wigan Evening Post have their own nostalgia pages with plenty of interesting pictures.
The vast majority of pictures that I post from the late 1960s onwards were taken by me but credit should go to all the dedicated photographers from all the Wigan papers over the years.
The 9 books that I have out at the moment contain pictures from the late 1800s to 2009 and a few later ones.
As regards pictures of Millgate Graham Parkinson, the wiganworld site has quite a few under Street Scenes and Places. I have a few myself that may not have been posted before so will dig them out and put on sometime.
Concerning Wigan Rugby League pictures Keith, there are tons on this site and one of my books, titled "Wigan Rugby League", contains 900 pictures including from the 1970s to 2009, a few from the 1950s and 1960s and later ones of Grand Final and Challenge Cup wins.
I hope Brian Elsey and Ron Hunt, who are responsible for the brilliant wiganworld site, don't mind me mentioning that I have posted hundreds of old pictures on my Facebook page "Frank Orrell Photography" and so between these two sites there should be plenty to satisfy most people.
Sadly, Keith, most newspapers saw their photographs as transient images only required for the story they were taken for - so most eventually ended up in the bin. It's sheer luck if any escaped through the foresight of folk like Frank - or of people who spotted them in a skip and rescued them. Otherwise we have to hope that folk who ordered a print of a photograph featuring themselves kept them, and eventually rediscover them and make them public.
Some such end up in house clearances, and may turn up at car boot sales (like the Bilsborough police pics I found last year and put up here). We can all keep our eyes peeled for Wigan's 'lost' history.
Just a thought for Frank - if the pic you're putting up isn't actually one of your own, you could state that, just for the record.
Cyril, Harold Farrimond was a staff photographer for the Post and Chronicle and was my first boss at the paper.
All negatives for the photographs taken for the Wigan papers were filed at the offices but over the years some have been lost or misplaced for various reasons.
Luckily there are still quite a lot available to sort through.
As I've already said Rev. David a lot of the files don't indicate who took the pictures. I can provide a long list of photographers who may have taken the pictures if you want me to.
Most photos that I put on here are not mine and all pictures taken before 1967 are definitely not mine.
Comment by: Trev on 6th August 2020 at 13:20
In 1968 I was 2 years at Wigan and District Mining and Technical College (now Wigan and Leigh College) on the opposite corner from this photo. The few students with enough money for a car used to park here. The college was a fantastic place of learning (no doubt still is) with exceptional lecturers and facilities - got me started on a great career in Engineering. Down from Cumbria, I loved Wigan - had a really good time and many happy memories.