Photos of Wigan
Photos of Wigan
Album Contents
Album Contents
Wigan Album
billinge hospital
18 Comments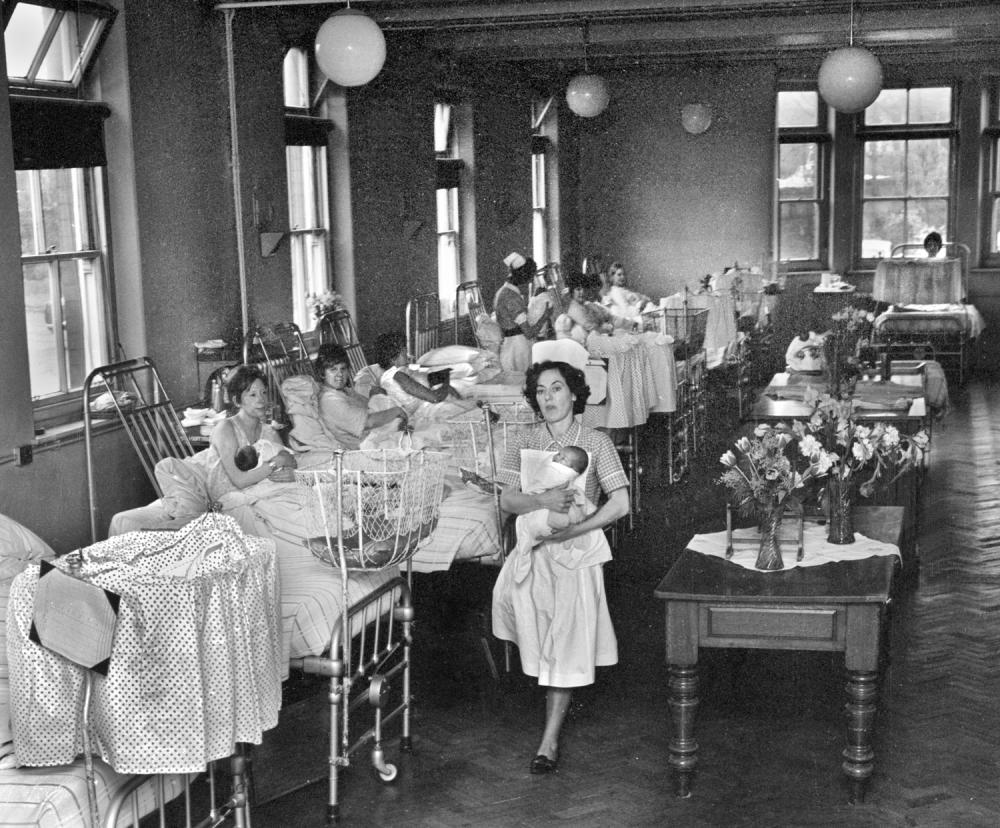 BILLINGE HOSPITAL MATERNITY WARD
Photo: Frank Orrell
Views: 1,495
Item #: 32632
Billinge Hospital maternity ward in 1968.
My son Jamie was born at Billinge in 1976 and my daughter Ashley in 1981. I imagine many, many Wigan babies were born there. xx
Comment by: Veronica on 1st August 2020 at 22:41
At that time it would be a 10 day stay. Nowadays they go home on the same day or the day after.
My oldest son Daniel was born there in 1977 and next son Michael in 1979. When I was a photographer for the Wigan papers we used to go there every week to picture the new born babies. Hard to believe but the first babies that I photographed will be about 50 years old now.
Comment by: Mick on 1st August 2020 at 23:40
I was born at the old blacksmiths stables 3 Church Lane Shevington.
Mick I love all your contributions on Wigan World even though you get some abuse don't stop making your entertaining contributions. I think I have a picture of the row of cottages where you were born from a more recent date so I'll have a search.
Comment by: Jesus of Nazareth on 2nd August 2020 at 11:16
There's a lot of stories going about as to where I was born, but I think I was born in Billinge as my Mum refused to have me in Cowley Hill.
Comment by: WN1 Standisher on 2nd August 2020 at 11:18
I rocked up in there September 1960
Comment by: Beryl on 2nd August 2020 at 11:35
No privacy there was there?
Comment by: Veronica on 2nd August 2020 at 11:55
It was where I first opened my eyes, like most Wiganers post war. Must confess I wouldn't have known whereabouts it was afterwards.
Comment by: Sister Julienne on 2nd August 2020 at 15:01
Imagine the din in there at 2 in the morning, one starts off and they all join in - pure bliss.

A lot of babies was born at home Mick, especially so when they had older brothers and sisters for their mothers to look after with father having to go to work, they'd no choice to do otherwise, even with maternity wards at hospitals.

Beryl, there was to be a lot more privacy in the soon to be opened state of the art Roy Hartley Maternity Unit, as there were only four beds to each wardroom.
Comment by: Philip Gormley. on 2nd August 2020 at 17:42
Nobody handles the newborn like a woman.
Comment by: PeterP on 3rd August 2020 at 10:35
Both of my sons were born in RHMU 1st in1978 and the 2nd in 1981. One week stay for both of them. How times have changed 2nd Grandson (born at Bolton) D-in-Law admitted about midnight had the baby at 1-30AM was home with baby at 7-30AM.He was still covered in blood etc not even bathed before coming home.
Hi Frank,
Any idea what month this was in 68. I am sure the lady in bed 3 from the left is my mum.
Keith the date when the negatives for this picture were filed is the week ending March 16th.
Comment by: Arthur on 6th August 2020 at 20:37
Frank , Mick can also dish out abuse .
Comment by: susanboardman on 8th August 2020 at 14:08
i had my son there in 1967 ,there was an italian lady in who's baby cot kept rocking to and fro seemingly by itself they were at the bottom of the bed then, when the sister investigated she had tied a piece of string round her foot and was rocking the baby, the very poe faced sister actually had to smile and of course remove the string
I was born there in January 1954. Neat to see a photo.