Photos of Wigan
Photos of Wigan
Album Contents
Album Contents
Wigan Album
Ince
7 Comments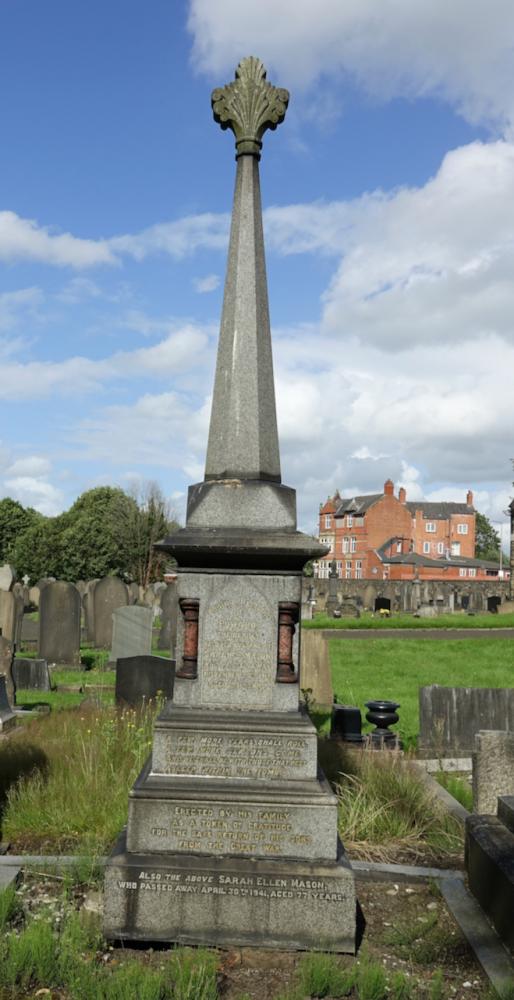 Monument of Thanksgiving
Photo: Rev David Long
Views: 537
Item #: 32585
This monument in Ince Cemetery on Warrington Road, on the grave of Edward and Sarah Ellen Mason, is the only one I've found in Wigan which was erected as a Thanksgiving for the safe return of anyone from the Great War.
Beneath the details of Edward's death in 1917, the inscription reads: Erected by his family as a token of gratitude for the safe return of his sons from the Great War.
They had four sons, John, Wilfred, Harold, and Edward, who would have been of age to fight, though I know nothing of their service.
Masons had a large wholesale and retail confectioners' business at Clarington Brook on Manchester Road - there's a pic of it in the Album (26406).
Comment by: Mr X on 7th July 2020 at 13:37
It is very rare I go into Ince Cemetery as opposed to Wigan Cemetery on the other side of the railway, so I don't think I have seen this monument. There are two chapels in the cemetery that have been abandoned for many years, Anglican and Roman Catholic, and there has been no decision to have them restored or demolished.
Comment by: Keith on 7th July 2020 at 16:29
Thank you for posting. It gives focus, after over half a century of wondering, to just who the "Masons" might have been. I lived in Birkett Bank at the very "beginning" of Manchester Road and one huge advertisement was forever visible to us all. It was painted on the side of the Masons building which I think was situated at the beginning of Wray Street, adjoining Manchester Road itself. Unless my memory is playing tricks on me after all those years, I'm sure that was the case.
Comment by: Cyril on 7th July 2020 at 19:37
Mason's was on Wray Street Keith, Roy Wood Bar Supplies occupies the building now.
Comment by: Owd viewer on 7th July 2020 at 19:45
Remember going into the roman catholic chapel when my dad died in 1967.
Comment by: Albert.s. on 8th July 2020 at 15:12
Is that building in the distance, was it once the 'Old Hall' pub?. The landlord in the forties was named Mason. There was a son, about the same age as I was. Donald Mason.
Comment by: Cyril on 8th July 2020 at 19:22
It was Albert.s. It was later called The Coaching Inn Hotel, though plans have been passed for it to be converted into flats.

https://www.wigantoday.net/news/controversial-plans-convert-former-wigan-hotel-flats-are-given-green-light-966820
Comment by: Keith on 8th July 2020 at 21:54
Just a little extra info'. Just found an old advert for John Mason & Sons,
Established 1868 Wholesale Confectioners and Bakers. Clarington Brook Steam Bakery, Ince, Wigan.
"All goods manufactured by us are pure, and turned out on the latest scientific and sanitary principles"
"If you are a shopkeeper we are just the people to suit you, as we can fit you up with nearly everything you require."
The additional info' stated they were wholesale agents in Wigan for Brogan's Famous Jams and for "Paroxone" Bleach.