Photos of Wigan
Photos of Wigan
Album Contents
Album Contents
Wigan Album
Standish
6 Comments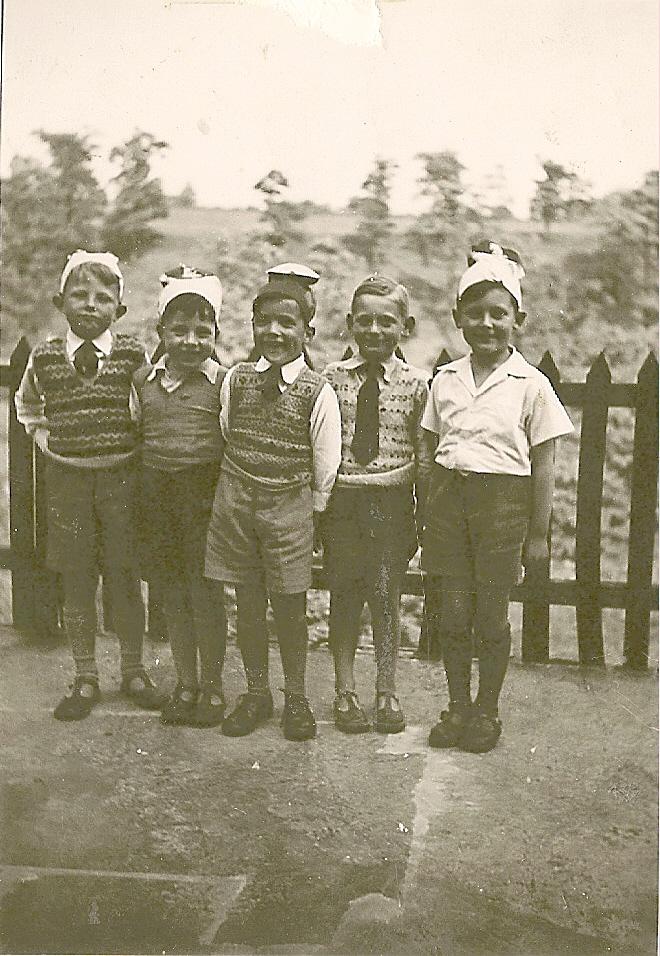 June 2nd 1951-Birthday Party.
Photo: Barrie.
Views: 680
Item #: 32575
Rooting through a pile of loose photographs I came across this one. The birthday boy was Geoff Fairhurst ( in centre), I'm second from right but can't put names to the others. We were all pupils at St. Michaels school 1950-56 and from the Standish area. The photograph was taken at Geoff's home on Chorley Road (the sawmill).I had just turned 6. I lost touch with Geoff in the late 1960's after his marriage and I was in Scotland working.
Comment by: Philip Gormley. on 4th July 2020 at 17:41
Surprised you allowed your photos to become slack, Barrie.
Comment by: Veronica on 4th July 2020 at 19:10
I love these photos, it was always exciting being invited to a party in the fifties. The fashion of boys' clothes are so familiar. Better than Pizza parties in McDonalds.
Comment by: DTease on 4th July 2020 at 20:18
Long socks and sandals, regulation summer attire for 1950s lads. Photos like these make you feel blessed to have been born around that time.
Comment by: Barrie. on 5th July 2020 at 11:57
Philip, Photography started with me in 1957 when I got my 1st camera and then started with photo albums. When Father died in 1984, and I cleared the bungalow, all the family albums that he had I boxed up for later viewing. Never did get round to see them as one of my Sisters borrowed the box and it is now mislaid. One day I will find it. So these"loose" photographs are what remains of the family album.(I have hardly any photographic record of my early childhood growing up in my collection. This is why I like the WW album that shows the pre & post war era of our area. It is education looking back on things long gone.)
As a rider to this photo, my parents collected me after the party and we walked back to the village via "Pongo" Lane & Grove Lane.
Comment by: WN1 Standisher on 6th July 2020 at 09:06
The shortest way back Barrie, up Pongo lane, what is now Cranleigh, past the 2 old stone barns, with red doors, up past Birkett's shop onto Grove Lane. Passing the stables on the left, to the Horseshoe, across the road to Moss Grove. A nice walk, all ' up brew '
Comment by: Philip Gormley. on 6th July 2020 at 14:03
Sorry about that, Barrie; so let's hope that you can nail those wayward albums. Your use of the word 'Pongo' reminds me of Aston Villa's former goal machine and Birkenhead's very own Pongo Waring - perhaps you've heard of him.