Photos of Wigan
Photos of Wigan
Album Contents
Album Contents
Wigan Album
Wigan Pier
20 Comments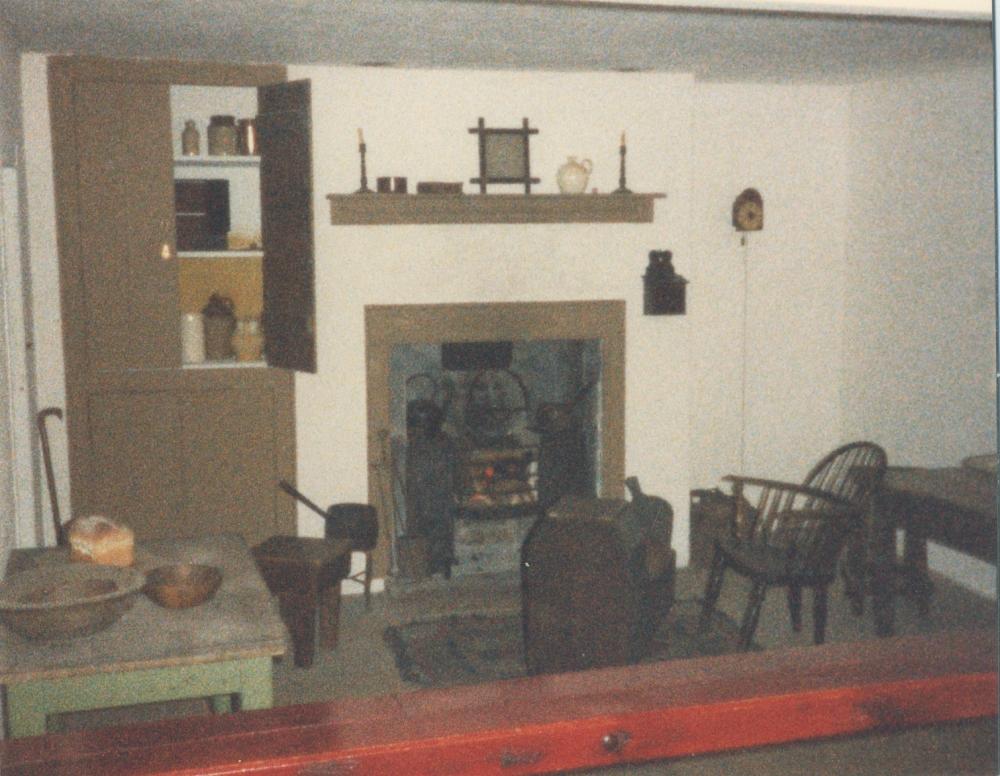 Living Room
Photo: Harry Wharton
Views: 1,875
Item #: 32569
Photo taken 1987 showing an old style living room. in THE WAY WE WERE exhibition.
Comment by: Poet on 27th June 2020 at 14:48
A very spartan room and rather less ornate than the one that housed the steam engine. I'm not certain of the object in front of the chair. A rocking cradle perhaps ?
Comment by: Eric on 27th June 2020 at 15:20
I'd think so Poet, as there is a nursing chair next to the cradle.
Comment by: Veronica on 27th June 2020 at 16:50
I remember the old black leaded fireplace in our front room. It was far more elaborate than that one. There was an oven at one side and and opening on the other. There was a mantelpiece running across the top. Photographs were placed on there with a clock in the middle. The one in the photo is far too spartan and open plan. There was a fender at the bottom with a fancy picture of bluebirds on it. You would have though an original could have been used. Those fireplaces were made of cast iron. Most people 'ripped' them out in the fifties and sixties.
Comment by: . Ozy . on 27th June 2020 at 17:46
I've personally never toasted my buns in front of a fireplace as lush looking as that one it has to be said....and you're telling me it's from 1987?....well blinking blimey!, that's about the best superlative that I can come up with at this particular point in my lockdown wine fest.
Actually, I usually toast my buns in front of my AGA.
I don't know if I've mentioned my AGA previously......I may possibly have done...maybe...perhaps.....but I do tend to forget things of late.
I believe the same thing happens to many of us who are fortunate enough to survive beyond the age of retirement.....or so I'm told.....or at least I'm fairly sure someone told me that.....I think.
Comment by: Eric on 27th June 2020 at 18:08
We had a black-leaded range in the back-kitchen, which is where we lived really - the only fire lit in the house. I remember it had a little picture inset in it, just below the mantel, of Loch Lomond.
Comment by: Philip Gormley. on 27th June 2020 at 20:11
You've more or less described grandma's unit, as well, Veronica; her oven was on the left of the fire, and somewhere along the unit a telescopic toasting fork. Her linen cupboard was in the right-hand corner, the Christmas tree and radio in the other. I remember watching her scale a silver fish or two on the kitchen table, which I'd like to think were dace, and not roach. Friday night was sometimes Domino night.
Comment by: Linma on 28th June 2020 at 06:33
My Grandma had a black leaded grate and nobody made a custard tart like she did. Delicious. Blowing my own trumpet, I'm a good cook but can't make one as good as she did.
Comment by: Wigwann on 28th June 2020 at 08:27
We had a 'cottage' unit in our house in the 1950's. It had a warming drawer at the side of the fire place. Imagine my face when my dad opened the drawer to find a consignment of day old chicks keeping warm before they went out to the hen-pen!
Comment by: GW. on 28th June 2020 at 08:56
You know if you if you can't find your glasses or make your eyes go all blurry, either talent easy to do at my age this scene becomes something like a painting by Van Gogh or maybe Whistler after his mum has left to check the potatoes in the AGA. Not that I know much about AGA's.................
Comment by: Veronica on 28th June 2020 at 12:13
The old fire range was the ancestor of the Aga, just goes to show nothing is new.. It was heating and cooking for the working classes and if kept clean was a showcase although I didn't appreciate it at the time. Most people replaced them with a tiled fireplace, which was very much in vogue in the fifties and sixties. We had one in the back place, but my dad boarded up the one in the front place. He must have had to take off the oven door because of the knobs. We didn't use the front room much, although modern furniture was in there, which I had to polish every week.
Comment by: Albert.S. on 29th June 2020 at 13:58
I used to hate the clothes maiden being across the front of the fire, I forget whether or not it was before they were ironed, or after, they would be put along the clothes line, and then hoisted up to the ceiling on a rope, and pulley contraption. We had a shovel which my mother put the Observer across, to get the fire going. Many a time it caught fire, and was sucked up the chimney.
Comment by: Veronica on 30th June 2020 at 08:36
I remember the line hanging from the ceiling with clothes ironed. .( what a contraption!). I remember the broadsheet of newspaper across the shovel as well. I believe it cleaned the chimney out. Many times outside you would see flames shooting out of chimneys. It must have been hard work in those days. Life is much easier now.
Comment by: rt on 1st July 2020 at 18:29
this was my job every morning lighting the fire before every body got up to go to work and I devised a trick to make my life easier. I found that if I stacked the coal up at night and then covered it with ash from under the fire and pull down the damper so the coals would only smoulder all night then in the morning place the coal shovel infront of the fire and place a sheet of news paper across the fire front to create an updraft and like magic you have a roaring fire in seconds but you have to keep an eye on the paper
Comment by: linma on 2nd July 2020 at 06:28
The last three comments, brilliant, exactly how I remember them.
Comment by: Veronica on 2nd July 2020 at 15:06
I remember the freezing cold too before the fire 'got going!'
Comment by: Albert.S. on 3rd July 2020 at 09:05
A great asset to miners' was the success of winning the right for concessionary coal, as the great majority of houses had coal fires, especially where miners' lived. I was in that strike in 1949.
Comment by: Albert.S on 10th July 2020 at 14:31
What an obnoxious site that was. The sticky fly paper hanging down from the ceiling with an assortment of flies stuck in the paper.
How we've advanced in the methods of hygiene.
Comment by: Veronica on 11th July 2020 at 17:37
Not counting the chamber pots under the beds. I don't know whether they were called 'les pots' after the French! Without pronouncing the 't'. Now that was a health hazard!
Comment by: Albert.S. on 12th July 2020 at 14:27
As far as I remember Veronica, they were always full pots. Remember when they had various picture of prominent nazi leaders on the inner sides of some of the chamber pots.
Comment by: Veronica on 12th July 2020 at 15:32
I believe so Albert, I suppose there were dainty patterned ones as well... Makes me shudder now thinking about them. But what else could they have done if there was no bathroom. Imagine going to the outside Lavatory in the dead of night if you had a 'dicky' tummy.