Photos of Wigan
Photos of Wigan
Album Contents
Album Contents
Wigan Album
Wallgate
11 Comments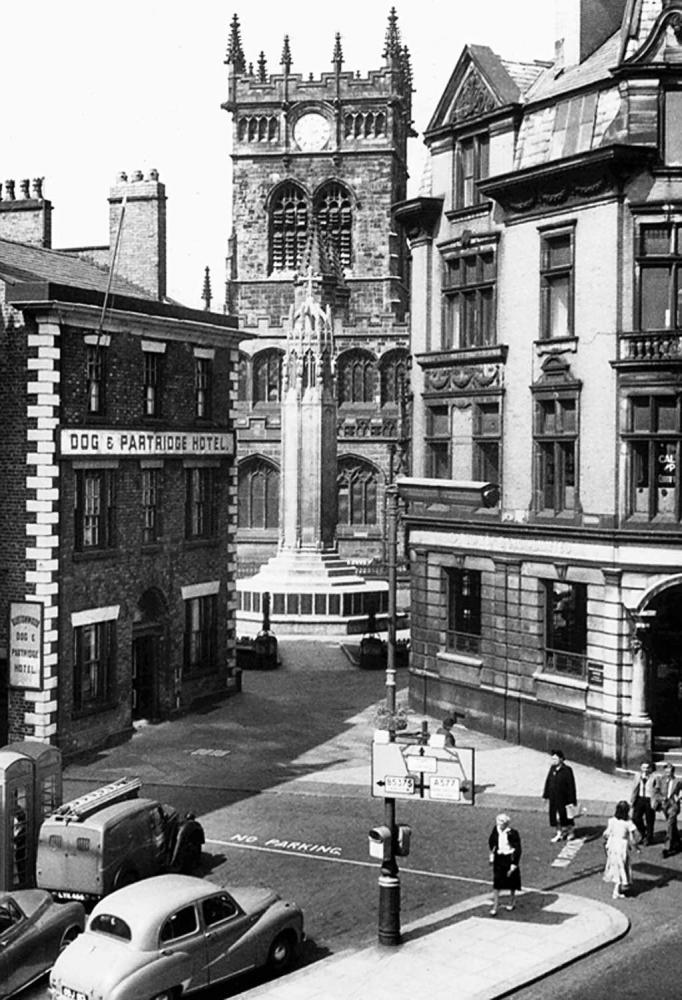 Wallgate
Photo: MickLD
Views: 737
Item #: 32547
View of Dog and Partridge, and Parish Church, late '50s/early '60s.
I think it's more likely to be early 1950s, but the date might be better estimated if we had the date when the names for WW2 casualties were added to the War Memorial. They were installed over the steps between the WW1 name plaques and the base of the cross - after this pic was taken.
Comment by: Veronica on 25th June 2020 at 10:12
It's so clean and tidy. You can tell its the fifties with the smartly dressed folk and the cars and van. It was a town to be proud of then.
Comment by: Albert.S. on 25th June 2020 at 15:48
Is there no clue as to the period, from the registration numbers on the shown vehicles?.
Comment by: DerekB on 25th June 2020 at 16:36
The date has to be after February 1952 as the white car is an Austin Somerset or Hereford which were introduced at that time.
Comment by: DerekB on 25th June 2020 at 20:33
Albert, the practice of adding a suffix to vehicle registration nos. didn't start until 1963 with A. the Austin reg no. letters appear to end in DJ which would have made it be a St. Helens registered car.
Comment by: Edna on 25th June 2020 at 22:54
I agree Veronica, also no litter and chewing gum.The pavements are a disgrace now with that.Even on newly laid flags.
Comment by: Carolean on 26th June 2020 at 08:40
I would like to go back in time ( to the 1960s in my case) as anyone, but taking off my rose tinted glasses, I suspect while there was less obvious litter there would have been many discarded cigarette ends, also the air quality would have been poor - more coal (and fag) smoke rather than car exhausts though.
Comment by: John Walsh's Mate on 26th June 2020 at 18:45
A photo of Wigan is quite rare on here these days.
Comment by: Albert.S. on 27th June 2020 at 09:59
Carolean. In 1959 masks were issued to the police officers' of Wigan Borough. It consisted of a metal plate(tin). There were two holes in the plate, one for the mouth, and one for the nostrils. The plate held in place a medicated gauze. After four hours, it had to be changed. Where the gauze had covered the mouth, and nostrils, it was covered in a black sticky tar like substance, which had been destined for your lungs.
Comment by: Kenee on 27th June 2020 at 18:40
I remember the traffic in the late '50s, there was no M6 so vehicles travelling north or south used the A49 which ran through the town centre, in addition to local traffic. On rugby match days it was often gridlock.
Comment by: Albert.S. on 28th June 2020 at 09:48
Late fifties, early sixties, having been on point duty, Kenee, at the Wallgate / Library Street junction. Your face needed a good scrub.