Photos of Wigan
Photos of Wigan
Album Contents
Album Contents
Wigan Album
Haigh
5 Comments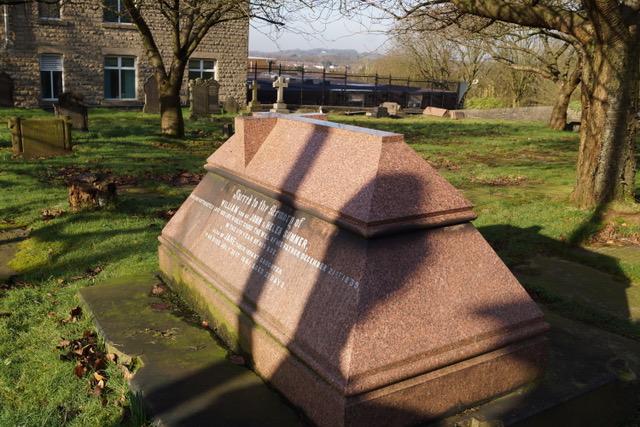 Unusual grave inscription for William Sumner
Photo: Rev David Long
Views: 749
Item #: 32441
In the churchyard of Holy Trinity, Horwich, but with definite Haigh connections - linked to the recent P-a-D which mentioned an unusual inscription in Haigh churchyard.
This one reads that William 'unfortunately lost his life whilst doing the will of his father'.
John Sumner owned Haigh Brewery, and lived beside it in Haigh House.
Terrible to take responsibility so publicly for your own son's death. I wonder what happened?
Comment by: Mick on 27th May 2020 at 15:23
Maybe he was helping his dad to write his will and something fell on his head
Comment by: Tom on 27th May 2020 at 19:37
Rev long doing the will of your father means you will enter heaven for being a good servant
Comment by: wigginlad on 29th May 2020 at 20:17
Rev David, young William was killed in an accident aged 11 years whilst working at the Brewery his father owned, December 21st 1839. Hence the inscription "Doing his Fathers Will" I don't have details of the actual accident. William's sister Jane is also buried in the same grave, she died July 1841 aged just 21 days.
Comment by: Kath Arkwright on 9th June 2020 at 10:34
I went to the Parish Church to look at this large gravestone which I had never noticed before as I walked past and there it is right in your face as you walk through the gate! I've been thinking about the poor boy and decided to look for him.
According to the Liverpool Mercury 27th December 1839 a young lad son of Mr John Sumner wholesale brewer Aspull Moor was returning from Wigan in a shandry when the horse took fright in the neighbourhood of Whelley and before any assistance could be afforded he was thrown out and killed upon the spot.His mother we understand had only got out of the shandry a few moments previous to the accident taking place.
Well done, Kath. What a tragic tale - my own thoughts were that he'd been sent on an errand by his father, and died as a result. I'd conjectured that perhaps he was sent into Wigan on foot, and perhaps fell into the canal and drowned.
Does the article say if he was the driver of the cart?