Photos of Wigan
Photos of Wigan
Album Contents
Album Contents
Wigan Album
Lower Ince
6 Comments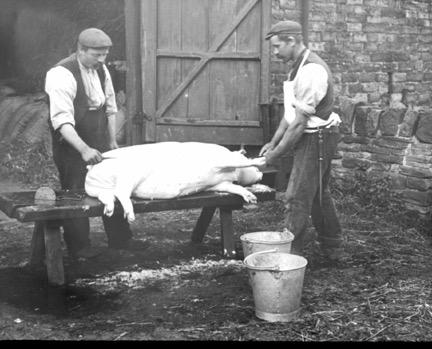 "A departed one"
Photo: Rev David long
Views: 652
Item #: 32429
I've no idea where this picture was taken - but it was taken by Matthew Walters, a grocer of Lower Ince. It is from the collection of his photographs which is hidden away on this site in the 'Old Gallery' (www.wiganworld.co.uk/oldgallery/matthew.php). I thought I'd put up one of his pics because I was going through what's on my computer and came across the pics - and read the newspaper report of his 101st birthday in 1970 (he died the same year). In the report he recalls the building of St Mary's church - vividly, because a brick nearly fell on his head while they were putting in the roof beams - he would have been 18 by then.
Matthew was a prize-winning amateur photographer, who went on to become a prize-winning window-dresser. I found reports of his awards, and of lectures he gave, in the Wigan Observer microfiches.
The image is from a glass slide which is one of a box rescued from the vestry as the church was being demolished by Bill Rimmer.
No, Bill Rimmer didn't demolish the church... poor phrasing on my part!
Comment by: Albert.S. on 26th May 2020 at 16:15
Reverend David. Rushton's was on the corner of Henry Street, on the opposite corner was Mr Kersley's toffee shop. Walters grocer's was on the opposite side of the road from Henry Street, and less than 100 yards before reaching St Mary's Church. The co-orporative shop was near the Railway Tavern, and Hope Street.
Comment by: Jarvo on 28th May 2020 at 18:05
What a terribly sad picture. The poor pig never stood a chance. And what for? So miserable human beings can get their fatty meat. Meat is murder. This photo is murder. Remove it.
Comment by: Pork Fan on 28th May 2020 at 18:36
The pig has been scalded and is now being scraped to remove the hair. It would have been dispatched by means of poleaxing as was all beasts of this era. British Pork is of the finest quality and very healthy eating.
Comment by: Philip G. on 28th May 2020 at 21:02
Probably not, Jarvo. And nor had the horse deemed past its best in the first episode of 'Horse People with Alexandra Tolstoy' - Siberia. The poor thing was tethered by its neck and held beside an upright pole until it fell almost breathless to its knees, and before the axe fell. 'Andalucia' is probably the best of the three episodes - certainly the most elegant.
Comment by: henry7 on 29th May 2020 at 12:49
Really sad photo, poor animal, glad I don't eat meat.