Photos of Wigan
Photos of Wigan
Album Contents
Album Contents
Wigan Album
DERBY ARMS
9 Comments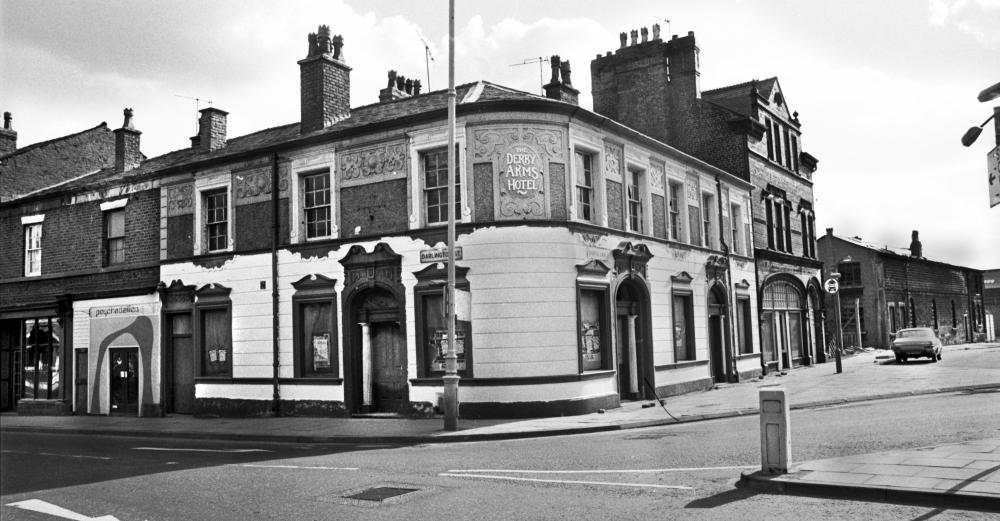 DERBY ARMS
Photo: Frank Orrell
Views: 785
Item #: 32404
The Derby Arms Hotel on the junction of Darlington Street and Chapel Lane in 1978.
Comment by: Veronica on 23rd May 2020 at 22:46
All these buildings that appear from nowhere, forgotten about and taken for granted in that void of long ago. Not that I ever went inside, I must have walked by many times..makes the heart grieve for the passing of time...
Comment by: MickLD on 24th May 2020 at 08:08
Although boarded up here, the Derby Arms reopened and closed again on a couple of occasions, before being demolished.
The building to the right of it was 62 Chapel Lane. In the 1970s it held a hairdressers shop, with the remainder of the building given over to scruffy, filthy, bed sits and rented rooms, which were occupied by some extremely unsavoury individuals.
Comment by: Mr X on 24th May 2020 at 10:11
I remember the Derby Arms pub and it was demolished in February 1985 to make way for the ring road. Across the road was the old Wigan fire station at the top end of Chapel Lane with a small church that also went around this time. The railway bridge in Chapel Lane was of low height so no high lorries or double decker buses could go through, it wasn't until about 1970 when the road was lowered so all vehicles could go this way. The parked car looks like a Morris Marina or Hillman Avenger.
Comment by: Garry on 24th May 2020 at 10:30
I've had a drink in there more than once, was sad when it closed.
Comment by: AH on 25th May 2020 at 08:08
mickLD;What was the building 62 chapel lane originally ?
Comment by: Albert.S. on 25th May 2020 at 10:12
A few years prior to this photograph, and further down to the left was the former Wigan Borough Police garage, there was also a shop that sold good framed pictures. Across Darlington Street, there was a chemist shop, and an alley that led into Harrogate Street.
Comment by: MickLD on 25th May 2020 at 11:35
AH - The layout when I knew it suggested it had always been a shop premises, with living accommodation.
In 1908, it was occupied by a George Saunders, who was a fruiterer, or greengrocer.
Comment by: dave johnson on 27th May 2020 at 09:50
Remember one of the last people to run this pub was "Chizzy Gerard" It had a pool table which was so close to the wall they had to have a cue that was only two foot long!
Comment by: Albert.S. on 27th May 2020 at 14:51
Was the record shop on the opposite side, further down towards the River Douglas, Norman Leather's?. Opposite there was a cake shop. McCandlish come to mind.