Photos of Wigan
Photos of Wigan
Album Contents
Album Contents
Wigan Album
SMALLEST CHURCH IN WIGAN?
25 Comments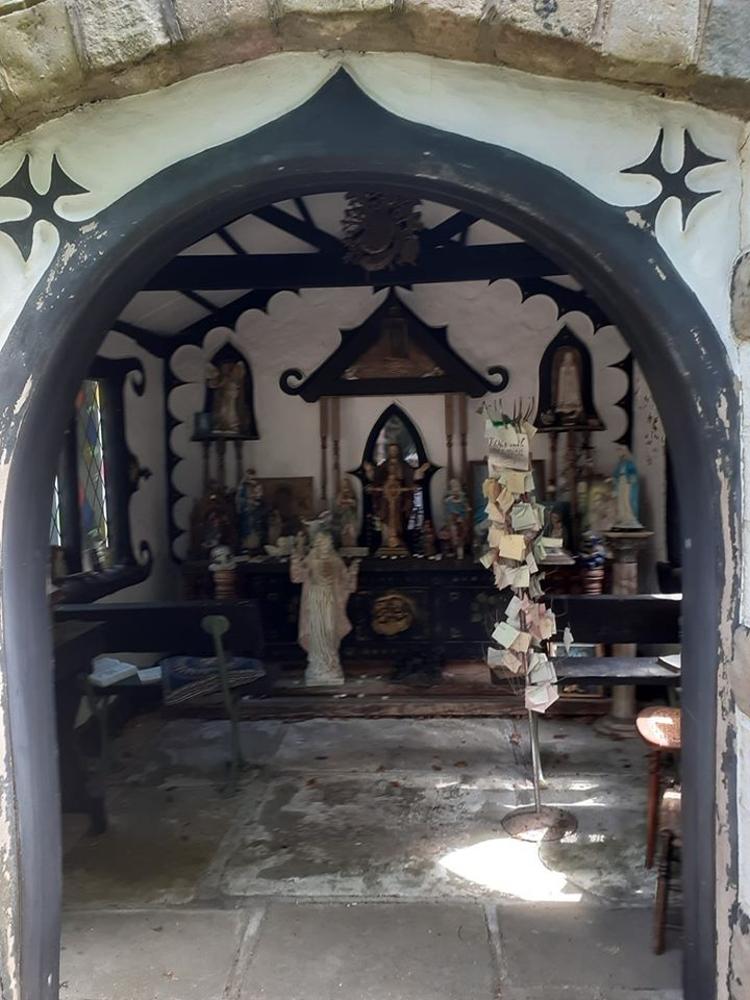 SMALLEST CHURCH IN WIGAN.
Photo: RON HUNT
Views: 1,327
Item #: 32398
THE SMALLEST CHURCH IN WIGAN. MAYBE THE U.K.??? WIGAN'S BEST KEPT SECRET<G>
Shush, Ron - with all the churches in the country closed, and this one evidently still open, you'll be getting a mad rush from folk wanting to experience the cosy glow of putting your bum on a pew once again.
Comment by: Maureen on 22nd May 2020 at 14:48
I for one would love to see the little church..but I do understand that it would the most likely be a target for the thugs..which a pity as I've got a couple of things I could pray for at the moment,I do say my prayers every night..but it would just be so nice to kneel down in front of an altar...but that's just me.
Comment by: Veronica on 22nd May 2020 at 15:16
I am dying to know where this little chapel is - it looks Catholic to me. Could it be behind one of the churches in a garden?? I've ruled out two anyway.
Comment by: Philip G. on 22nd May 2020 at 17:03
The décor resembles parts of the Rectory Nurseries.
Comment by: Karen on 22nd May 2020 at 17:37
I know where it is and no it isn't open to thugs.
Comment by: PF on 22nd May 2020 at 18:15
Is it Listed?.... I won't give the game away!
Comment by: RON HUNT on 22nd May 2020 at 19:32
I don't think it has been consecrated? but people pray there so in my opinion it's a church. As the definition of a church is 'A building for public Christian worship'. Then its a church
Comment by: RON HUNT on 22nd May 2020 at 19:37
Mo, when all this is over I'll take you
Comment by: Pw on 22nd May 2020 at 19:58
I have no idea where this is but it reminds me of a little church I went into at the side of a road in Greece.I always like to look inside places like this.Come on Ron tell us.
where ever it is its a lovely little church, best keep it secret away from idiots who would surely desecrate it.tt
Comment by: Maureen on 22nd May 2020 at 20:33
Ron,thank you very much..Ill look forward to that.
Comment by: Veronica on 22nd May 2020 at 20:51
It still looks like a private chapel to me - especially if it's a secret where it is... Many little chapels dotted all over England.. That's my opinion for what it's worth.
Comment by: Dave Lewis on 22nd May 2020 at 22:22
I also know where it is I have been there and it's very nice, will be going again when this pandemic is over.
Comment by: Mick on 22nd May 2020 at 22:32
Ive been here and made a video recording Wigans history

[url= https://youtu.be/FdyTS4KMCtc ]Link[/url]
Comment by: John D on 23rd May 2020 at 09:13
I've no idea where it is but I remember watching a documentary showing a chapel carved out of the cliff face in Cornwall, said to be the smallest in the country. It was used by Cornish tin miners.
Comment by: Veronica on 23rd May 2020 at 12:01
I remember a Chapel I visited in Rocamadour France, cut out of the rock named after the icon of The Black Madonna. It was lovely and cool inside,there's an intimacy inside a chapel that's not found in a church somehow..the Fishermen's chapel in Jersey at the side of Brelade Bay as well.
Comment by: Keith Beckett on 23rd May 2020 at 13:53
I guess it must be 20 years since Kevin started a project to make his nursery stand out. When finished it was a magical experience to walk around the site. Whichever way you turned as you walked through there was a display to grab your attention with the chapel being the centrepiece.
Over the years the Increasing demand of maintaining the displays and running a business has inevitably led to some displays falling by the wayside. Nevertheless it's still worth a visit.
A visit to Orkney from a cruise ship some 10 years ago ended with a trip to an Italian chapel. At first sight the interior was breathtaking and knowing the story of it's creation it brought a tear to the eyes. It was built by Italian prisoners of war who were transported to help build the WW 2 Churchill barriers.
It consists of two Nissen huts converted into a beautiful chapel. An example of the best of Italian craftsmanship. When inside it's difficult to believe that you're in a corrugated steel building.
Comment by: Malc on 23rd May 2020 at 15:32
Was in there last week it's a grand place
Comment by: Broady on 23rd May 2020 at 16:09
The smallest I have been in is the riders chapel at Spruce Meadows showjumping arena.
Comment by: Cyril on 24th May 2020 at 00:38
This isn't in Wigan, but if you ever visit Guernsey call and see the smallest consecrated chapel in the world, it's worth a visit as its wonderfully coloured being made from millions of bits of broken china, pebbles and flints, since this report it has been fully restored.
https://www.bbc.co.uk/news/world-europe-guernsey-29785462
Comment by: Wiganer on 24th May 2020 at 10:59
Cyril yes it is in Wigan.. Are you another 'Nom de Plume' of TONKER?
Comment by: Derek Callaghan on 3rd June 2020 at 14:05
The smallest church I have prayed in is the fisherman's chapel of St Nicholas I think. On top of the island in St. Ives Cornwall, just down the road from us
Comment by: John Walsh's Mate on 25th June 2020 at 00:24
I'm sure that church, which isn't really a church, is not in Wigan and never has been. In fact, dare I say it, it's in St.Helens.
Comment by: James Hanson on 25th June 2020 at 17:11
If it was a church it would be the smallest church in Saint Helens. That is due to Downall Green being part of Saint Helens. So Cyril is correct what he says.