Photos of Wigan
Photos of Wigan
Album Contents
Album Contents
Wigan Album
New Springs
5 Comments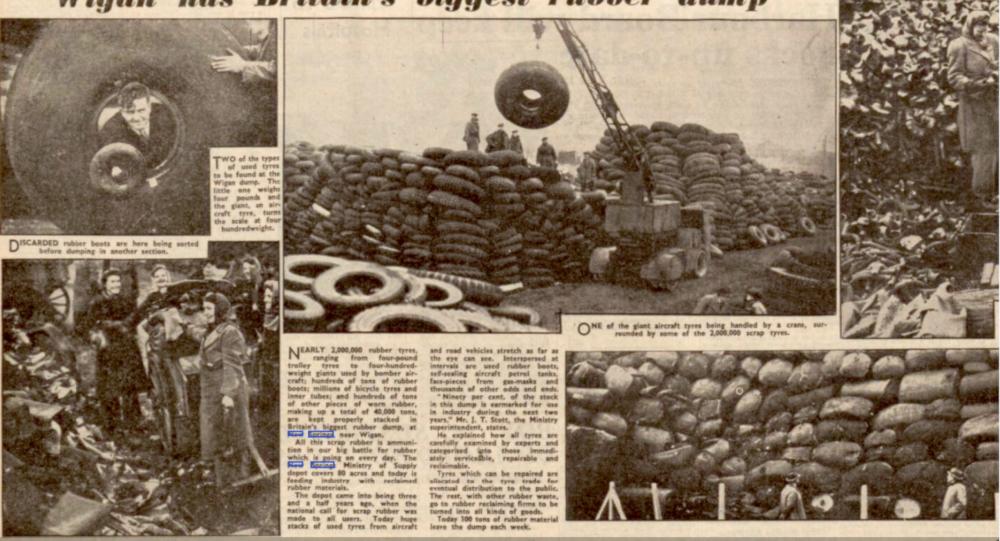 Britain's Largest Rubber Dump
Photo: AAH
Views: 797
Item #: 32056
A very surprising (to me) newspaper article from, I think, the Liverpool Echo, early 1950s. Does anyone know anything about this? Specifically, where was it exactly ("The New Springs Ministry of Supply Depot covers 80 acres") and any further details about the place or the business carried on there!
Comment by: Tom on 8th April 2020 at 16:51
We used to walking over the platt lane fields the rubber dump was on the ince side of the canal dad told there was a load of stuff dumped from ww2 .we also used to collect old bullets there when we were kids
Comment by: eddie on 8th April 2020 at 18:05
it covered a large area at the top of Belle Green Lane Ince
Comment by: Dr. Keith Tattum on 8th April 2020 at 18:44
My Dad told me he used to walk through the rubber dump in the blackout, when he'd been to see his then girlfriend in Cale Lane, New Springs, on his way home to Hindley Green. Apart from rubber supplies, there were parachute packs, tank tracks, old uniforms and American style leather bomber jackets, etc. The bomber jackets apparently used to disappear quiet quickly, being particularly popular with the young men of New Springs and Higher Ince.
My memory from the 1950s is altogether more sketchy; just scattered remnants, between the Top Place towards Hindley Railway Station, with an unusual tarry/rubbery smell, most noticeable on a hot Summer's day.
There was a rubber dump beside the canal between Melling and Aintree. We used to roll all sorts of tyres home to play with in the street. I don't remember any as big as those aeroplane tyres - but they would have been too big for us kids to roll home anyway, so we would have ignored them.
I'm suddenly reminded of roundabout rides at Southport funfair which were made out of long-range under-wing fuel pods from US bombers.
Strange what memories there are lurking below the surface - just waiting for something to bring them to the fore.
Comment by: Irene on 10th April 2020 at 08:33
There was also a cotton dump in New Springs between Farm Lane and the canal.