Photos of Wigan
Photos of Wigan
Album Contents
Album Contents
Wigan Album
LABOUR HALL CINEMA SCHOLES
14 Comments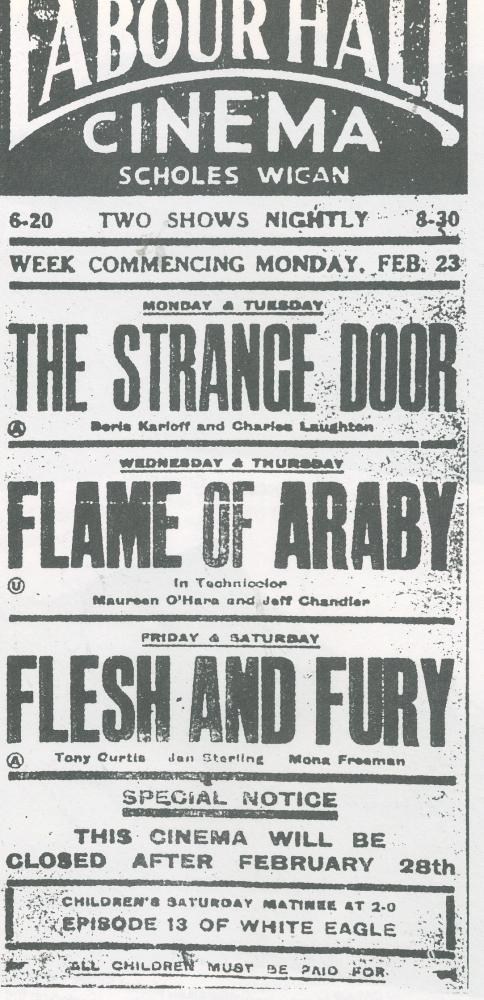 POSTER
Photo: RON HUNT
Views: 728
Item #: 31785
POSTER FOR THE LAST PRODUCTIONS OF FILMS AT THE LABOUR HALL CINEMA, SCHOLES. FEBRUARY 1955.
HAS ANYONE GOT ANY PHOTOGRAPHS OF THIS CINEMA?
Comment by: Philip G. on 10th January 2020 at 16:27
Charles Laughton as the evil madman Sire de Maletroit. 'Laughton's up there with the Greats', they say. Well-Done, Charlie!
Comment by: Veronica on 10th January 2020 at 16:43
I can remember going here just once, I think Scholes pictures was the 'poshest', but I might be biased as we practically lived at the Scholes Picture House! I wonder if you could get those films on Ytube, I bet they sank without trace! ;o))
Comment by: Tom on 10th January 2020 at 18:49
Went to the Labour every week it was over the top of the old scholes Labour club it was owned by Reuben Williams they lived in scholes near the legion
Comment by: EricG on 10th January 2020 at 20:25
Can't be 1955, must be 1953 to be Monday 23 Feb. The films were 1951, 1951 and 1952.
Comment by: Albert.S. on 11th January 2020 at 12:11
Many years ago when my wife, and her sister were schoolgirls, their mother was taking them to the Scholes Cinema, but for some reason it was closed.
My wife suggested that they go the Labour Cinema, and her mother reluctantly agreed.
On going to the pay box, the ticket lady asked if they wanted upstairs, or downstairs. They chose to go upstairs. On going into the cinema, they found that upstairs consisted on just one step.up from the stalls.
Comment by: RON HUNT on 11th January 2020 at 12:24
My mate, Kevin Webb now sadly deceased, told me that he and all his mates used to go to the Labour Hall pictures on a Saturday afternoon. One day one of the committee men came upstairs and stopped the film. It appears that one young lad had relieved himself on the floor and the resulting fluid had run through the floorboards onto the billiard table below ....
Comment by: Brendell on 11th January 2020 at 12:38
Is this the old cinema that I used to go to in the 60's when it had been changed into a R&B Club?
Comment by: Tom on 11th January 2020 at 15:11
We had the coronation party in hen st then in the Labour picture house for a dance party for the older ones that was in 1953
Comment by: Albert.S. on 11th January 2020 at 15:23
What I considered to be one of the best films, and one of the most intriguing that Charles Laughton acted in was ' Witness for the Prosecution.' , although many more films could be placed under this classification. I believe Tyrone Power was the villain, if my memory serves me right.
Comment by: cindy on 11th January 2020 at 16:16
Comment by: Philip G. on 11th January 2020 at 17:32
Not exactly a Winning Hazard, then, was it, Ron! - more of a Running Jenny, perhaps.
Comment by: wigginlad on 12th January 2020 at 08:14
My mother was born in the Scholes area 1912, years later as a young girl she would go to see silent movies here at the Scholes Picture House, she told me that admission could be gained by handing over 3 empty washed out jam jars. I also can remember being taken to see "Winchester 73" starring I think, James Stewart, back in the early 1950s. I can also remember the shop opposite was a electrical shop by the name of Swabrick and Andrews, Bolton's Chemist shop opposite as well, 3d for a glass of ginger beer. Those were the days !!
Comment by: RON HUNT on 12th January 2020 at 09:31
wigginlad wrong Picture House, that was the SCHOLES PICTURE HOUSE you are talking about. There are photos of it on the site. This Picture House was above Scholes Labour Club
Tear jerker!!! The Labour hall Cinema This Cinema was operated by Mrs Williams and family. I got involved when I met my now wife Betty Williams, it could be rather loud when a good film was playing, on the old machines that where operated by Mr, Heaton, you could say that I did a part of my courting here. It was much as people say, I never saw jam jars as payment for entry but it could have been possible before my time. My girlfriend Betty was the manager, Cashier, Generator starter, etc ..She will probably do me an injury for this comment, but those were the good old days. I put a poster very similar to this a few years ago.