Photos of Wigan
Photos of Wigan
Album Contents
Album Contents
Wigan Album
Wigan Wallgate Station
7 Comments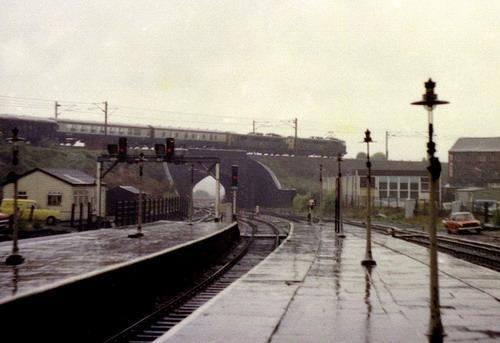 Wigan Wallgate Station 1975
Photo: David Brown
Views: 573
Item #: 31180
Still with the gas lamps
Comment by: Albert.S. on 3rd May 2019 at 19:45
Is the line shown in the distance, the line coming out of the Wigan N.W. railway station?.
Comment by: Tony on 4th May 2019 at 09:07
Looks like the platforms were still lit by gas.
The waiting rooms at Wigan Wallgate and also the plate layers hut across Wallgate in the goods yard, still had gas light in the late 1970s.
Comment by: Ray on 4th May 2019 at 18:37
Albert, The train hauled by an electric locomotive is on its
way to Glasgow. The line under and beyond the arch divides
with the line to the left going to Liverpool, and Southport
to the right.
Comment by: Albert.S. on 5th May 2019 at 11:13
Thank you Ray. It is the line, with train on its way, as you state, to Glasgow, that I was referring to.
Comment by: Pete Hackney on 22nd May 2019 at 16:14
This is my photo taken in October 1975 and posted on my Flickr page as loose_grip_99. I have no problem with you using it on Wigan World but please credit it to myself and include a link to my photo stream at https://www.flickr.com/photos/loose_grip_99/2963242243/. Thanks
Comment by: Pete Hackney on 22nd May 2019 at 16:17
This is my photo taken in October 1975 and posted on my Flickr page as loose_grip_99. I have no problem with you using it on Wigan World but please credit it to myself and include a link to my photo stream at https://www.flickr.com/photos/loose_grip_99/2963242243/. Thanks
Comment by: Pete Hackney on 22nd May 2019 at 16:24
This is my photo taken in October 1975 and posted on my Flickr page as loose_grip_99. I have no problem with you using it on Wigan World but please credit it to myself and include a link to my photo stream at https://www.flickr.com/photos/loose_grip_99/2963242243/. Thanks